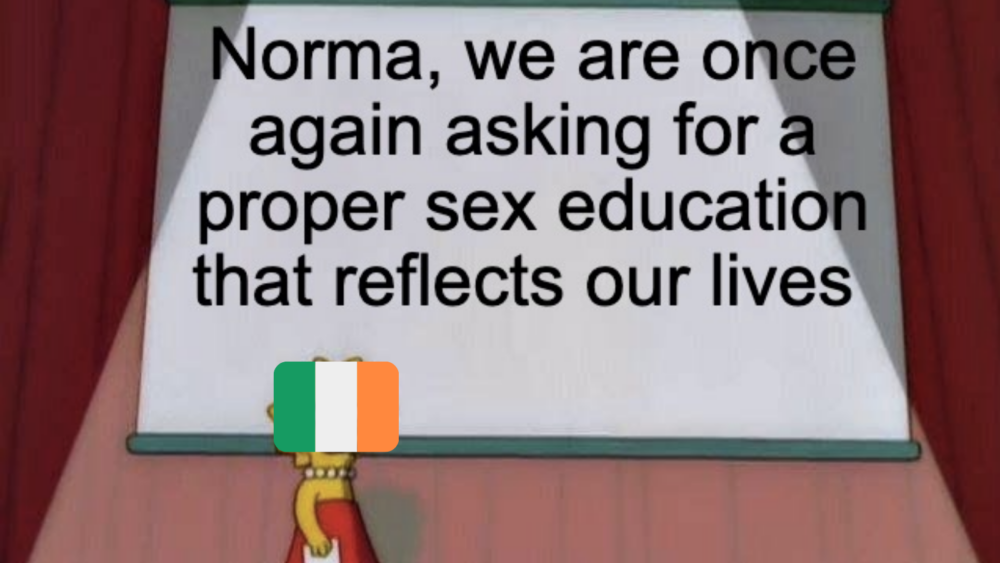 Over 300 Uplift members took action to contact Minister Norma Foley, calling on her to prioritise the urgently-needed reform of the Relationship and Sex Education curriculum.
In November 2021, Minister for Education Norma Foley claimed that for children and young people, sex education is an 'essential right' – following the introduction of the Education (Health, Relationships and Sex Education) Bill 2021 by the Social Democrats. Right now, young people and students are being denied that right – the Relationship & Sex Education in our schools is years out of date and has been heavily criticised.
Recent tragic events like Ashling Murphy's murder have forced a national discussion on male violence towards women. In the last week alone, there have been three reported violent attacks on women perpetrated by men – and thousands of students say they have experienced sexual violence.
Taoiseach Micheál Martin has promised to lead the way on changing the culture of misogyny in Ireland and Tánaiste Leo Varadkar has called on everyone to change – especially men.   For years, campaigners and young people have highlighted that a progressive sex and relationship programme in schools is at the heart of this change. This would involve the discussion of proper consent, education of young boys not to perpetuate a culture of sexism and empowerment of young people to learn and talk about their sexuality and sex in a healthy way.
Minister Norma Foley has the power to bring about the changes needed to make sure younger people have the sex education they deserve. But, she has consistently kicked the can down the road. The National Council for Curriculum and Assessment (NCCA) completed a review of the Relationship and Sex Education programme in December 2019, and Minister Foley has delayed further reading until September 2022.
Uplift members have been campaigning for years on this issue. 880 members contributed a submission on Sex Education to the NCCA review and put an ad in Norma Foley's local paper. This sparked a meeting with the Minister to discuss their submission and meet the community's demands. However, Uplift campaigners say this is not enough, and it's time for Norma Foley to respond to the criticisms of the delay.
One Uplift member says:
"As a community we believe that a holistic approach is vital when it comes to relationship and sex education. Young people should be taught to love their bodies, that no-one has a right to access their bodies unless they give it. Everyone should be able to see sex as a normal part of a healthy relationship. In addition, I think it's really important to have lessons on consent."
Uplift campaigner, Layla Wade, says;
"When healthy conversations about sex and relationships are shunned and shamed away, it becomes a lightning rod for sexual violence. Proper sex education is one of the real ways we can help make our communities safer for us all. Minister Norma Foley is dragging her heels on an issue that impacts the daily lives of young people we know and love."
ENDS
Contact for further details
Uplift staff member, Layla Wade, Campaigner – 0838664554 or [email protected]
About Uplift
Uplift is a people-powered campaigning community of over 338,000 people in Ireland. Each day thousands of people take small actions together, such as signing petitions or contacting their TDs, to help build a more equal, sustainable and just Ireland.
Uplift website: https://www.uplift.ie/
Uplift's twitter: https://twitter.com/UpliftIRL
Uplift blog about meeting Norma Foley in 2021: Uplift: meeting with Norma Foley to discuss Sex Ed
Image of ad put by Uplift Members in Norma Foley's local paper last year: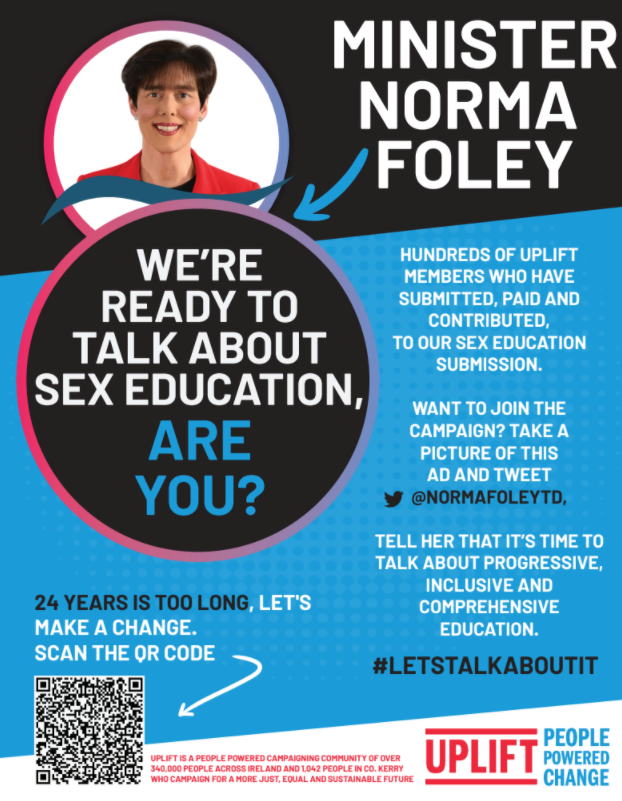 References/notes