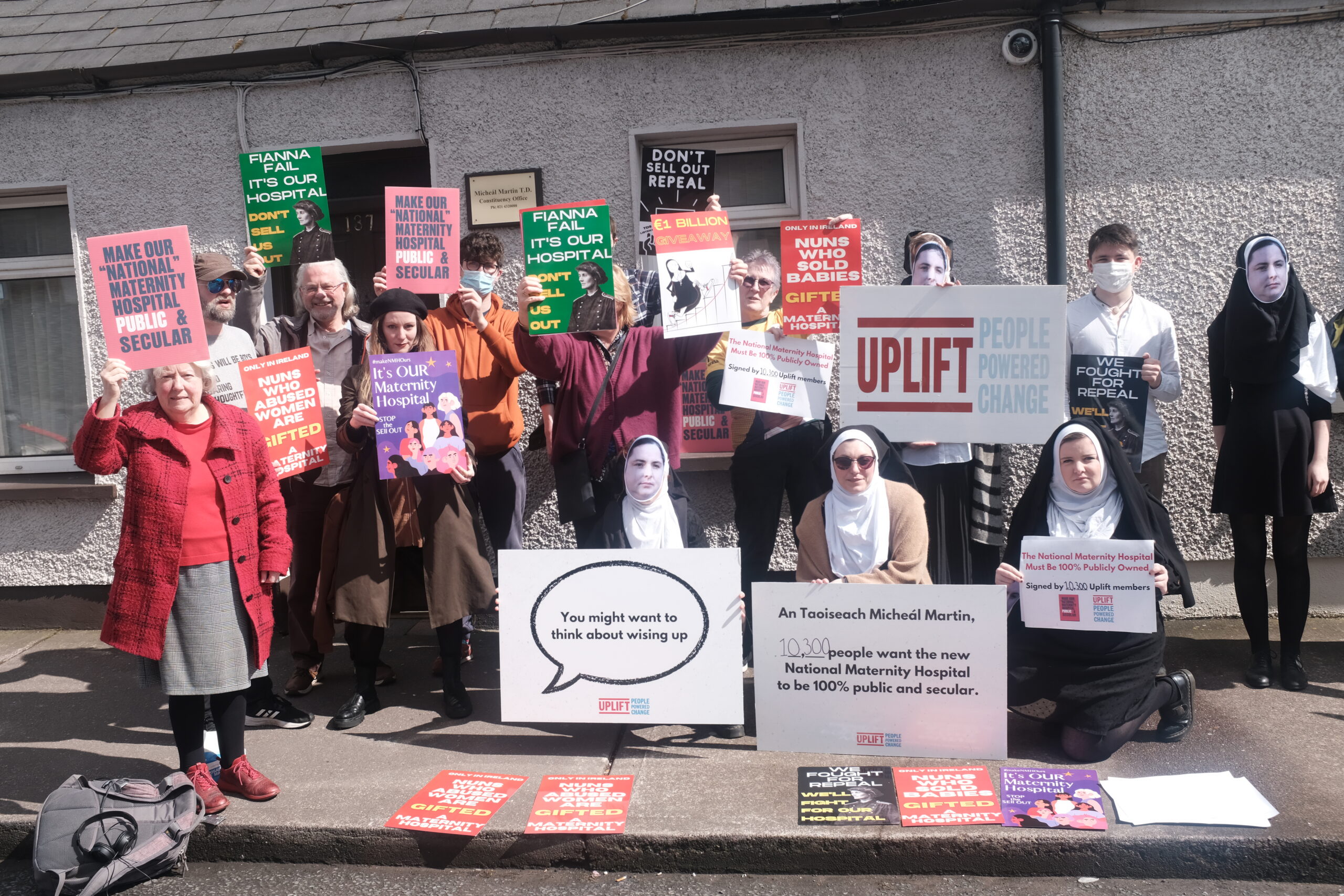 Today, campaigners dressed as Sr Michael from Derry Girls delivered a 10,000-strong petition to Taoiseach Micheál Martin's constituency office in Cork City. Campaign group Uplift demanded that the new National Maternity Hospital be 100% public-owned, and guarantee reproductive healthcare free from religious influence.
As the government is about to decide the fate of the new National Maternity Hospital, Uplift campaigner Layla Wade said "after the shameful legacy of our past when women's reproductive health was brutally controlled, we want a future where, no matter who you are or where you come from, we have healthcare that is safe, trustworthy, accessible to everyone, publicly owned and free of religious ethos."
Bernie Linnane, Chair of the Our Maternity Hospital Campaign Group, said:
"Taoiseach Micheál Martin will be remembered as the Minister for Health who introduced the life-saving smoking ban, and as the Opposition Leader who searched his conscience and voted to respect the bodily autonomy of women in the Repeal referendum. We call on him not to sully that legacy by allowing our new National Maternity Hospital to be built on land owned by a religious order with a record of abuse against women and children entrusted to its care."
Siobhán O'Donoghue, Director of Uplift, said: "expert legal advice shows that there is nothing standing in the way of the State owning the land and the new hospital. The majority of people in Ireland agree that the State should own the hospital if the Sisters of Charity refuse to sell the land. Before a deal is struck we're calling on Taoiseach Micheál Martin to follow through on his stance when in opposition, and deliver a maternity hospital that provides reproductive healthcare free from church control."
ENDS
For more information contact
Layla Wade, Campaigner, Uplift:  083 8664554
Chair of Our Maternity Hospital, Bernie Linnane: 087 9057367
About Uplift:
Uplift is a people-powered campaigning community of over 338,000 people in Ireland. Each day thousands of people take small actions together, such as signing petitions or contacting their TDs, to help build a more equal, sustainable and just Ireland.
Link to Google drive folder with photos of the event: https://drive.google.com/drive/folders/1iXqtBFT7BG6kZWmjqAToLauK7Bta3V1u
The full petition can be found here on the MyUplift site:
https://my.uplift.ie/petitions/make-the-national-maternity-hospital-ours
For full details on the campaign:
https://www.uplift.ie/public-opinion-national-maternity-hospital/
Link to Michael Martins speech on National Maternity Hospital as opposition leader https://vimeo.com/manage/videos/580299250