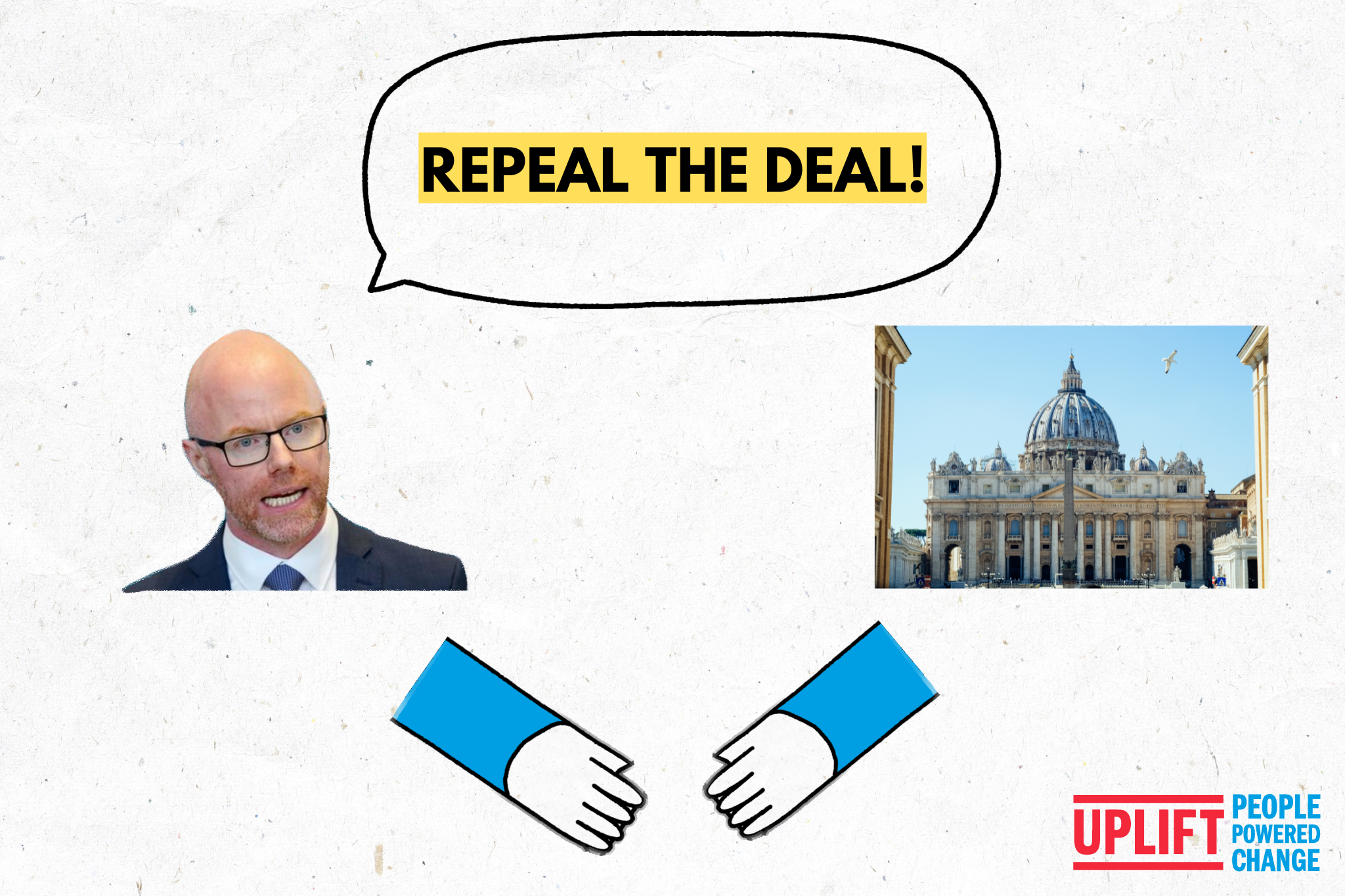 Hundreds of Uplift members have sent messages to Minister for Health Stephen Donnelly and other speakers attending the Fianna Fáil Women's Health Conference. They outlined what the approval of the Sisters of Charity's involvement in the new National Maternity Hospital will actually mean for the future of women's healthcare.
Today Uplift joined Our Maternity Hospital campaigners outside the Fianna Fáil Women's Health Conference to call for the hospital to be 100% state-owned and free of religious influence. This is in line with what a significant majority of the Irish public believes that if the Sisters of Charity refuse to sell the land, the State should CPO it, according to an Ireland Thinks poll.
The HSE's decision this week to approve the legal framework sought by the Minister for Health paves the way for a deal between the Sisters of Charity and St. Vincent's Holdings, retaining church involvement in, ethos and management. Campaigners believe such a level of disregard for the future of women's healthcare is a regressive step backwards on the progress made since Repeal the 8th.
Dr. Peter Boylan, former Master of the National Maternity Hospital, has highlighted that the language determined in the legal framework and the use of "clinically appropriate" creates a barrier to abortion access, in contravention to the 2018 Termination of Pregnancy Act as well as elective sterilisation, IVF and other services not deemed appropriate by the Sisters of Charity.
Campaigners say questions remain about how and why up to €1 billion euro of public money, earmarked for this piece of essential State infrastructure, will be paid to a private company, approved by the Sisters of Charity, St. Vincent's Holding.
Uplift campaigner, Layla Wade, says;
"We want a future where, no matter who you are or where you come from, we have healthcare that is safe, trustworthy, accessible to everyone, publicly owned and free of religious ethos. The level of State investment into this piece of vital infrastructure, to be then poured into the pockets of a Vatican-approved private company is utterly unacceptable."
ENDS
For more information contact
Layla Wade, Campaigner, Uplift:  083 8664554
About Uplift:
Uplift is a people-powered campaigning community of over 338,000 people in Ireland. Each day thousands of people take small actions together, such as signing petitions or contacting their TDs, to help build a more equal, sustainable and just Ireland.
The full petition can be found here on the MyUplift site:
https://my.uplift.ie/petitions/make-the-national-maternity-hospital-ours
Public opinion poll on whether the State should CPO the land if the Sisters of Charity refuse to sell out:
https://public.flourish.studio/visualisation/8392626/?utm_source=showcase&utm_campaign=visualisation/8392626
Legal opinion by Senior Counsel Dodds on possible CPO of the proposed site at Elm Park:
https://www.uplift.ie/wp-content/uploads/2021/11/Opinion-of-Stephen-Dodd-SC-on-National-Maternity-Hospital-and-Possible-CPO-of-lands_final-1.pdf
For full details on the campaign:
https://www.uplift.ie/public-opinion-national-maternity-hospital/