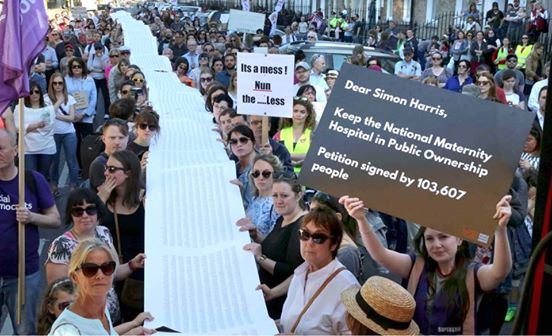 The chance for a publicly-owned and secular National Maternity Hospital under threat
Uplift members have been fighting for a National Maternity Hospital free from religious influence for years – and we've made major waves.
But, the latest plan by the Sisters of Charity and St. Vincent Hospital bosses – is to make sure we don't get the reproductive healthcare we all deserve. Now we're hearing that a deal with this Government is on the verge of being agreed. [1]
Health Minister Stephen Donnelly has the power to stop this. Instead, he's going behind our backs and is prepared to let our new maternity hospital be controlled by a private company with Catholicism at its core.
We won't stay silent on this
But, Uplift members will never stay quiet until our new National Maternity Hospital is publicly-owned and safe for everyone who needs reproductive healthcare.
That's why we booked a full-page ad in Stephen Donnelly's local paper – telling him to not to do a deal with the Sisters of Charity that deserts our chances of a publicly-owned maternity hospital.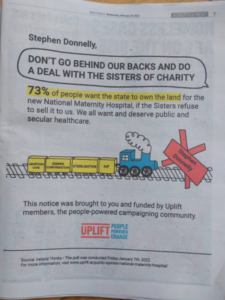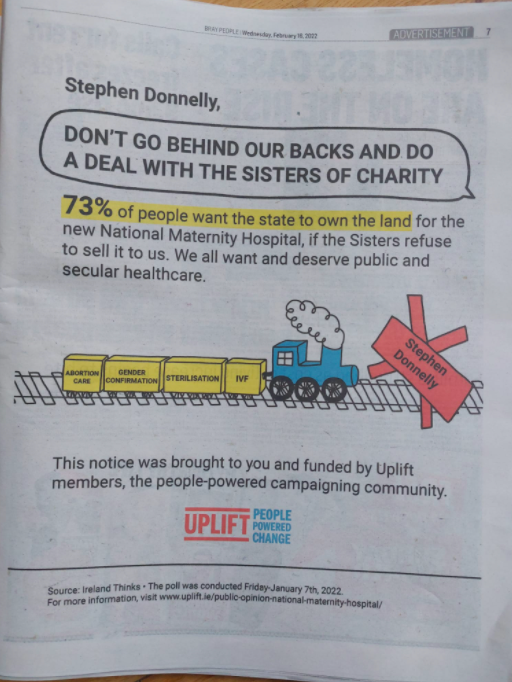 Our ad in the Wicklow and Bray People funded by Uplift members 
(Some) politicians on our side
If the new maternity hospital goes ahead on land owned by a private company dominated by a Catholic ethos – no amount of guarantees or licences will make a difference to people who need access to safe healthcare, free from religious influence. [2]
But, people-power is winning. A growing number of people and politicians are on our side. Nearly half of all TDs have pledged their support of our publicly-owned secular National Maternity Hospital. [3]
Public on our side
Thanks to our public opinion research, we know that most people want the Government to purchase the land using a Compulsory Purchase Order (CPO) if the Sisters of Charity refuse to allow a publicly-owned maternity hospital. This polling data shows an incredibly compelling result for a CPO  – a whopping 73%.
The law on our side
This public opinion data coupled with our expert legal opinion showing that there's 'nothing standing in the way' of the State CPO'ing the land, gives us all the ammunition we need to ramp up the pressure on our Minister for Health Stephen Donnelly.
The legal advice paid for by Uplift members – proves that if the hospital is to be free of religious influence and publicly-owned – then the State should own the land on which it is built. [4]
 They're hoping we will just go quiet – which is why we'll put these powerful poll results in front of politicians who are on the fence as soon as possible.
Even more compelling is the fact that there's not a single hospital anywhere in the world built on land owned by a Catholic organisation that allows reproductive healthcare forbidden by universal Catholic teaching. [5]
Getting organised
That's why we're getting organised. We're hearing that some politicians think that the 'this' will blow over soon, in part because they aren't hearing enough from voters.  
Our best chance of stopping our new National Maternity Hospital ending up in the hands of a private company controlled by Catholic teaching – is to get face to face with politicians. They'll have to respond or risk losing votes. 
Uplift members have been getting organised. This week, a chunk of us took part in a meeting on 'How to talk to your TD about the National Maternity Hospital'.
If we can demonstrate our people-power locally, the more impact we'll have in showing local TDs, and especially government TDs just how much of a priority the new National Maternity Hospital is. 
Don't worry if you missed it, you can find the resources below here.
Recording of the training session on 'How to talk to your TD about the National Maternity Hospital'.
There have been local actions set up to take place all across the country, please find below local campaigns that you can join to demonstrate your people-power in your local constituency.
NOTES:
[1]
I
rish Times: Coalition urged to make decision on National Maternity Hospital without delay 
&   
 Irish Times: Government will not oppose motion to buy site of new National Maternity Hospital 
[2]
Newstalk: Dr. Peter Boylan on HSE license for the new National Maternity Hospital
[3]  
Uplift: Pledge for state ownership of a fully public and secular National maternity Hospital 
[4] 
Summary of legal opinion on CPO options of National Maternity Hospital 
&
Irish Examiner: No legal barriers to State owning site of National Maternity Hospital 
[5]
The Resource Center for Religious Institutes: On Temporal Goods of Religious Institutes
 & 
Irish Examiner: Book commentary: conflicts in reproductive health in Catholic Ireland