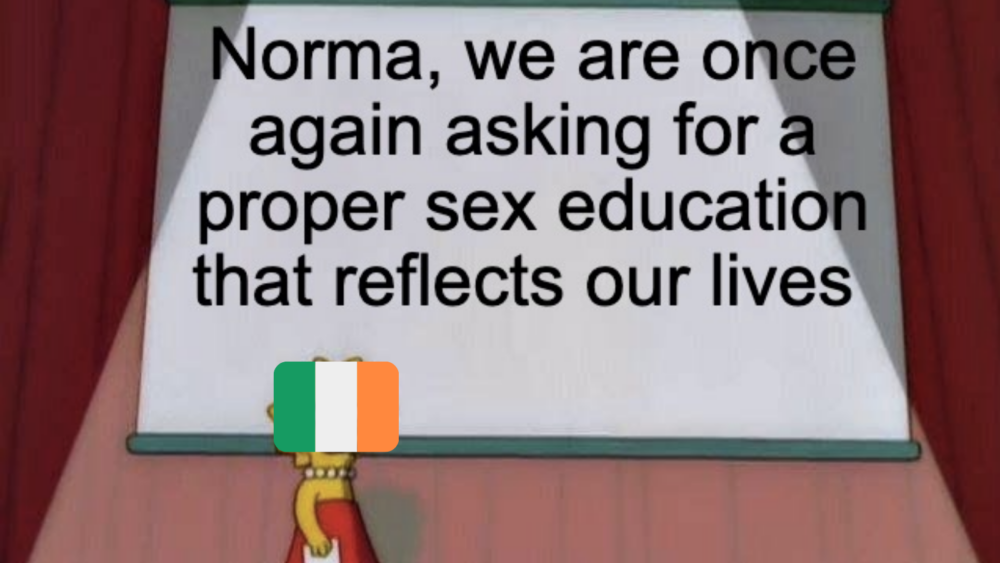 Sex Education Reform: a step to safer communities 
No matter who we are, each of us deserves an education that makes us feel safe in our bodies, and empowers us to learn and talk about our sexuality, sex and relationships in a healthy way. 
Right now, young people and students are being denied that right – the Relationship & Sex Education curriculum in our schools is years out of date and has been heavily criticised. [1] And recent tragic events like Ashling Murphy's murder – and so many other instances of male violence against women in our communities – have forced a national discussion on the issue. [2] 
When healthy conversations about sex and relationships are shunned and shamed away, it becomes a lightning rod for sexual violence. Proper sex education is one of the real ways we can help make our communities safer for us all. 
There has never been a stronger argument for why an updated sex and relationship curriculum should be top of Minister for Education Norma Foley's priority list – but she's been dragging her heels on the issue. 
Last week, hundreds of us piled the pressure on Norma Foley to act by sending her dozens of emails and creating a storm on Twitter – calling for progress on sex education reform now. [3]

This isn't the first time we've brought Minister Foley to the table on sex education. In 2020, 880 of us put together a people-powered submission on Sex Education and paid for an ad in Norma Foley's local paper to catch her attention. [4]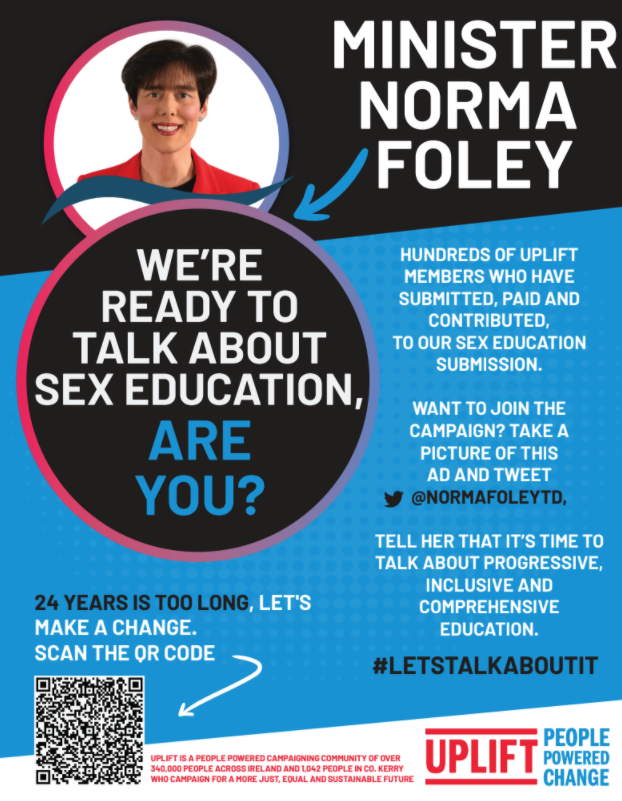 This resulted in the Minister inviting Uplift members to talk about what's needed for comprehensive sex and consent education that keeps our young people safe. Although she listened to our demands, we haven't seen any progress since. 
This is a critical time to get Norma Foley to pick up the pace on sex ed reform. She's already on tenterhooks with young people – they feel ignored and left behind as repeated calls for Leaving Cert reform have fallen on deaf ears. [5]
Added to this are growing calls by young people, parents, teachers and even opposition leaders to end single-sex education – and allow children of different genders to learn together and respect each other from a young age. [6] You can sign the petition started by an Uplift member to end gender segregation in Irish schools here.
Now is Norma Foley's chance to take a step in the right direction – she can't afford to be seen as the one standing in the way of modern sex education – when the whole country is demanding cultural change in how we talk about consent and violence against women. 
The more pressure she feels from her voters, and party colleagues – the more exposed she'll feel, compelling her to respond and take concrete action. 
If you'd like to use your voice to call on Norma Foley to pick up the pace on sex education reform – you can send a tweet or email her here. 
P.S. If you'd like to support campaigns on sex education, you can chip in here, or by cheque or postal order by posting it to Uplift, 13 Lower, Dorset Street Lower, Dublin 1, D01 Y893.
---
NOTES: 
[1] Irish Examiner: Report to call for reform of Ireland's 20-year-old sex education programme
[2] Irish Examiner: Ashling Murphy murder must be 'watershed' in society's approach to gender-based violence, says Taoiseach & Survey on sexual violence at college campuses records 'deeply troubling findings' & Garda probe after brutal assault on woman in Cork & Woman rushed to hospital after shocking St Stephen's Green attack in Dublin & Gardaí investigate assault of teenage girl in Co Kilkenny 
[3] Gay Community News: Hundreds call on Minister for Education to reform sex ed in Ireland & Uplift's tweet @ Norma Foley
[4] Uplift blogs: A curriculum fit for the last century & Meeting Norma Foley to talk Sex Ed
[5] Journal.ie: Leaving Cert student: The government needs to listen to students for once and for all
[6] Irish Times: Calls to end outdated single sex schools within 10-15 years