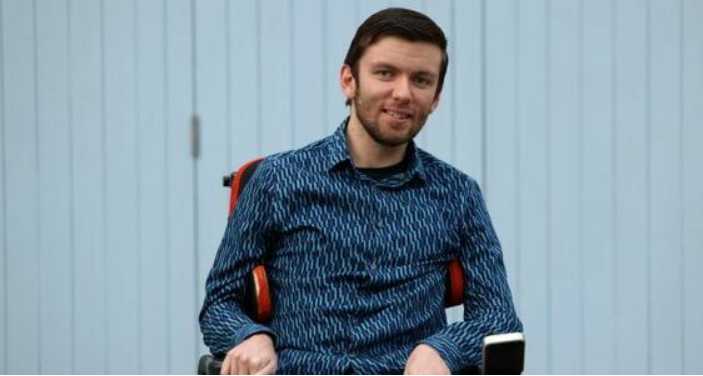 This is such a proud moment for our community. When we take action together, we make a real difference to people's lives.
Only months ago, Daniel started his petition on MyUplift for the Personal Assistance (PA) hours he needs in order to live.
He faced "a living nightmare" of the threat of being put into a care home at the age of 24. [1]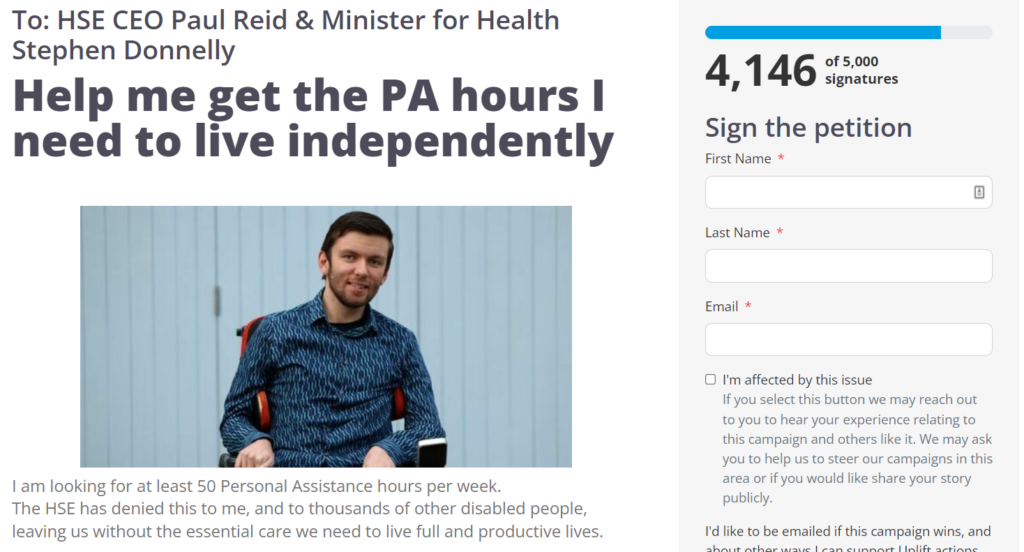 The Uplift community got behind him – signing and sharing the petition in our thousands, and organising a massive petition delivery to get the HSE, politicians and the media's attention.
On the eve of our huge people-powered petition delivery, we got the news – our campaign was successful and Daniel had been granted the PA hours he needs to be able to live and thrive! [2]
This victory shows the power of our voices and our actions. Thousands of our Uplift community members, like you, rallied behind Daniel. His story was splashed across the newspapers, radio and TV. [3] Fifty of us planned to deliver his huge petition of 4,239 signatures to his local HSE centre last week. We forced the HSE to act fast.
Because of our collective actions, Daniel – a talented podcaster and broadcaster – can now plan for his bright future.
From being tired and scared to now being able to say I've received my requested PA hours from the HSE. To be honest, I'm still processing it. March 2022 – the point in time when I received permission to live.
Personally, my family and I are delighted. Sheer relief mixed with excitement for what's to come now. We are looking forward to the next steps. Throughout all of this campaign, I've always maintained that this isn't just about me. I look forward to continuing campaigning and working on a broader solution to this issue that is impacting thousands around the country.
This is a massive victory but, as Daniel says, we need a broader solution. While celebrating this huge win, we are also planning our next steps. But we need to make a decision as our resources are limited. Would you like to see our community support more individual members like Daniel, or should we focus our efforts on campaigning to make the PA hours system better for everyone?
Support more members to campaign for PA hours
Campaign to make the PA hours system better for everyone
This campaign means so much to so many of us – especially Uplift members who are disabled. Our community doesn't look the other way when any of us are in need of support and solidarity.
Our Uplift community fights not just for themselves, but for each other, and something even bigger.
P.S. Do you have an issue you feel strongly about that will improve disabled people's lives? Start a campaign today – click here.
NOTES
[1]
Irish Times: "I'm tired. I'm scared. I know I have the potential to do something good'
[2]
MyUplift petition: Help me get the PA hours I need to live independently
&
Uplift petition delivery for Personal Assistance hours
[3]
RTE: Shortage of wheelchair user supports
&
Instagram: Daniel on Virgin Media IrelandAM
&
DublinLive: Dublin graduate, 24, with cerebral palsy calls for support to avoid 'worst nightmare' of ending up in nursing home