Last week, we were invited to a last minute meeting with Minister for Education, Norma Foley, to talk about the people-powered submission on Sex Education that more than 880 of us put together. [1] But there was a catch – members couldn't attend.
She might have seen the ad that Uplift staff campaigner, Rema, was placing in her local paper, paid for by hundreds of Uplift members like you.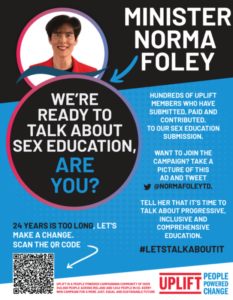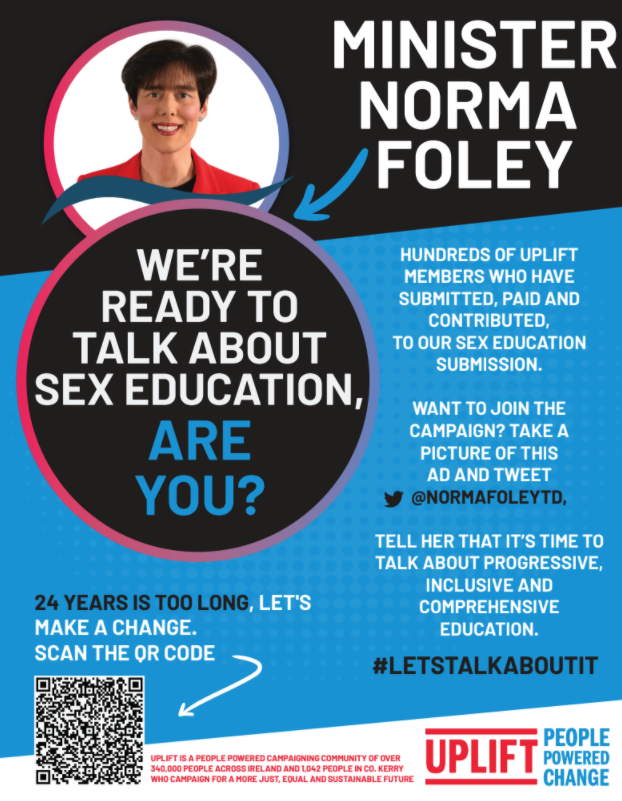 We had questions. Can we prepare enough in one day? What about the ad we've booked in her local paper? What about all of us who contributed to the submission, wrote in our stories and took action for sex education? 
After all, Uplift is not a staff led organisation – 'we' is all of us, together. After a quick staff meeting, we  sent an email asking you what to do. 
More than 700 of us made the decision together, that day, to send Uplift staff to the meeting, and invite Minister Foley to a public meeting of our own.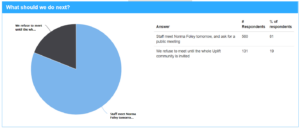 When Emily and Shae arrived to give our presentation on behalf of the community, our very first slide said 'Our power comes from our members'. And it's true. We walked – well, video called – in feeling powerful because we knew you were with us.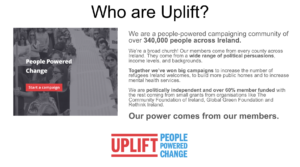 The meeting went very well. The Minister listened to our asks to keep young people safe and healthy with comprehensive sex education. We emphasised the importance of LGBTQ+ education, schools and parents as trusted sources of information and asked for updates on the plans for reform. 
Good news – change is around the corner. Development groups are working on new curriculum right now, and sex education resources are being updated in a new online portal for schools and teachers. 
The Minister had a message for Uplift members:  to keep engaging in the consultation process where she says she will 'consult with as broad a range of stakeholders as possible'. We thanked her, re-stated the urgency of our campaign, and asked that she continue to engage with our process too. 
That's what makes this community unique – we are not intimidated by power, but we're also not afraid to engage with it, research and deliver our campaign asks confidently, and also work together to build pressure outside the traditional halls of power. The ad in her local paper got Norma to the meeting, but the submission we put together made her take us seriously. This community shows up for both. 
We should be proud. We're cheeky campaigners and sophisticated policy changers. We'll walk inside the halls of power when we need to, but we know that our real power comes from each other. 
Soon, we'll decide what's next for the campaign (we're getting really close to winning), but today – we just want to say truly, from the bottom of our hearts..
..More power to you.
---
We're mostly member funded. Will you chip in monthly so we can get our Sex Education win over the line?