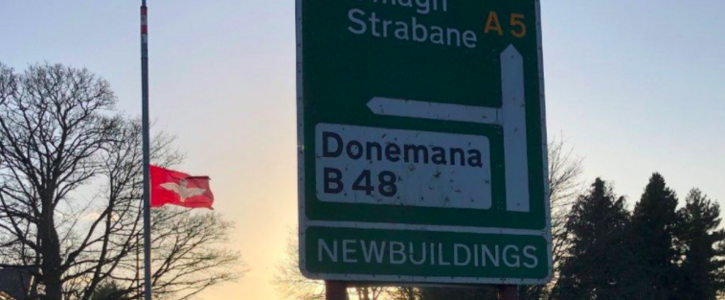 People across the island of Ireland are calling for the removal of offensive Parachute Regiment flags flying across Derry, as the city marks the 50th anniversary Bloody Sunday today. 1,500 people signed a petition within hours, calling for action from the Department for Infrastructure and Police Service of Northern Ireland to remove the flags.
Sióbhan O'Donoghue, Director of Uplift – a people-powered campaigning community in Ireland said:
"Today – the 50th anniversary of Bloody Sunday – two people-powered campaigning organisations, Uplift, based in the Republic of Ireland and Act Now, based in the North, have joined to take action protesting the Parachute Regiment flags which have been erected around Derry. "
On this day, 50 years ago, 13 people on a civil rights march were killed on the streets of Derry, by soldiers from the Parachute Regiment of the British Army. No one has ever been convicted.
Parachute Regiment flags have been erected in Derry by paramilitaries. In a rare show of unity, the flags have been condemned by all political parties in Northern Ireland, and even the Parachute Regiment themselves. But they haven't been taken down.
Ms. O'Donoghue continued:
"In these times of division, the struggle for rights and equality across this island continues for so many communities in Northern Ireland. The action taken today by the members of Act Now and Uplift members across the country, shows that we stand with the families as they grieve their loved ones today. It is an expression of the solidarity we feel with each other, and a call for our peace to be based on justice and equality"
Notes to Editor
1.The petition can be found at https://my.uplift.ie/petitions/take-down-the-parachute-regiment-flags
2. Uplift is a people-powered campaigning community with 345,000 members across Ireland.
3. Act Now is a campaigning group established in 2020 and based in Northern Ireland, campaigning for change on issues that matter to communities here.
Contact
Siobhán O'Donoghue, Uplift Director – +353 876777463,
Nicola Browne, Act Now Coordinator – +44 7734034302