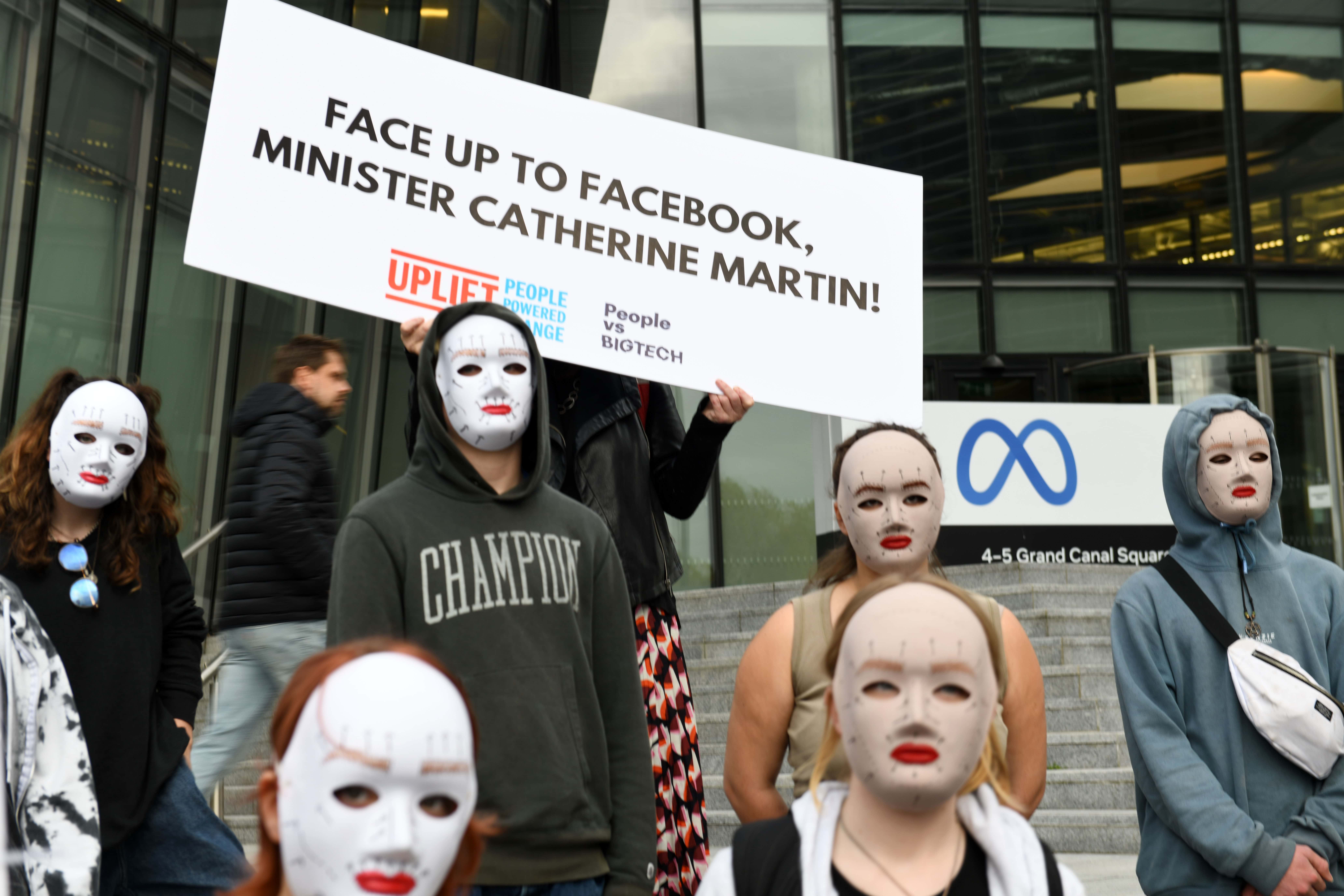 Teenagers and supporters protested outside Facebook Headquarters in Dublin before marching to the Dáil to present an Open Letter calling on Ministers Catherine Martin and Robert Troy to lead on stronger rules to rein in Facebook and other social media corporations.
The event was organised by Uplift following recent revelations that the tech giant deliberately hid research and profited from the mental and physical harm inflicted on teenage girls, caused by Instagram algorithms.
Uplift campaigner, Layla Wade the organiser of today's event said "Facebook bosses know the damage they are causing. They are not going to change willingly – from June to Sept alone they made a $9 billion profit.
She continued "This government is in a powerful position to rein in Facebook because their European HQ is based in Ireland, but are failing to rein them in. 
Megan Brown, one of the teenagers organising the event today said "We won't stand by while this government sits on their hands and fails to protect us. That's why today we are going to Facebook and to the Dáil to tell them how we feel and that we want then to stop letting Facebook off the hook,"
Dorothy-Ann Vandervulgt, another of the teenagers involved in the action said "Teenagers like us are fed unrealistic images of how we should look. We then feel pressure to look a particular way and it makes us feel bad about ourselves. Facebook should be protecting us, not pushing this stuff at us."
Ms. Wade concluded by welcoming the invitation to meet Ministers Martin and Troy to meet with Uplift and the young activists to discuss the open letter delivered today in the near future.
Contact Details
Layla Wade, Campaigner at Uplift, 0838664554
Siobhán O'Donoghue, Director of Uplift,  087 68777463
Open Letter Delivered to Catherine Martin, Minister for Tourism, Culture, Arts, Gaeltacht, Sport and Media and Robert Troy, Minister of State for Trade Promotion, Digital and Company Regulation, 
Facebook can't be trusted, hold them accountable. 
Facebook knowingly stood by while their platform caused untold damage to the mental and physical wellbeing of young girls. As the European home for Facebook, there is an onus on you to hold them accountable.
Research carried out by Facebook itself and testimony by whistleblower, Frances Haugen, has uncovered that company executives knew that Facebook-owned Instagram's algorithms actively worsened the mental and physical wellbeing of young girls who are vulnerable to anxiety, depression and disordered eating.
The hugely dominant platform Instagram elevated content that promoted body image issues, eating disorders, caused suicidal ideation among teenage girls – and they chose to do nothing about it. This is one of a myriad of stories of how Facebook's business model is geared towards profit over the safety of the people who exist on the platform.
We demand an urgent inquiry into the conduct of Facebook:
Invite whistleblowers Frances Haugen and Sophie Zhang to meet with you to present her evidence of how Facebook is perpetuating harm and toxicity.
Call Facebook executives to appear before an Oireachtas committee to answer questions about their conduct/inaction.
Commit to stronger rules and laws through Online Media Safety Regulation Bill and the Digital Services Act that minimise the harm caused by Facebook and other global digital corporations.
Take all necessary measures to rein in 'Big Tech's' harmful abuses whilst defending people's fundamental rights, including the protection of the right to free speech for all.
Facebook cannot be trusted to regulate itself – and your primary responsibility as elected policymakers is to protect the people you serve and who you are ultimately accountable to.
Signed on behalf of Uplift, A People-Powered Community
Siobhán O'Donoghue
10 November 2021