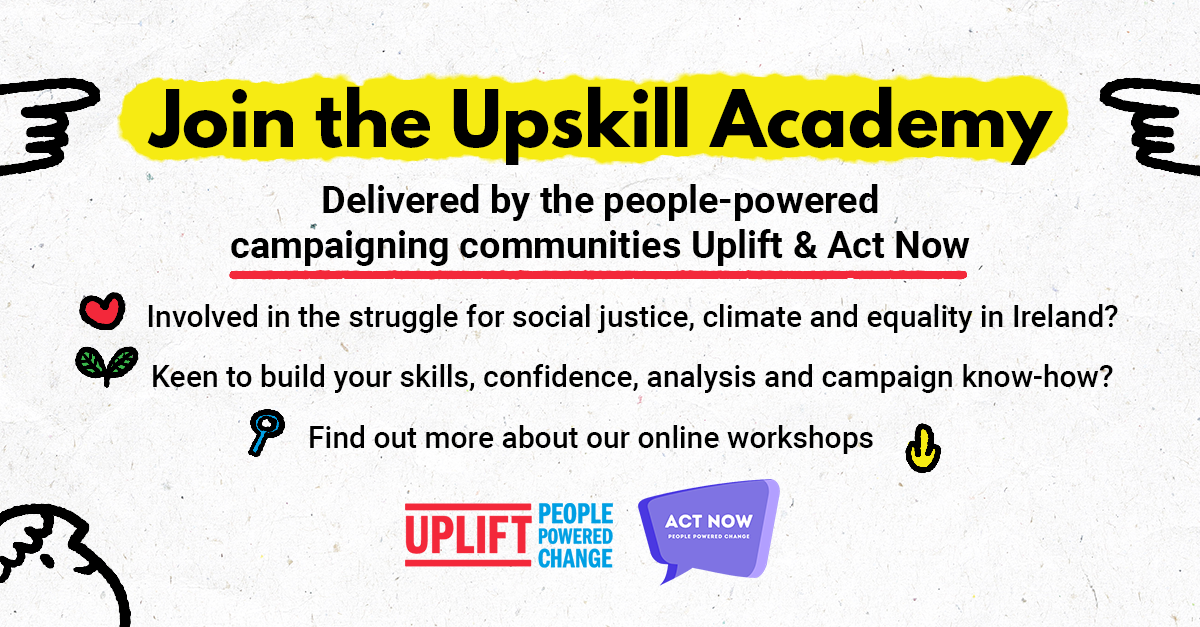 The Upskill Academy – a collaboration between people powered campaigning communities Uplift and Act Now
Taking place January/Feb 2022 
Are you involved in the struggle for social justice, climate, equality in Ireland?

Are you keen to build your skills, confidence, analysis and campaign knowhow?

Do you want to be more effective, strategic, creative in your work?

Would you like an opportunity to network with and learn from other campaigners? 
The Upskill Academy is a series of online Workshops and Masterclasses delivered by Uplift and Act Now campaigners. The workshops are designed to allow those new to campaigning to build skills, confidence and campaign strategy, design and delivery, or for those more established campaigners who want a refresher on campaign theory and practice as they begin a new year of activism.
The Masterclass and Strategy Sessions are designed to assist experienced campaigners to hone their skills and think more strategically and creatively with their campaigns. 
Choose the training or workshop that best suits your needs and sign up on Eventbrite. 
---
Workshop: Getting the most out of Digital Tools for Campaigning 
Digital tools have never been more important to campaigners. This workshop will show you what Uplifts tools can do to make your campaign fly – including reaching new supporters, engaging them in the campaign for the longer term, getting noticed and achieving impact.
Tuesday, 15th February  2022 at 18.00-20.00 
For more information and to sign up, please click here.
---
The Masterclass:  A Campaign Case Study 
Led by Uplift founder Siobhán O'Donoghue, this masterclass is for anyone leading, managing, or playing a key role in campaigns focused on social justice, climate justice and equality.
The workshop will take a case study and together we will design a campaign strategy using a range of tools and processes to maximise impact.
For more information and to sign up, please click here.
Tuesday, 1st February at 19.00-21.00
---
The Strategy Sessions: 1:1 Designing A Campaign Strategy for Your Issue
These are individual one hour strategy sessions with Uplift Founder Siobhán O'Donoghue who will work with you and your team to design or rethink a campaign strategy and work together to develop a practical plan of action. 
For more information and to book a session, please click here.
---
Uplift is a people-powered community of over 340,000 people from every corner of Ireland who take action alongside each other to fight for a better Ireland, where everyone can flourish. Together we've won big campaigns like increasing the number of people seeking refuge that Ireland welcomes, keeping our maternity hospitals public and stopping vulture funds from evicting people from their homes. As an Uplift member, you can start a campaign of your own, or join someone else in their struggle for change.
For more information: www.uplift.ie 
Act Now is a new people-powered campaigning community in Northern Ireland. It's a partnership between Uplift and 38 Degrees and enables people to take coordinated action together, to make Northern Ireland a better, fairer, more equal place for everyone – no matter where we come from.
For more information: www.actnowni.org