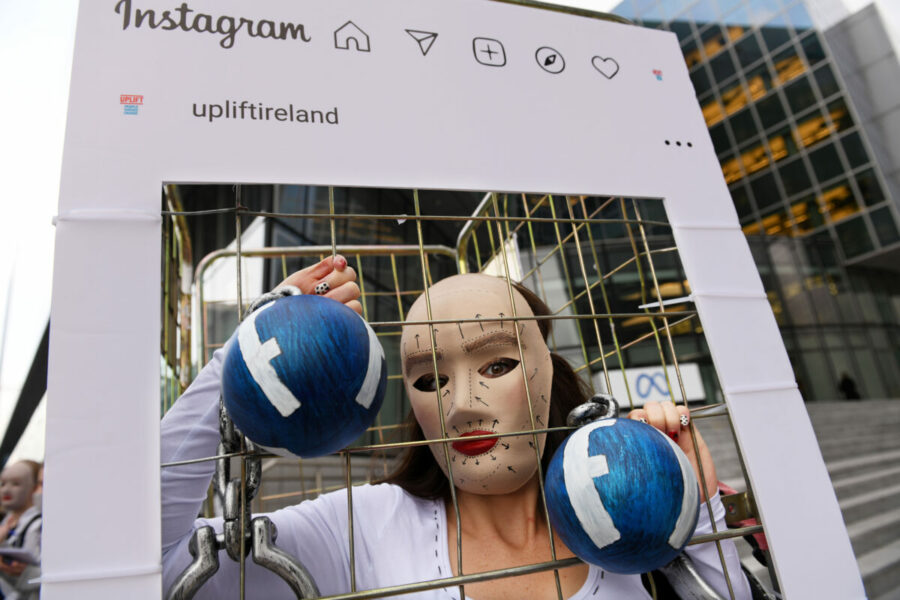 #FacingUpToFacebook
I never cease to be amazed and moved by this community. In November, some of our youngest Uplift members took on not only this Government but one of the most powerful companies in the world, Facebook.
They were furious that Facebook and Instagram bosses knowingly put the mental and physical wellbeing of young girls in danger – and that this government has been ignoring the problem for years. [1] Research published by the Minister Catherine Martin's office echoes this. 
Among some of the outrage, Instagram pushed body image issues and eating disorder content, causing suicidal ideation among teenage girls – and they chose to do nothing about it. [2]
But a kick-ass bunch of young Uplift members marched from Facebook HQ in Dublin to Dáil Eireann in a rollcage, delivering an open letter calling on our Government to hold Facebook accountable for this. They sent a powerful message to this government and especially to the ministers responsible for social media rules.

Rattling the cage
We rattled the cage from Facebook HQ to the Dáil on Kildare Street where the young people were greeted by politicians and political representatives to accept the open letter. [3] Our Uplift members were able to air their frustrations at the reckless actions of Facebook, and reminding politicians that it's their job to protect them. The open letter called on them to:
Invite whistleblowers such as Frances Haugen and Sophie Zhang to the Dáil to present evidence of how Facebook is perpetuating harm and toxicity.

Call Facebook executives to appear before an Oireachtas committee to answer questions about their conduct/inaction.

Commit to stronger rules and laws through Online Media Safety Regulation Bill and the Digital Services Act that minimise the harm caused by Facebook and other global digital corporations. 

Take all necessary measures to rein in 'Big Tech's' harmful abuses whilst defending people's fundamental rights, including the protection of the right to free speech for all.

Ireland: Big Tech's Bottleneck
Politicians in Ireland have more power and opportunity than most other countries at standing up to Big Tech companies  – who up until now have been left to their own devices to write the rules of how their platforms operate. 
We even caught the eye of Minister Martin and Junior Minister Robert Troy, who offered to meet us the week after to discuss how we can create a safer online environment for us all. 
Fighting to hold social media platforms companies is not we have a massive fight on our hands. We believe in the power and passion of these young Uplift members. But we're not going to beat around this bush – this is only the first stretch of a very long road.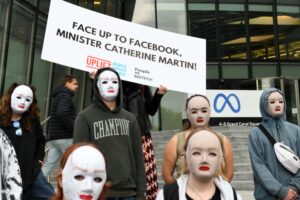 Government Ministers are still holding closed-door meetings with Big Tech bosses who are looking to water down rules for online platforms. [4] So we need to be ready to campaign hard.
Facebook – aka Meta – have subjected a huge amount of harm on our communities, our democracies, and even the mental health of our young people. Facebook's own internal research has shown the extent of harm its platform has caused to the mental and physical wellbeing of young people on these platforms, and this harm has been happening knowingly, and entirely for profit.
Facebook bosses know the damage they are causing. They are not going to change because they are profiting from it. They've earned $9 billion last quarter off the back of young people experiencing mental harm, entire communities subjected to hate and our democracies broken.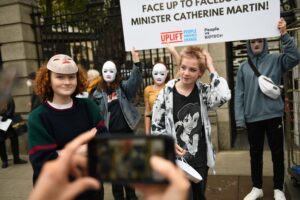 Making a big splash
The pressure is working. We made such a splash across print and radio last week, with journalists asking Minister Catherine Martin – and this government – hard questions about stronger rules to rein in Facebook and other social media corporations. [3] We've put together some of the coverage below in handy links!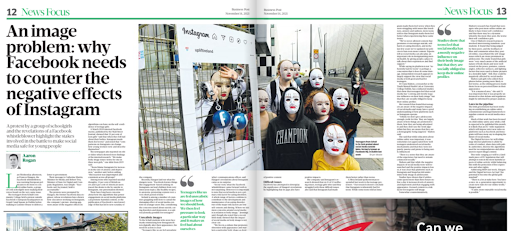 Our #BehindTheScenes footage of the powerful action can be watched here:
National Print Media 
Radio
---
Notes
[1] Wall Street Journal: Facebook Files & The Verge: Eight things we learned from the Facebook Paper  & 60% of children aged 9-17 use social media – report
[2] The Guardian, Facebook is aware of the Instagram's harmful effects on teenage girls 
[3] https://drive.google.com/file/d/1nKLCwWjux3Pfq39d-9OimfI6FAro2k-X/view?usp=sharing
[4] Business Post | Tech companies were granted confidentiality before meeting minister