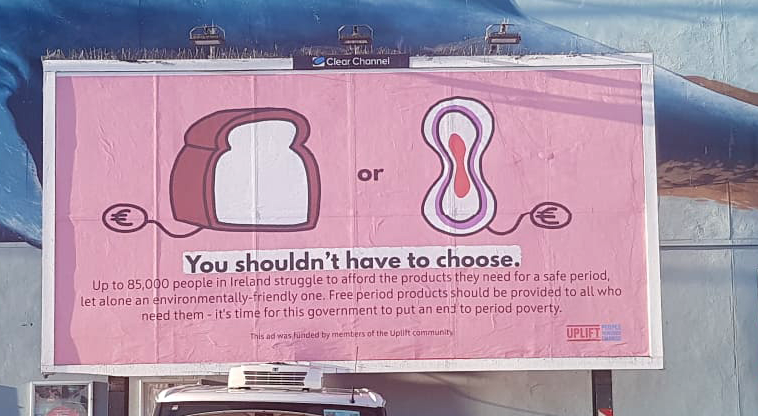 After the Minister for Health spent months stalling on announcing measures to end period poverty, members of the campaigning community Uplift, who care deeply about the issue, sent him a reminder he can't ignore.
The billboard in Greystones illustrates the reality of period poverty for tens of thousands of menstruating people in Ireland – being forced to choose between basic period products or food because they can't afford both.
It is part of a wider Uplift campaign on ending period poverty including a petition signed by 4,122 people calling for free period products in homeless hubs, direct provision centres and schools.
Uplift Communications Worker Niamh O'Connor said,
'The government itself acknowledged the urgency of this issue in its February 2021 report 'Period Poverty in Ireland' which revealed that up to 85,000 people in Ireland are at risk of period poverty. And, the 2020 Programme for Government commitment to provide a range of period products in all public education settings was another empty promise. All we have heard since is a vague mention of funding for 'measures addressing period poverty' in Budget 2022 with no concrete action plan.
At present, charities like Homeless Periods Ireland and Students' Unions are bearing the brunt of the work and there is no consistent access to free period products in public spaces across the country. People who are homeless in particular are being ignored by the government despite being one of the most vulnerable groups in our society. 
We know that making period products free to all who need them is possible. Just last year, the Scottish government made it a legal requirement for local authorities to provide free period products to all who need them in public spaces and educational settings. So what is the Irish government waiting for?"
With growing awareness of the impact of single-use plastics, any government scheme will need to ensure access to more environmentally-friendly period products. With Munster Technological University introducing a scheme to provide free sustainable period products to students this year – we know that this is possible too.
——-
ENDS
Photos attached of the billboard in location and original artwork by Niamh O'Connor
Location: Supervalu, Greystones
For more information contact
Niamh O'Connor, Communications Worker, Uplift, Ireland – [email protected], T: 01 513 3043
About Uplift:
Uplift is a people-powered community of over 345,000 people in Ireland. Each day thousands of people take small actions together, such as signing petitions or contacting their TDs, to help build a more equal, sustainable and just Ireland.
Uplift petition calling for free period products in homeless hubs, schools and direct provision centres:
https://my.uplift.ie/petitions/free-sanitary-products-for-women-girls-in-direct-provision-homeless-hubs-schools
Uplift website: https://www.uplift.ie/
Supporting Information
[1] 
Launch of "Period Poverty in Ireland" Report | Minister for Health and Minister for Children, Equality, Disability, Integration and Youth welcome the Period Poverty in Ireland Report
[2] 
Students at Munster Technological University are calling for Ireland to give women and trans men the right to free sanitary products in a bid to end period poverty
[3] 
'Code Red' aims to stamp out period poverty on Munster campuses
[4] 
Period poverty to be addressed for first time in Budget 2022
[5] 
Uplift blog: Ending period poverty – Why we care