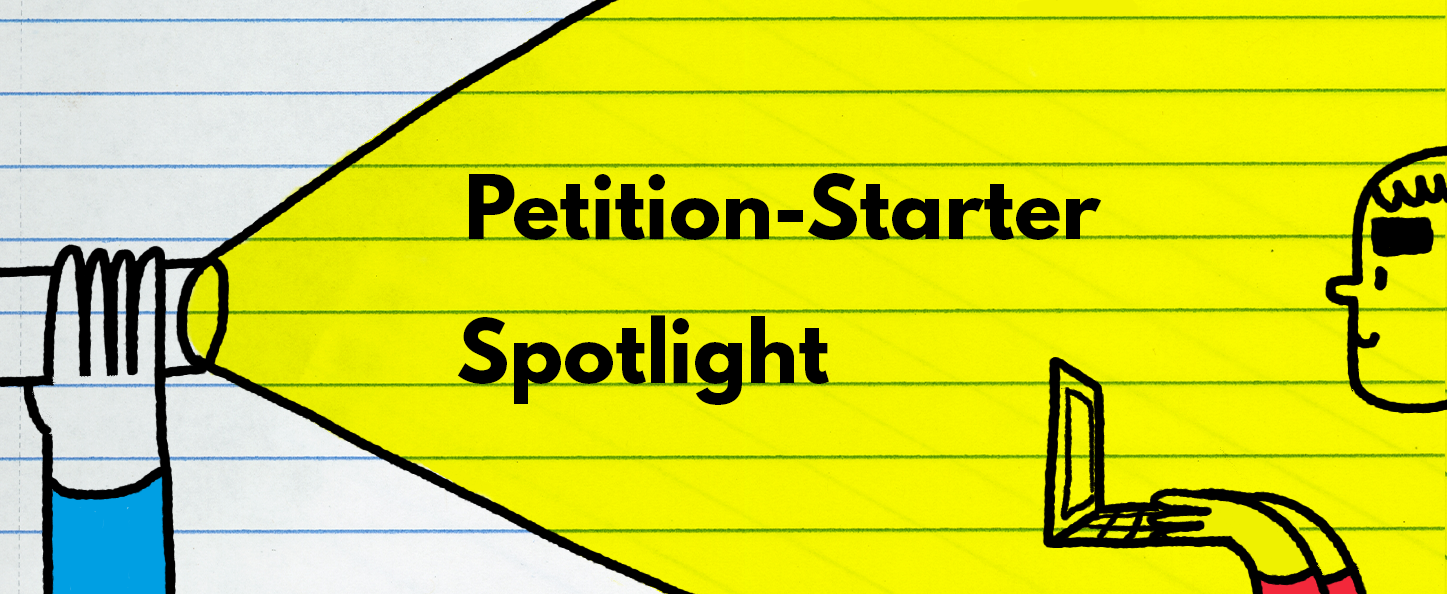 It's time again to shine a spotlight on one of our community's petition-starters, and glean some useful tricks of the trade from their campaign work.
This time we're talking to Susie, who started a petition a few months ago calling on Minister for Enterprise, Trade and Employment Leo Varadkar to change company law so that workers' redundancies are protected. [1]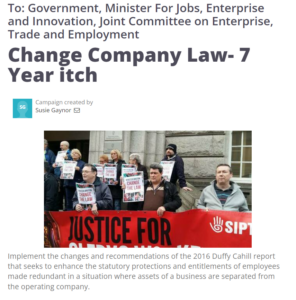 This issue is close to Susie's heart and has affected her personally. Along with hundreds of her colleagues, she was left with no redundancy from Clerys after the company shut down in 2015. She'd been working there for 11 years. [2]
This experience sparked a fire in Susie and her coworkers. They were soon on the picket lines, speaking to national media and asking their TDs to act. Time passed and the media and TDs moved on.
This flaw in company law has since left Debenhams workers deserted and puts countless other employees and their families at risk. [3]
Keen to bring this urgent issue back in front of the eyes of decision-makers who've been twiddling their thumbs on reforming the law since 2015, Susie decided to reignite the campaign.
Hear from Susie about how she's blended on-the-ground and digital campaigning to fight for workers' rights.
How did the Justice for Clerys campaign start?
The campaign started on June 13th 2015 when the affected unionised workers came together in our union building, Liberty Hall, the day after Clerys closed. The people in work that day were called to the staircase at 5.30pm and told that the company had become insolvent and their jobs were gone. I found out on Facebook.
From there, we got placards and marched up to Clerys. There was a lot of media and people out supporting us that day. They threw me in front of the media to tell my story – so that's what I did.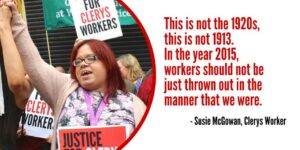 Then, we set up the Justice for Clery's Facebook page. We also set up an online petition and collected signatures in person too. We got over 14,000 signatures in a matter of weeks.
We were on every radio, paper and TV station for the next few weeks. Then, we got invited to meet Junior Minister Ged Nash from the Department of Enterprise, Trade and Employment at the time.
We had protests every week outside Clerys and the Department of Enterprise. Rain, hail or shine, we were out there.
In terms of speaking to the media, is that something you found easy or was there a learning curve there?
I think I'm lucky because I'm naturally able to converse with people – it doesn't matter if it's the media, to me it's all the same. It was telling my own personal story that led to more journalists getting in touch. It's not that I wanted a load of media attention, I just wanted to get my story out there in case it could help other people.
It was still a learning curve though and I got a lot of experience from that campaign.
What tips do you have for people on getting media attention for campaigns and talking to the media?
Know your stuff before you go talking to the media. If you know that you're talking about one specific item, know it inside out. Have a feeling of whatever question they might throw at you and know how you're going to answer it.
Don't be afraid to ask them to repeat the question. Take your time and have a second think about your answer if you need to. They can edit stuff out if they need to anyway.
How have you been bringing attention back to the campaign now?
I'm just cheeky! I reached out to anyone involved in the original campaign and called on them to support this new petition. I set up the petition as a hook to get people in and talking about this again and I reached out to ex Debenhams workers who have also been affected by this.
Can you talk about why you've reignited the campaign and why it's so important now?
It really frustrated me that it's been 7 years since Clerys closed and one of our key objectives still hadn't been met and more workers have been affected.
The Insolvency Bill was tabled in the Dáil in 2017 and got to the Committee stage. So I thought great, it's going to move. Then, nothing ever happened.
I started the petition because I feel it's still a very prevalent issue. Debenhams has happened since. And we had the Paris Bakery in Dublin City Centre before us. There are so many vulnerable jobs out there. You just don't know who's next – it could be anyone.
After starting the petition, I found out that the Bill fell in the last stages of the Dáil, so it has to go through the Dáil to get back on the Committee stage. That's why I wanted to get as many people to sign the petition as possible, so it gets out there to everyone who's active and cares about Clerys and Debenhams workers.
I want them to know that it's an ongoing issue and that things won't change for the better unless we as a campaigning community, as the people of Ireland, get together and say that this is not fair, this is not just.
There shouldn't be this flaw in the law where companies can use insolvency to get out of paying their workers – workers who in some cases have been with them for 43 years. But it doesn't matter if you were 5 weeks in the job or 50 years in the job – you still deserve to be treated like a person and not just a number.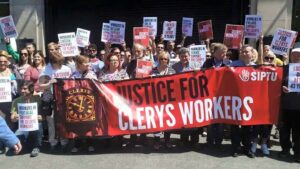 What are the next steps for the campaign?
I'm drafting an email to the Minister of State for Enterprise and Jobs. I'd also like to get more people to sign the petition and get the awareness out there.
Eventually I'd also like to organise an online meeting through MyUplift with someone who is a worker-friendly company law expert. And with TDs who were instrumental in the original campaign.
Myself and others will talk about how insolvency works, what we can do to change the law and why people should be active in their community when it comes to change.
Do you have any tips for people planning campaigns and researching their targets?
It's important to research your potential campaign targets, not just on your issue but on similar issues that they've been for or against in the past. It means you use your time most effectively on the people who might budge.
I used the Kildare Street and Oireachtas websites as tools to find more information on people who've spoken about the issue as a starting point. Having specific campaign goals and targets is important.
And don't be afraid to contact people. I talked to Councillors from multiple parties and from there got more exposure on the campaign. And don't be afraid to tell your story, stories are powerful.
Have you any tips for people starting out with a campaign for the first time?
Uplift has the tools for people who want to start off campaigning and get their issue heard, but don't know where to start.
You can start a petition, get help with strategy and learn about the different things that can be done. I learned about campaign strategy on the Upskill course and it was a huge confidence booster.
I was worried that my petition only had 200 signatures and there are campaigns out there with say, 10,000. But I learned during the course that it's not the number of signatures that matters, it's how you work with it that matters.
Fair play to Susie for taking the time to chat about her experiences. You can support her campaign and stay up to date with what's happening by signing the petition.
Susie is currently studying Anthropology in Maynooth University and is completing her placement with the Uplift staff team. Credit to Susie for the above photos and graphics.
P.S. You can start your own petition on an issue you're passionate about by heading over to MyUplift.
Read about other Petition-starter Spotlights here and here.
NOTES
[1] MyUplift petition: Change company law – 7 year itch
[2] Irish Times: Clerys closes doors as court appoints liquidators
[3] The Journal: 'Lawful but preferably not': Debenhams, Clery's and the future of collective redundancies