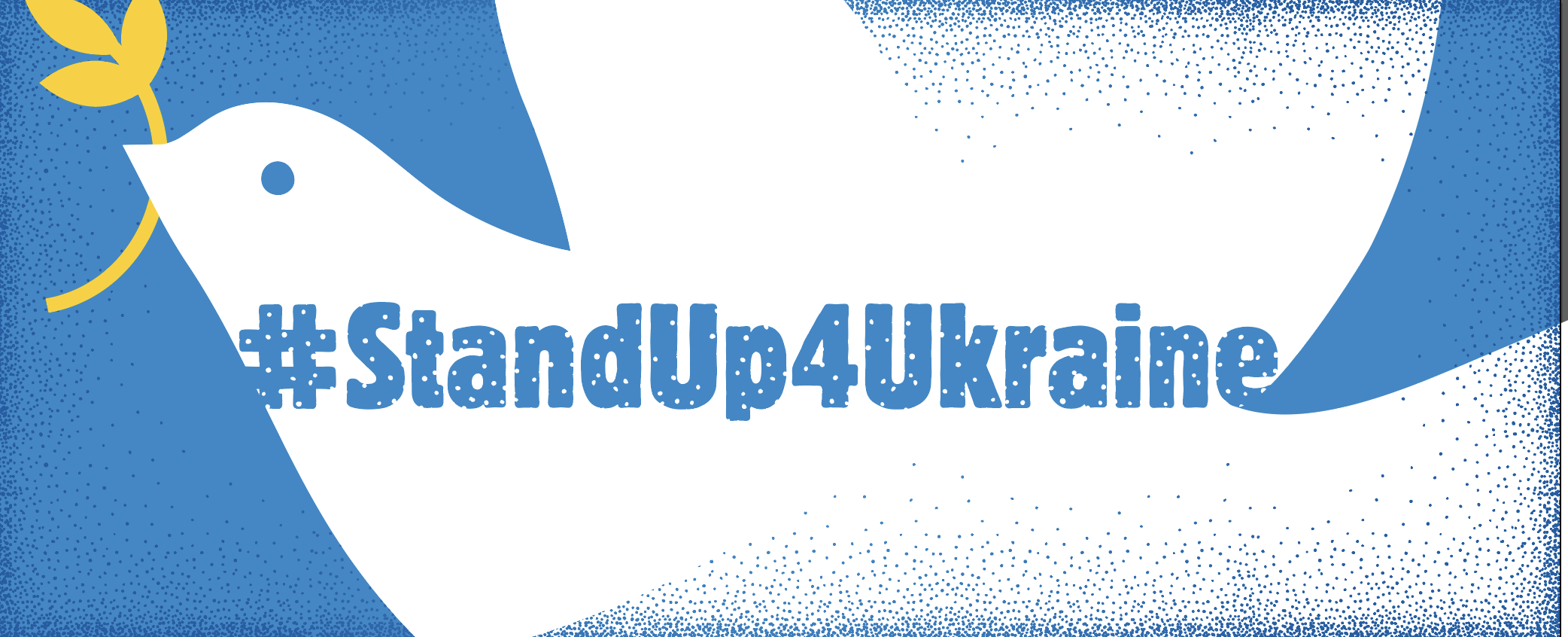 Our hearts, minds and eyes are focused on Ukraine right now. 
So many of us are asking 'how can I help?' Here are ways to make a real difference.
Already Uplift members chipped in and helped organise a lorry with supplies for people in Ukraine this week – sleeping bags, warm clothes, sanitary products, first aid kits and other medical supplies.
We also took action outside social media HQs with Ukrainians in Ireland to push Meta and Google to remove all Putin sponsored media channels – not just in the EU.
We pushed EU leaders to make it easier to move & work. On March 3rd there was a meeting to discuss European leaders will decide on a law that will give asylum seekers the right to move freely in Europe, have the right to work and get access to accommodation and key services. But many are foreign students, undocumented and people who previously received asylum in Ukraine. This new law could leave them without any protection – but people-power from Uplift and our sister organisations improved the directive. See our people-powered campaign here.
What else can we do?
Take action to call out Ryanair for ripping off people fleeing war
Ryanair CEO is hiking up prices of flights to and from Poland where people are fleeing Ukraine trying to seek refugee in Ireland. We need care and compassion for those who are trying to get to safety, not airlines making extra profits off the crisis. Sign the petition to call on Michael O'Leary to stop hiking the prices!
Sign the petition here: https://my.uplift.ie/petitions/ryanair-stop-ripping-off-people-fleeing-war
Donate
We're working closely with the Association of Ukrainians in Ireland, a community of Ukrainian people working to get supplies to families fleeing war in Ukraine and campaigning for peace in their country;
You can chip in here: https://action.uplift.ie/campaigns/chip-in-for-ukraine
If you would like to support local and reputable organisations on the Ukrainian border who are providing direct assistance to refugees with food, water, shelter, and border crossing assistance – our partners across Europe have put this site together so you can find easily groups providing humanitarian aid here: https://supportukraine.the-open.net/
Pledge a bed
If you want to offer support with accommodation for people fleeing Ukraine, register your pledge at Red Cross Ireland. The Red Cross are seeking spare rooms and vacant property pledges so that we can help people arriving in Ireland integrate in our communities.
Community sponsorship scheme
Community sponsorship is a new way to welcome refugees to Ireland. Unlike Ireland's existing refugee resettlement programme, where the State provides integration services directly, community sponsorship empowers members of the public to assume responsibility for providing a range of integration supports to a refugee family and to be the welcome point in their local community.
https://www.redcross.ie/communitysponsorship/
Add your name to Open Letter of solidarity with the people in Ukrainian 
You can show solidarity with people in Ukraine by signing this Open Letter drafted by the Ukrainians in Ireland Association. It will be shared with family and friends in Ukraine. 
Add your name to the Open Letter here. 
Resource for people trying to leave Ukraine
This resource includes resources to help people fleeing war with relocation information for many countries, including in Ireland. It has been compiled by people directly involved in helping people fleeing, is crowdsourced and verified.
Click here to visit the document.
As the actions we can take as a community evolve, we will continue to add more resources here.