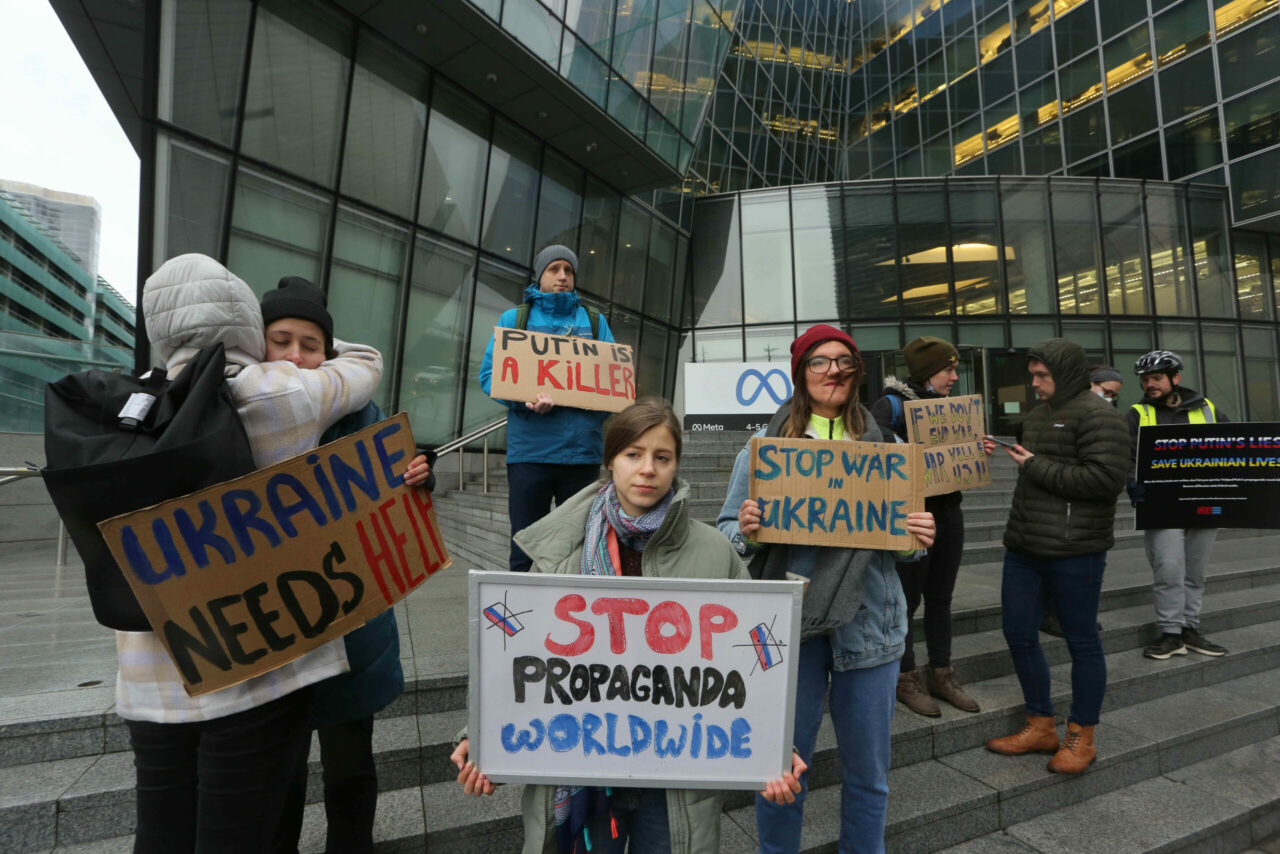 As a Ukrainian living in Ireland, this week has been the hardest of my life – I need your help.
These are the words of Michael Baskin, a Ukrainian living in Ireland who is doing everything he can to help his family and the people of Ukraine at this heartbreaking time. 
It has been a gut-wrenching week for people in Ukraine and their families living in Ireland and other countries abroad. Many of them haven't heard from their families in Ukraine for days – and are left feeling helpless watching the news unfold.
While media attention has been focused on Putin's tanks and missiles, there's not enough talk about the online hate and disinformation being spread by the Russian state on social media – that is costing Ukrainian lives. [1] Michael has told us that, 'Our families in Ukraine are being told via these channels – to leave the safety of their homes, to run onto the street, to be met with troops.'
Putin's disinformation is targeting people like us outside of Ukraine too. Everyday, state-controlled Russian channels produce videos that are shared tens of millions of times across the world with a growing number of views. [2] This content is designed to confuse us about what's happening in Ukraine, to distort the truth and divide communities across the world. 
So many of you have reached out, wondering how you can help the people of Ukraine from Ireland. Well, this is where we can make a difference. Some of these very companies – Meta (Facebook) and Google, who are letting this disinformation run rampant, have headquarters in Dublin. 
This isn't the first time something like this has happened – hate speech allowed by Facebook helped facilitate the genocide of the Rohingya people in 2017. Sign the open letter by the Rohingya people calling for Facebook to fund education programmes in their refugee camps here. 
We've seen before that these companies listen when we stand up together and call them out in front of the media. Last year, we brought Meta to the table after a protest led by a group of young Uplift members' was splashed across the media. Read more about that here.
That's why a group of Ukrainians living in Ireland and Uplift members headed to Meta and Google HQs in Dublin yesterday morning. We distributed leaflets to employees, alongside this mobile billboard funded by Uplift members.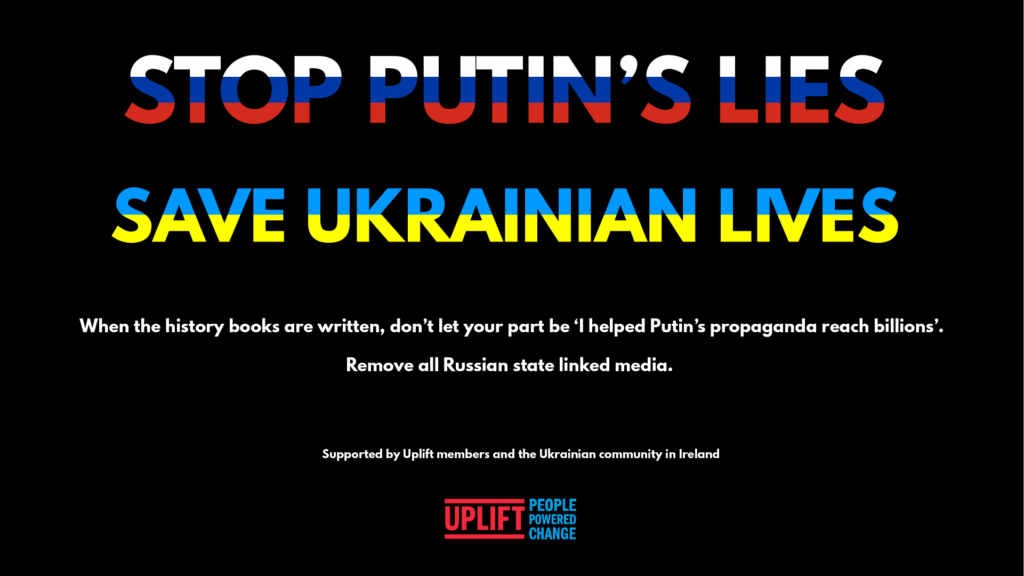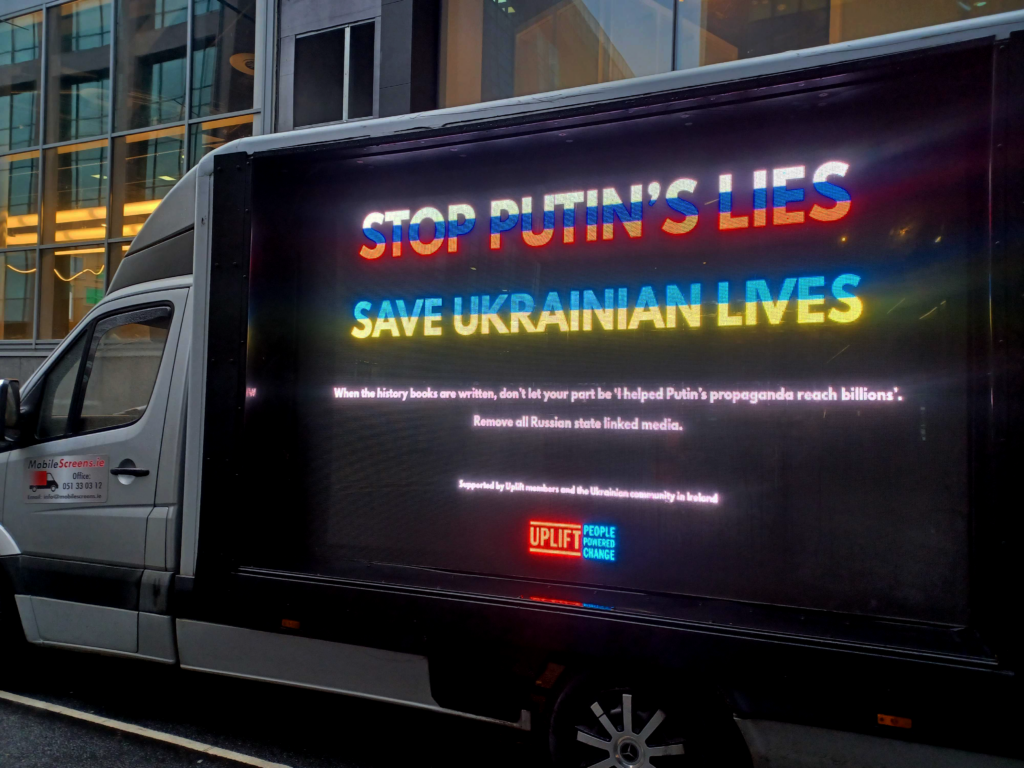 The Ukrainian people told their stories to the media and called on these big tech companies to remove Russian state-backed accounts from their platforms – and stop the harmful spread of falsehoods and disinformation. 
Many of those attending spoke of the fear they have for their families in Ukraine and called on people in Ireland to use their voices to show solidarity. You can sign the open letter calling on Meta and Google to stop the spread of Putin's disinformation here. 
Among them was Artem, who spoke to the media about the global impact of the spread of Putin's propaganda:
Russian state controlled media has been pushing disinformation and hate for years. From anti-vaccine conspiracies to hate and lies about different groups of people, undermining democracies all over the world. This may be too late but we need the social media and tech platforms to stop allowing them to share this propaganda, not just in Europe but across the world.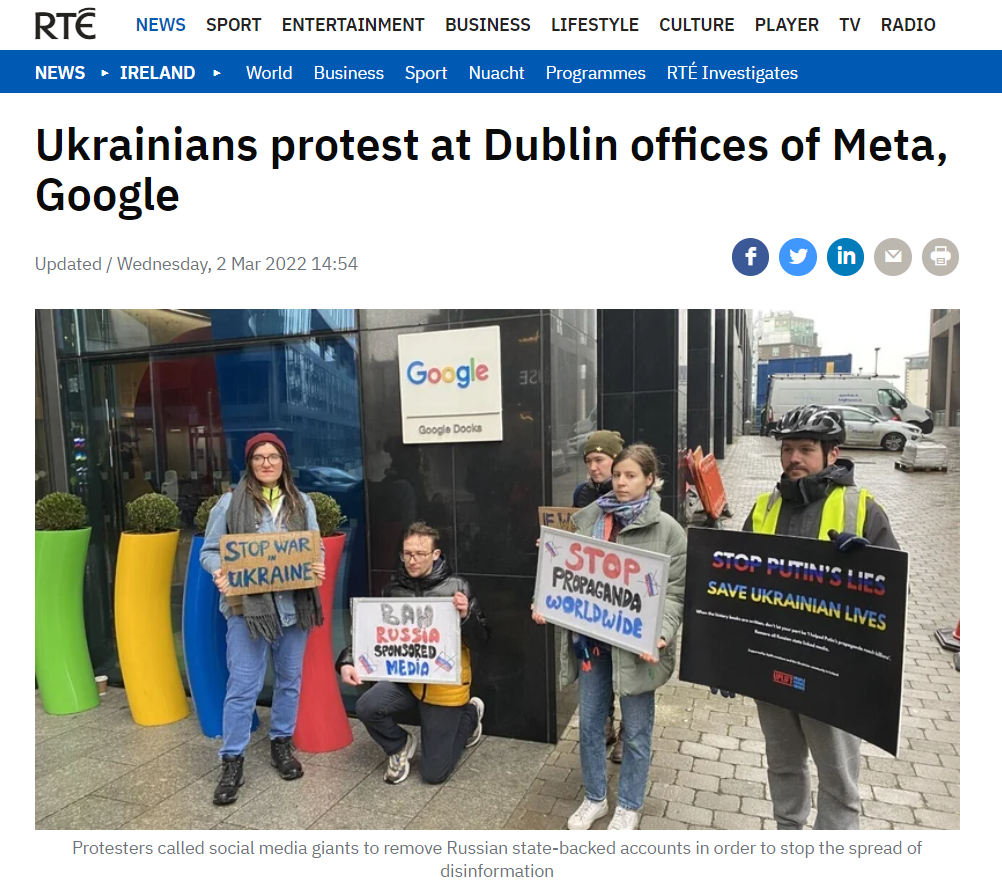 With Artem and other Ukrainian voices from the protest being raised across national media – the pressure is on big tech to listen and take action to protect the people of Ukraine and beyond from this damaging disinformation. [3-8]
If you're wondering how you can support the people of Ukraine at this time, follow the link to this blog where we've put together a list of ways you can help. 
P.S. Here's some footage of the protest in Dublin. 
NOTES: