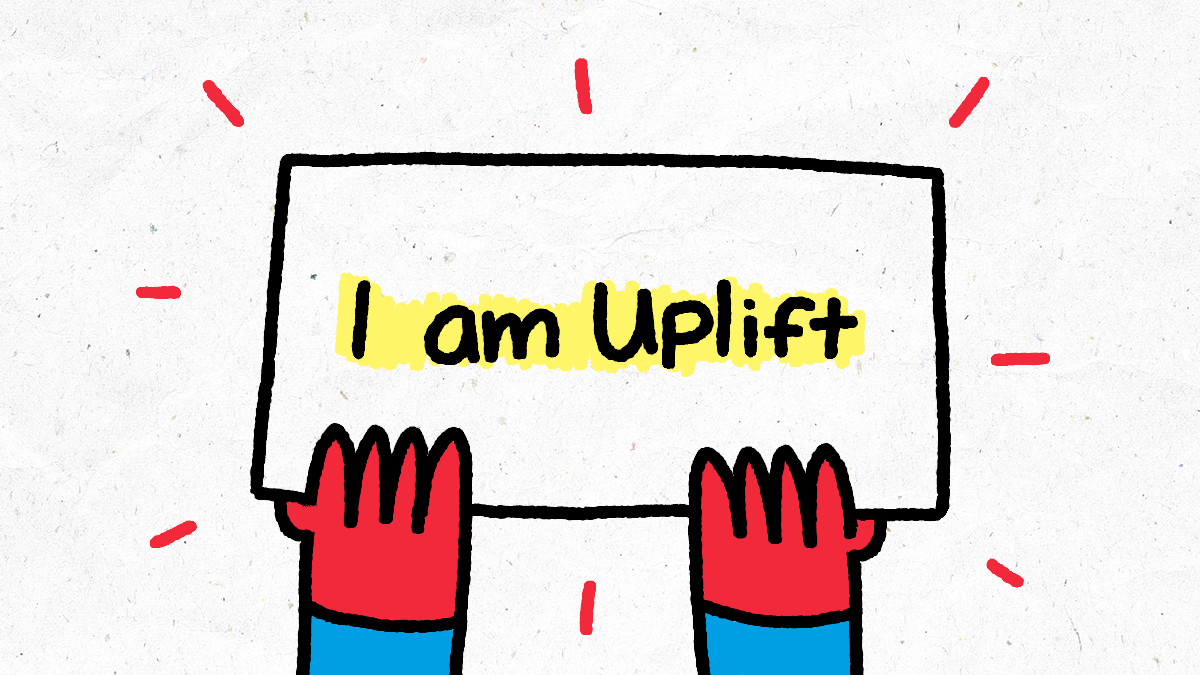 It's only February, and already our community has achieved so much this year. So, make yourself a cup of tea, relax and enjoy the read. 
Whether it's been signing a petition, emailing or calling your local politicians, chipping in for research, a billboard, a newspaper ad – without you, our community wouldn't be as powerful as we are.
Uplift doesn't accept money from the Government or big corporations. We are a fivers and tenners movement – and it's people like you that keeps us fiercely independent. 
Together, we have achieved so much, here are just some of the highlights from the past few months. 
A Public National Maternity Hospital Free From Religious Influence 
Our legal opinion, paid for by Uplift members, made headlines. So, too, did the independent public opinion poll, proving that a majority of people in Ireland want the state to compulsory purchase the land if the Sisters of Charity refuse to hand it over. [1] 
Over a quarter of TDs have now signed our pledge to make sure the hospital is publicly owned. You can have a look for yourself here to see if your TDs have signed and email them if they haven't.
Last week, 250 members chipped in to get our people-powered message in Minister for Health, Stephen Donnelly's, local paper – the Wicklow People. Keep an eye out in your inbox for details on an upcoming call to plan how we can make sure our new National Maternity Hospital is public and free from religious influence.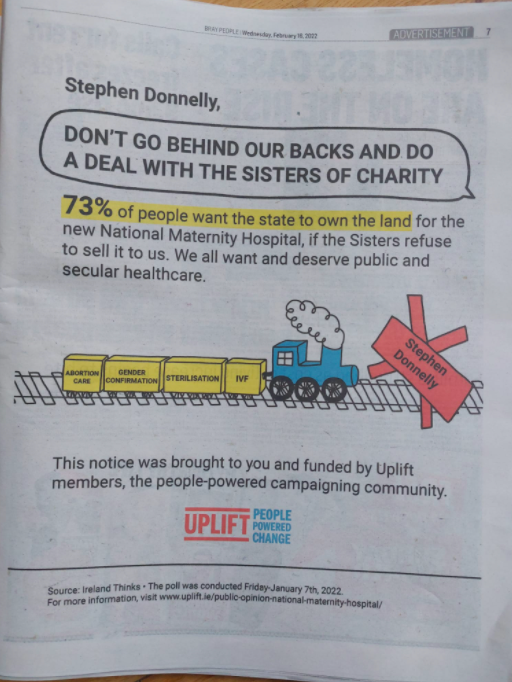 Sex Education All Young People Deserve
No matter who we are, each and every one of us deserves an education that allows us to feel safe in our bodies and empowers us to learn and talk about our sexuality, sex and relationships in a healthy way. But the Relationship & Sex Education Curriculum is years out of date and has been heavily criticised. [2]
This month hundreds of us piled the pressure on Education Minister Norma Foley to stop dragging her feet on overhauling the sex education curriculum. Read all about what our community has been doing to campaign for a sex education curriculum that meets the needs of all young people here. 
Our Community's Book of Condolences to Ashling Murphy's Family
Ashling Murphy's murder was a violent reminder that our society has a long way to go before women feel safe. Ashling's life was far too short, but it made a big impact. Together, we wanted to send our collective condolences to her family, so we gathered all of our messages and made this beautiful book of condolences.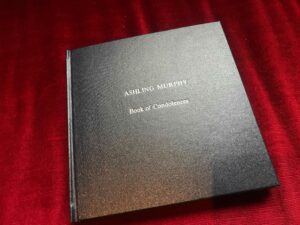 We also got behind survivors of violence, who are building their own organisation to support each other and to speak out about their experiences. Together, we raised €1,200 for the survivors campaigning group SISI. [3] If you want to chip in to help them grow, click here. 
We're Standing Up For Livable Communities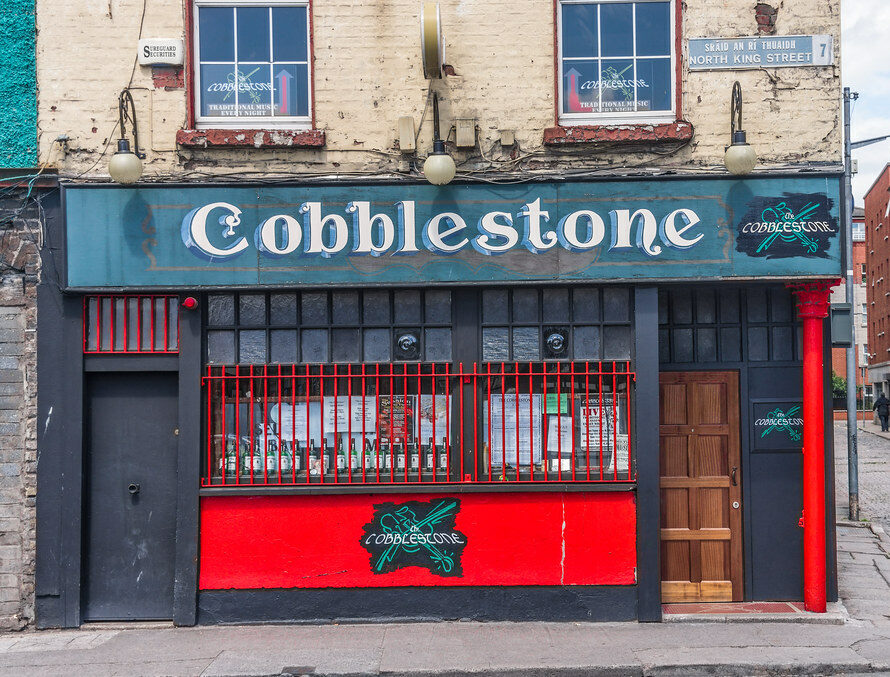 More people than ever don't have a secure home and many of Ireland's social and cultural hubs are under serious threat. The planning system is not working properly, and developers are riding roughshod over efforts to create livable communities. That's why Uplift members are rolling up their sleeves. [4] 
Over 2,000 members made submissions to the Review of Alcohol Licensing Open Consultation. We rowed in to support the campaign to save the famous Cobblestone Pub in Dublin, and now we're planning a huge campaign to make our planning rules work for our communities, not big business. Chip in to support this campaign here. [5]
We've got a new public holiday!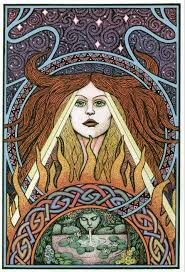 Uplift member Treacy's campaign to make Brigid's Day a public holiday has won. It was all over the papers and social media and thousands of members got behind it. The pressure worked and the new public holiday has been signed into law. [6] If there is an issue you feel strongly about – why don't you start a campaign on MyUplift here.
A Green New Deal for Cannabis

Our member-funded research shows how legalising Cannabis helps build community wealth, keeps communities safer, supports farmers and benefits public health. Based on our independent opinion poll, we now know that legalising cannabis is popular with people in general. [7] 
But, if we're going to get this over the line – we need politicians to hear from lots of us. This week, members turned out in force for our online training on how to talk to TDs about Cannabis reform. Keep an eye out in the news section for a recording of the training and a blog with some useful tips for talking to your TDs.
Our People Powered Forest Is Growing

An amazing 500 members have already sponsored a native Irish tree, soon to be planted in West Cork. [8] Thanks to our friends at Future Forests we have 100 more trees for Uplift members. So, if you hurry you can get yours too, before the planting season is over in March. Or maybe think about sponsoring a tree for someone else – you will get a lovely cert to share with them. You can sponsor a tree here. 
Our Communities Priorities for 2022
At the beginning of the year, members shared their thoughts on what our community should campaign on in 2022. Protecting renters and campaigning for more public homes is our top priority. Exposing pollution and carbon emissions produced by big business; protecting and planting more trees; and tackling plastic pollution; pushing for better local planning systems, reigning in big tech; and, taking action to stop racism and hate are all there at the top of the list too. Take a minute to read the blog. 
Upskill Academy off to a flying start
We kicked off the year with two great Upskill Academy workshops. Each workshop was designed for Uplift members and community leaders to grow in confidence, gain new knowledge and skills and connect with others who are involved in all kinds of social change across Ireland. Plans are underway to deliver sessions again in June and September so keep an eye on our news section. 
Some of our Upskillers set up some kick-ass campaigns of their own. You can have a gander through them in the notes below. [9] 
Keeping Uplift Running Smoothly
Making sure our community is run well is a top priority for our staff team and Board of Directors. We want to introduce you to some new board directors, who bring amazing experience, skills and wisdom – Anne Gibney, Marieanne McKeown and Rory Doherty. Check out our board of directors and team here [10]
Putting every euro donated to work on the campaigns we care about is vital to Uplift's success – that's why we're putting more and more effort into making sure our financial systems are top class. If you have any questions check out the website or, get in touch with Julie, our Director of Operations at [email protected].  Will you chip in to help keep Uplift running smoothly? 
Growing People Power in Northern Ireland
Our sister people-powered community in Northern Ireland is growing from strength to strength. Together, we gathered huge support for the removal of offensive Parachute Regiment flags during the Bloody Sunday anniversary in Derry. This past week over 600 members took action to end segregated education systems in Northern Ireland. [11] Find out more here. 
We're Standing Up To Big Tech 
Instead of feeling helpless about the control big tech corporations have over our lives –  Uplift members are campaigning hard for rules to protect our privacy, stop inappropriate ads and surveillance and prevent corporations profiteering from the spread of hate and disinformation.
A new EU law called the Digital Services Act is one of our big targets this year – and thanks to people power it has been strengthened and voted through to the next stage. [12] Uplift members emailed MEP's in the hundreds to make sure they knew how we felt. There's a long way to go but we're off to a good start.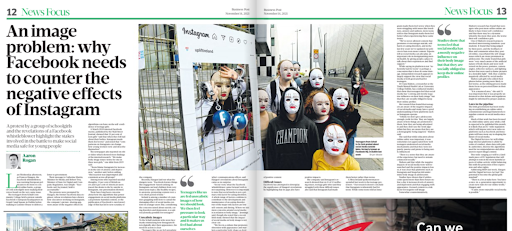 Get Behind Daniel
Without the support of a Personal Assistant, 24 year-old Daniel – a talented podcaster and broadcaster with a bright future – could end up living in a nursing home. Daniel's campaign is getting the huge support and media attention it deserves. [13] Soon, Daniel will be delivering his petition, so stay tuned –  and if you haven't signed, add your support here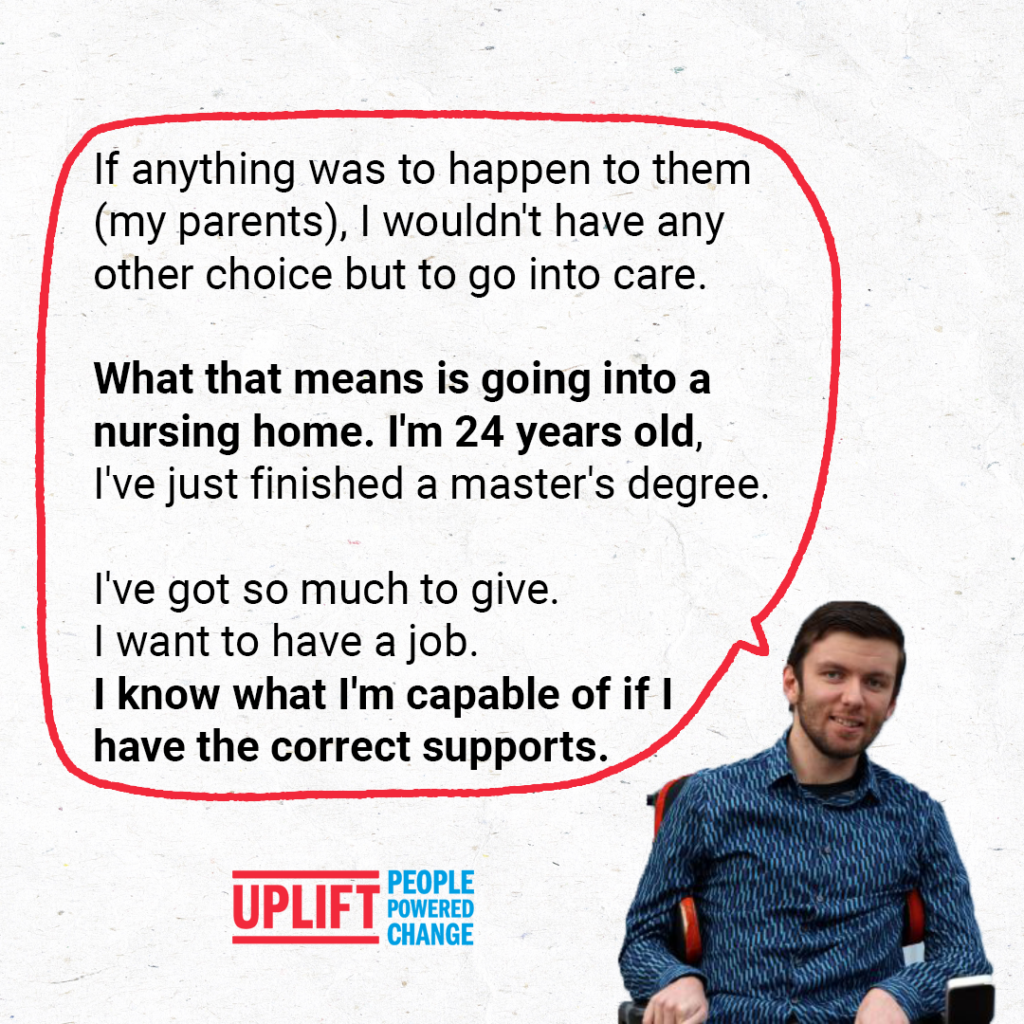 Keep Uplift Fiercely Independent
Uplift members value our independence more than anything else. We don't accept money from the government or big business – and guard closely our right to question, challenge, to be brave and take strategic risks. [14] 
But like everyone else, we need to keep the lights on and pay things like wages, tax, insurance and audit fees. Did you know that it costs €6,500 per month  – yes €6,500 – just to keep our tech running? This year, the digital tools we use badly need to be updated so that we are fast, nimble and can make sure members and communities are able to take action on the things we all care about. If you'd like to chip in a few euro a month to help us maintain and upgrade our tech, you can do so here. 
It's all because of supporters like you that our community can remain fiercely independent and campaign on issues we all care about. You are Uplift. We are Uplift. Here's to the rest of 2022 continuing to be packed full of people-powered change. 
P.S. If you'd like to keep up to date with what our community is doing on social media, you can follow us on Twitter, Facebook or Instagram
NOTES:
[1] Irish Examiner: No legal barriers to State owning National Maternity Hospital site – legal analysis & Uplift blog: A Political Hail Mary for the National Maternity Hospital
[2] Irish Examiner: Report to call for reform of Ireland's 20-year-old sex education programme & Twitter @NormaFoleyTD1 & Hundreds call on Minister for Education to reform sex ed in Ireland
[3] Ashling Murphy murder must be 'watershed' in society's approach to gender-based violence, says Taoiseach
[4] Irish Independent: Developer threatens Tidy Towns group with legal action & Irish Times: Opposition disputes claim that building homes delayed by high level of judicial reviews
[5] Irish Examiner: Alcohol licencing review gets 5,000 submissions & Save the Cobblestone petition & Petition starter Eoghan on how he's saving the Cobblestone with music 
[6] Irish Independent: New bank holiday welcomed in Brigid's birthplace
[7] Irish Examiner: Growing expectation of Irish citizens' assembly on drug use this year & Uplift blog: Cannabis: A Different Kind of Green New Deal
[8] Uplift's people-powered forest 
[9] Upskillers' petitions: Ease Refugees Access to Higher Education & Restore The Multi diversity Centre & Reduce the wait time for smear test & Stop Intentional and Negligent Dereliction 
[10] About Us 
[11] BBC: Bloody Sunday: Parachute Regiment flags near Derry 'unacceptable' & DUP petition of concern bid over integrated schools proposal 
[12] Silicon Republic: Digital Services Act: MEPs give green light to take on Big Tech
[13] Give me the PA hours I need to life fully petition & Article in the Irish Times about why Daniel's petition is so important
[14] How we spend money