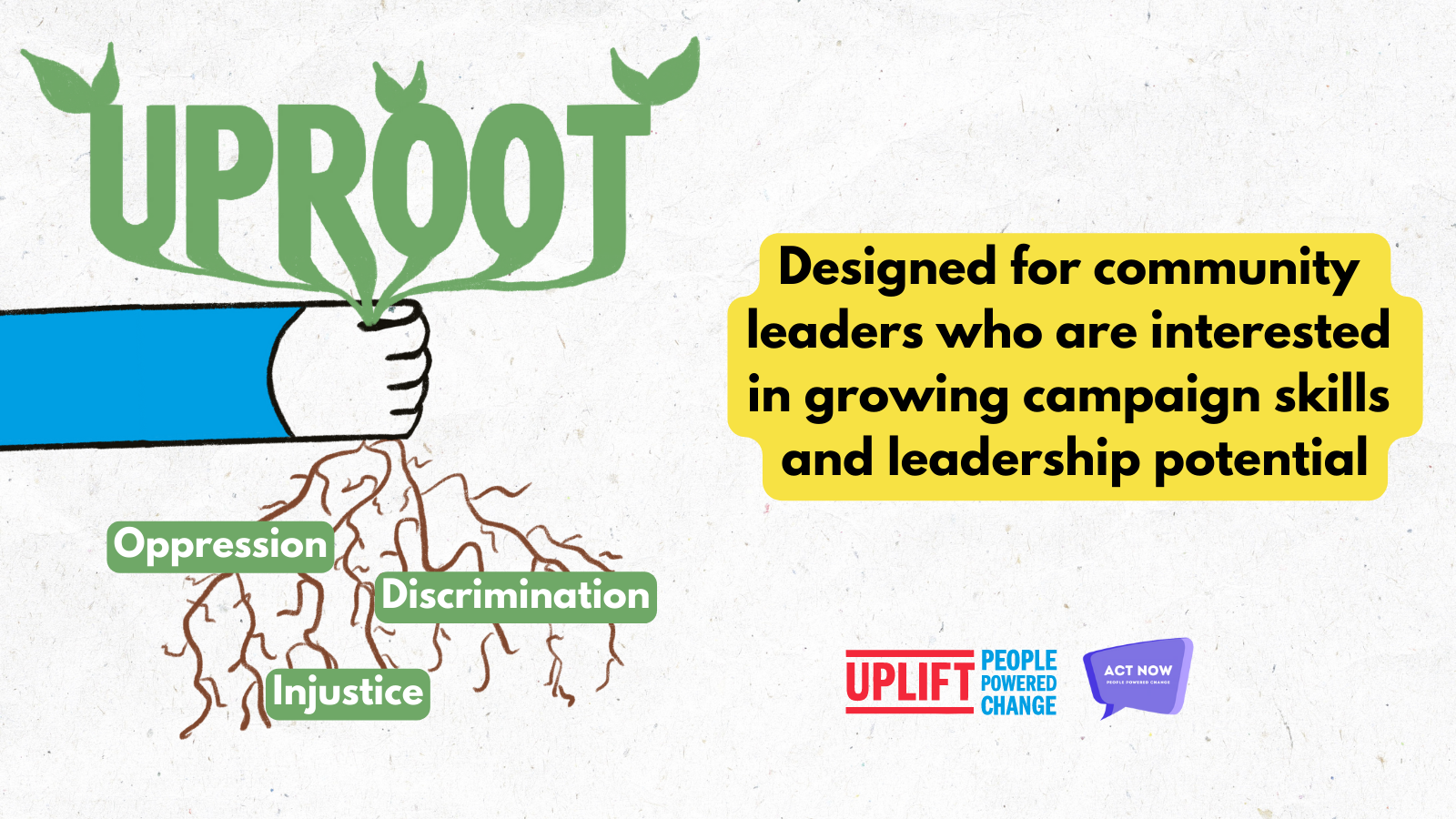 Uproot: Campaigning 101
Sign up for the workshops here
People-powered campaigning communities Uplift and Act Now present this year's Upskill Academy training series called Uproot – Campaigning 101. Uproot is a series of online campaign workshops designed to help community leaders grow their campaign and leadership skills.
Over the 5-week course, you will learn how to design a great campaign plan, create core messaging to frame your campaign goals and use the digital tools readily available that can make it all happen. As well as this, you will learn to hone and harness what drives you as a leader.
Uproot will be run virtually over Zoom. Beginning on October 5th, 2022 and running for 5 weeks, participants will meet for two hours between 6pm-8pm on Wednesday evening. It will be highly interactive and will build on participants' experiences.

Here's the workshop programme:
Designing a great campaign plan:

Wednesday 5th October at 6pm

This introductory session will focus on identifying a campaign goal, choosing the right target, and working out the best tactics.

The power of narrative and messaging

: Wednesday 12th October at 6pm

This session will focus on understanding the basics of narrative and framing, and practice messaging campaign goals.

Creating inspiring content:

Wednesday 19th October at 6pm

In this session we will focus on the science and art of drafting powerful content, both written and visual.

Putting it into practice:

Wednesday 26th October at 6pm

In this session you will learn how to use a range of digital tools that will get your campaign moving and gathering the support you need to achieve impact

Brave leadership:

Wednesday 2nd November at 6pm

This final session will focus on you as a leader, what drives you, your values and what helps and hinders you in your leadership work.
Sign up for the workshops here
Do you know someone who faces oppression, discrimination or injustice or has an interest in campaigning that might be a good fit for this training but might not put themselves forward? They're more likely to attend if a friend suggests it to them. You can send the details to them below;
So we can continue to run trainings like this that empower our members and to grow our community's campaign and leadership skills, we're asking people to chip in what they can to cover the costs.
If you're unwaged, can you chip in €5 for the 5 sessions?

If you're working or your organisation is supporting you, can you chip in €25 for the 5 sessions?

Chip in another amount so this training can be made available to other Uplift members who can't cover the costs themselves.