Putting 'action' into the Climate Action bill
Over the last few months, we've been busy focusing on the Climate Action Bill,  making sure we as Uplift members are influencing the Bill every step of the way. As the bill will shortly move to the next stage – it's time we take stock of everything we've done together and have a look at some of the powerful work we've all contributed to. 
Thousands of Uplift members shared our thoughts on what a Climate Action bill should look like for all of us to be able to live a healthy and prosperous life – one that puts our health, homes and environment at the centre of a climate policy. [1] We wanted solutions that are people-centred, not just planned by people in offices or men in suits.
93% of 3,000+ Uplift members said that they are very concerned about the climate crisis. [1] So we came up with a plan. Thousands of Uplift members fed into and funded a huge people powered report: the People's Plan For Climate Action. [2]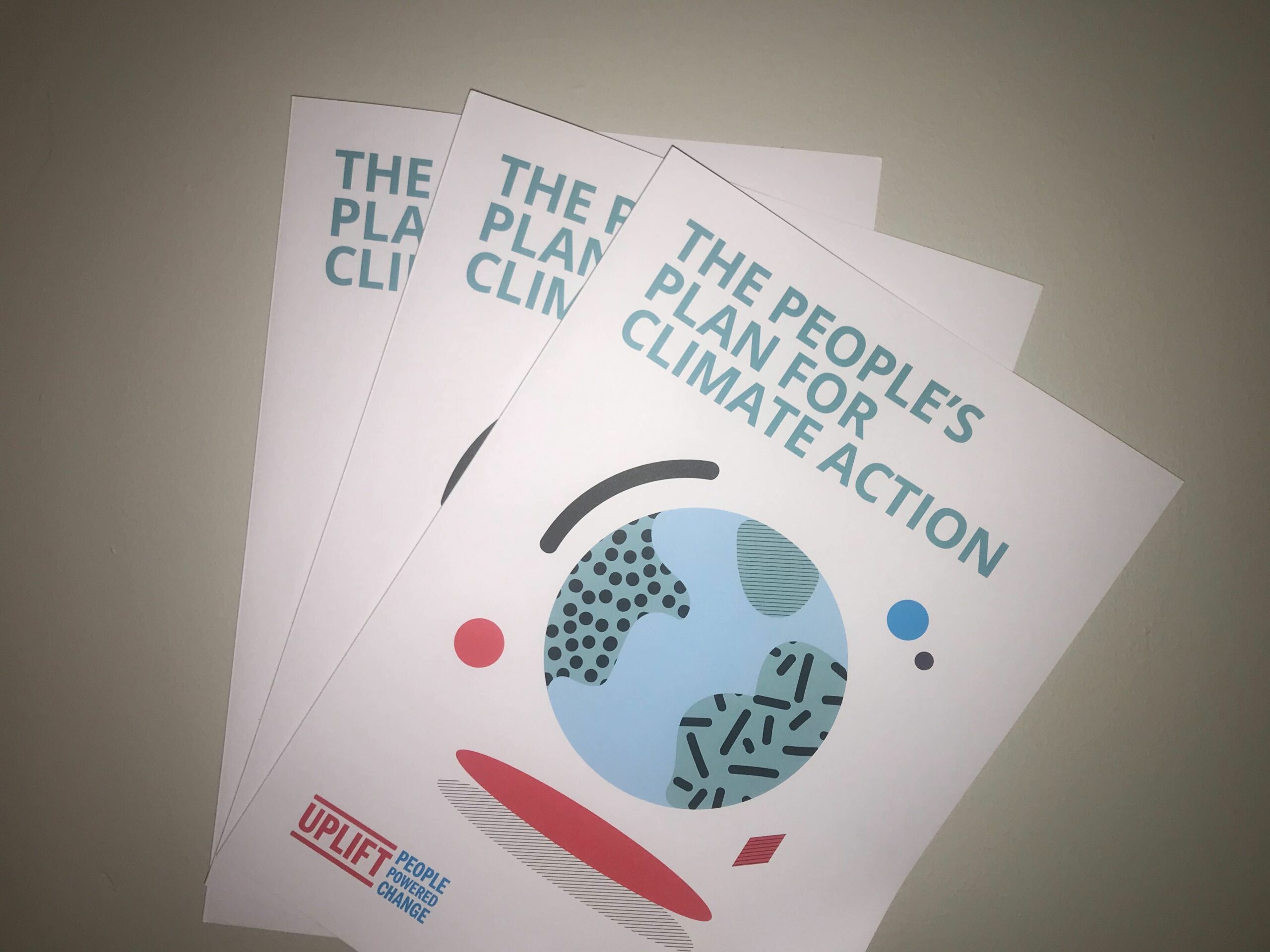 Every single one of us deserves to have our voices heard when it comes to building community centred, people first climate solutions. After all, it's ordinary people who will bear the brunt of facing the climate crisis. Uplift members in their hundreds emailed our People's Plan for Climate Action directly to their local TDs and we sent a hard copy to every TD and Senator. 
Together, we funded and launched a dedicated website for everyone to see, with a clever countdown timer to the 100 day promise. That was  made in the Programme for Government to publish the Climate Action bill, really helped to keep the pressure on. [3]
But that's not all, Uplift members like you invited their TDs to an online event to hold them to account in real time. [4] We presented our plan together. We put questions to them about how they were going to approach the Climate Action bill – and would they be putting people first.
With the publishing of the draft bill in the past weeks – it is now being scrutinised by decision makers in the Oireachtas Climate Action committee. [5] Just today we put in our own people-powered submission to the committee based on our People's Plan for Climate Action – that people like you fed into – and the campaign continues.
It can feel hard to influence those in power, but this community gives me hope – and we're growing every day.
We need to go all in for all of us, joining together with people from all walks of life to make a better future for us all.
By joining together, from our farms to our cities, we can act collectively to ensure our well-being for generations to come. By using our right to have a say about our future, we can ensure that rules made about our air, water and land serve all of our best interests.
NOTES: 
[1] Uplift survey public results 1 & 2
[2] Uplift's People's Plan for Climate Action document 
[3] Uplift's People's Plan for Climate Action website and counter
[4] Uplift's People's Plan for Climate Action launch event & Uplift's People's Plan for Climate Action launch event recording
[5] Climate Action and Low Carbon Development (Amendment) Bill 2020