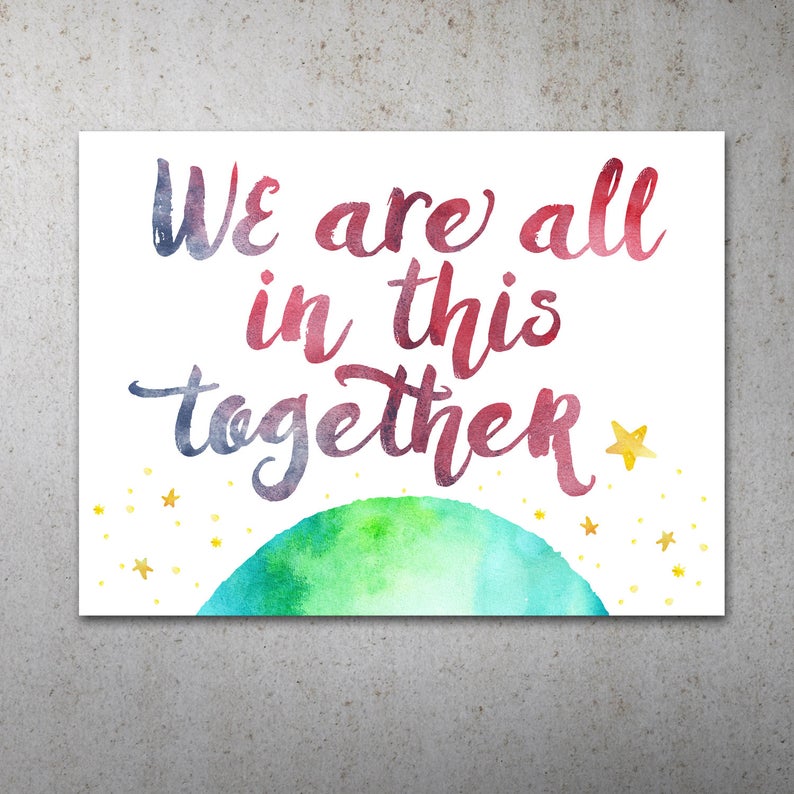 "Ar scáth a chéile a mhaireann na daoine." 
Through the shelter of each other, people survive.
– Old Irish Proverb
It's become a bit of a cliché to say that we're living in unsettling and unprecedented times. We're facing a second wave of the virus that has upended many of our lives, while we were hoping to close the book on the hardest chapters.
But through it all, our community is growing, connecting and rising up to meet challenges. There are now over 290,000 of us who took a record-breaking 112,000 actions in September to fight for everyone in Ireland to be protected, to push for change and to hold the powers that be to account.
Over the past two months, we've achieved a lot together. We could all use a dose of hope, so stick on the kettle, and have a look at some of the highlights…
This pandemic has thrown the need for protecting our planet and the people who live on it into razor sharp focus – and Uplift members are pushing hard for a people and community centred plan. Our People's Plan for Climate Action, drawn from the responses to a survey of over 3000 Uplift members, is on the desk of every TD across the country. Thousands of us have written to our local politicians to commit to the plan. [1]
Protecting our online spaces is getting more and more important. Uplift's submission on Online Safety and Regulation was contributed to by hundreds of members and has been submitted to the European Commission. [2] And like hundreds of organisations across the globe, we've boycotted Facebook ads. Read our coverage: The Times: Uplift joins fight for Facebook ad boycott
More than ever, the need for a thriving mental health service in this country is so clear. And Uplift members are fighting tooth and nail for it. Mental Health Reform Ireland and Uplift are calling for more mental health resourcing in the upcoming budget, and a huge petition signed by over 46,000 of us was delivered to Minister for Mental Health Mary Butler in Waterford this month by Michelle, Sióbhan and one of Uplift's youngest campaigners Faye! [3]
Art and culture is something so many of us rely on for our well-being. That's why we supported the Musicians and Entertainment Association Ireland, and Event Production Industry Covid-19 Working Group (EPIC) for PUP payments for people in arts and more government support for an industry that's been hit hard by the pandemic. [4]
The plastic bottle deposit scheme which our community has been campaigning on for almost two years is to be rolled out in 2021, and new campaigner Rema is designing a video that will show exactly how we want it to work.
We're bringing people together for a campaigning crash course called UpSkill, where 200 members are learning key skills like organising, messaging and talking to decision makers. But we're not just learning new skills, we're also connecting struggles, getting into deep conversations about non-hierarchical and anti-oppressive organising, and we're learning how to support each other's widely varied and diverse campaigns.
Thanks to donations from members, we were able to make a Barry's Tea Counter – and Barry's have assured us that they now have the machines to make biodegradable tea bags and that production will be starting shortly. This is not before we've all used billions of Barry's tea bags with plastic in! Check out the teabag counter for yourself: Uplift's Barry's Teabag Counter
We also…
Sent a whopping 1,019 emails to Ministers demanding that evictions are stopped.

Raised the funds for the adoptee rights storybook to be given to the Minister;

Got a new cycle-way introduced in Blackrock;

Influenced national guidelines for maternity care;

Got behind Debehaman's workers with a pledge for change. [5]
This community also campaigns both sides of the border – and we're connecting campaigns and struggles here too.
Led by campaigner and activist Nicola, Act Now, in collaboration in with Uplift, is a newly formed people-powered campaigning community in Northern Ireland:
We're one step closer to banning fracking across the island: Act Now members campaigned to withdraw a Local Development Plan Consultation, which had removed was reissued with a the de-facto ban on fracking in Fermanagh.

Plans to tear down historic Havelock House in Belfast have been delayed.

With youth group MyStoryYour Story, ensured mental health provision in schools across Northern Ireland is monitored as part of the inspectorate regime.

After pressure from Act Now members, a public enquiry has been ordered by the Ministry of Health into the allegations of systemic abuse at Muckamore Abbey Hospital.
Isn't it amazing what we can do when we all work together?
There are no rich donors or government funds for us – it's down to monthly donors who keep Uplift going. Unfortunately, Covid-19 restrictions have meant that many of our regular donors have lost their income and have had to cancel their monthly donation. If we want to keep having the same amazing impact, bringing our community together to create real change, we need your help. Can you chip in?
---
NOTES:
[1] 
https://www.uplift.ie/2020/09/10/the-peoples-plan-for-climate-action/
[2] 
https://www.uplift.ie/wp-content/uploads/2020/09/Uplifts-Online-Regulation-Submission.pdf
[3] 
https://my.uplift.ie/petitions/better-mental-health-services-1
[4] 
https://action.uplift.ie/campaigns/epic-live-entertainment
 & 
https://www.rte.ie/entertainment/2020/0918/1165921-live-events-industry-calls-for-government-support/
[5]
https://my.uplift.ie/petitions/give-identity-rights-to-adoptees-in-ireland
 & 
https://my.uplift.ie/petitions/cycle-lane-along-coast-between-blackrock-and-dun-laoghaire
 & 
https://my.uplift.ie/petitions/lift-restrictions-on-maternity-care
  & 
https://action.uplift.ie/campaigns/debenhams-pledge