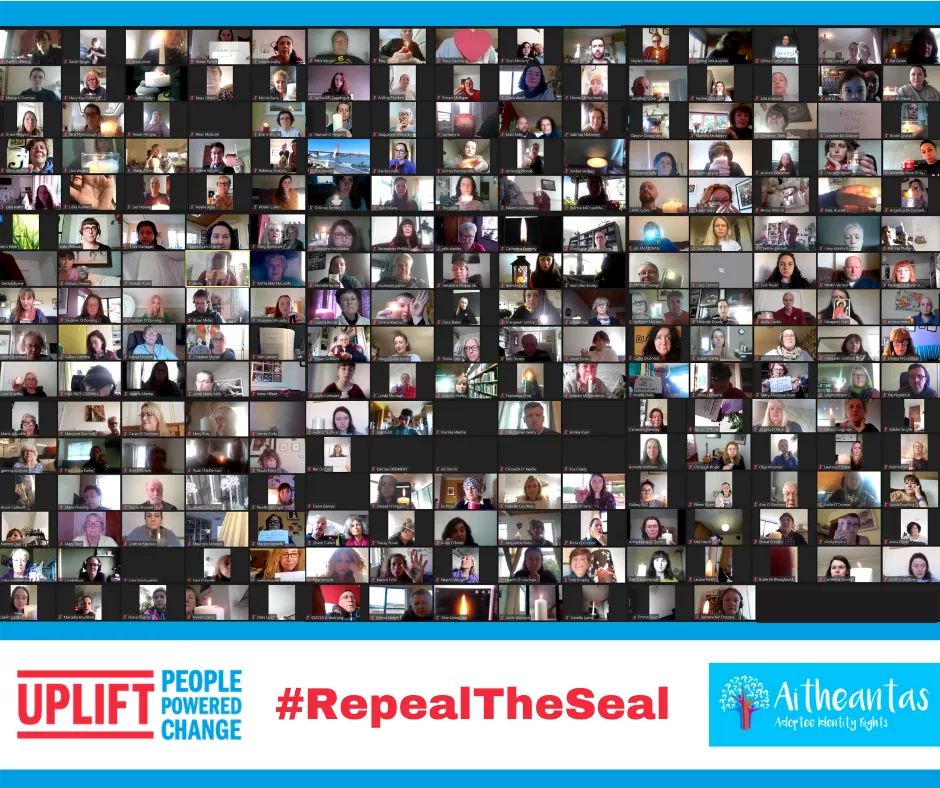 The decision by this government to seal the records of over 60,000 people who had been institutionalised or forced into adoption by Mother and Baby homes was a shocking moment for so many of us.
In the weeks previous, people had been emailing politicians and those who had faced abuse had bravely spoken to the media in the hopes that the rushed Bill could be stopped. 
What follows is the story of how we collectively forced a U-Turn, while fighting for those directly affected to be at the centre of decision making and how people across Ireland rose to push back on an unjust government decision.
The Mother and Baby Home Bill allowed for the transfer of 60,000 records created by the investigation into Mother and Baby homes to Tusla – and that the information would be sealed for 30 years. 
When this happened Aitheantas, an adoptee rights group who Uplift has worked with for two years jumped into action and started a petition demanding the government #RepealTheSeal – and it went viral within hours.
In just one week over 195,000 people signed the petition and it became a rallying cry for people outraged, hurt and desperately wanting to take action.
At the core of the anger was the way in which people affected by the brutal and inhumane institutional policies of forced family separation, were being treated. This dark chapter in Ireland's history saw tens of thousands of women institutionalised for getting pregnant outside of marriage. Their babies were taken from them, and often were adopted in secrecy, or sold to wealthy families in the U.K and America. 
What became clear was that this issue ignited a spark in the bellies of ordinary people across the country. Many of us came to realise that we had some connection to the trauma of the Mother and Baby homes, illegal adoption and industrial schools, and that the shadow of abusive power religious institutions cast over the lives of people growing up in Ireland for generations, was still with us. 
Within days Uplift members, some long standing, some brand new, sent 55,000 emails to their local TD's telling them they had to find a way to make sure people had access to their information; that as constituents we would be holding them accountable.
 #RepealTheSeal was trending on social media and government ministers and politicians called out over and over again for their failure to listen to survivors.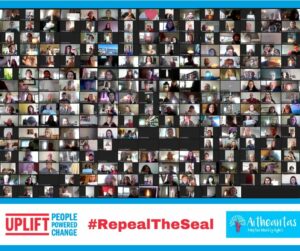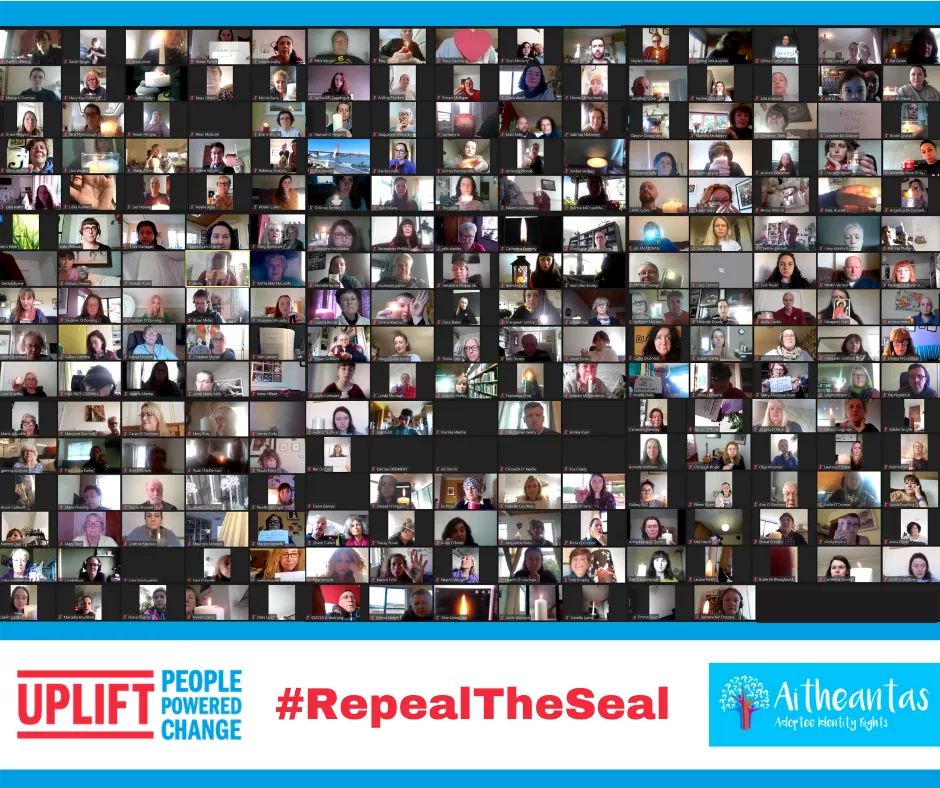 It became clear over the October Bank Holiday that the government and the politicians in their parties were scrambling to respond to the unprecedented public pressure.  
Instead of waning, the public anger was growing. As Uplift staff member Shae observed, "this week has been air on a wound for so many." The campaign was tapping into deep upset about victims and survivors not being listened to; the hurt and pain felt by so many people, the intergenerational trauma so evident in the stories that were being shared – and anger at the way in which state institutions consistently fail to protect people in need of support and care.  
This reinforced the belief that instead of dealing with the past, our Government was closing ranks to maintain a culture of shame and secrecy and denial that benefits those in power. 
We quickly organised a virtual rally attended by over 400 people across Ireland and from as far as Australia and the U.S. At the rally we heard from people directly affected by the legacy of secrecy surrounding adoption and the struggle to learn about their history. We heard how Traveller women's experience of Mother and Baby Homes were made even worse by racism and why it's so important that survivors have a voice and are heard by all of society.
Senator Alice Mary Higgins laid out clearly the details of what the 'seal' actually means and she talked about the confusion that had been created by our current government. "The seal is also about attitude – in how policy is developed, the obstructions put in people's way and the deliberate culture of secrecy at state level."
Aitheantas founder, petition starter, and adoptee, Maree Ryan-O'Brien spoke about tackling the legacy of shame and the need to 'legislate for the Ireland we want, not what we have'.
We knew that we as a community alongside the incredible campaigners from Aitheantas and everyone joining the call needed to be held emotionally while confronting the raw wounds so many of us still have. That's why renowned singer Mary Coughlan sang 'Magdalen Laundry' helping the tears flow and give expression to the deep emotion we were all feeling.
We also knew that members needed an opportunity to take action – to channel the emotion we all felt towards those making the decisions. We led a phone bank on the call, and shared our free phone call tools with those who wanted to follow up later. Within 48 hours 375 phone calls were made – the most we've ever seen and reports back were flowing in with responses from politicians across the country.
The following day this government did a u-turn and announced that survivors would have access to their information contained in the archive. [3] 
It was initially hard to believe the government response was genuine. After all a wall of mistrust has been built up – created over decades of poor treatment of survivors and people affected by state sponsored abuse in mother and baby homes, baby homes, industrial schools. 
But it was also clear that the government was forced to respond to the concerns people had – because of a consistent, coordinated campaign and movement that mobilised hundreds of thousands of people. 
There's so much still to fight for and the road to justice for survivors of institutional abuse is long. So many groups led by those who have been directly affected have built the foundations for the long road to true justice. While it is a hard road to walk, it  has been lit with the solidarity, care, love and determination of people across the country. 
Together we are helping lift the lid of shame, isolation and neglect experienced by too many of us over decades. Together, we are healing our collective wounds. 
In these moments, people find themselves as part of a larger community, a 'We' that hasn't existed for many of us before.
Now we're going to concentrate on supporting adoptees to tell their stories and make sure these experiences are heard. Hundreds of members have been sharing their stories through a survey that will be published very soon. If you or a close family member are affected, can you share your story now?
---
[1] https://www.hotpress.com/culture/hozier-ailbhe-smyth-blindboy-and-more-respond-to-controversial-mother-and-baby-homes-bill-22830825
[2] https://www.thejournal.ie/mother-and-baby-home-records-5242858-Oct2020/
[3] https://www.rte.ie/news/politics/2020/1029/1174669-mother-and-baby-homes-reaction/