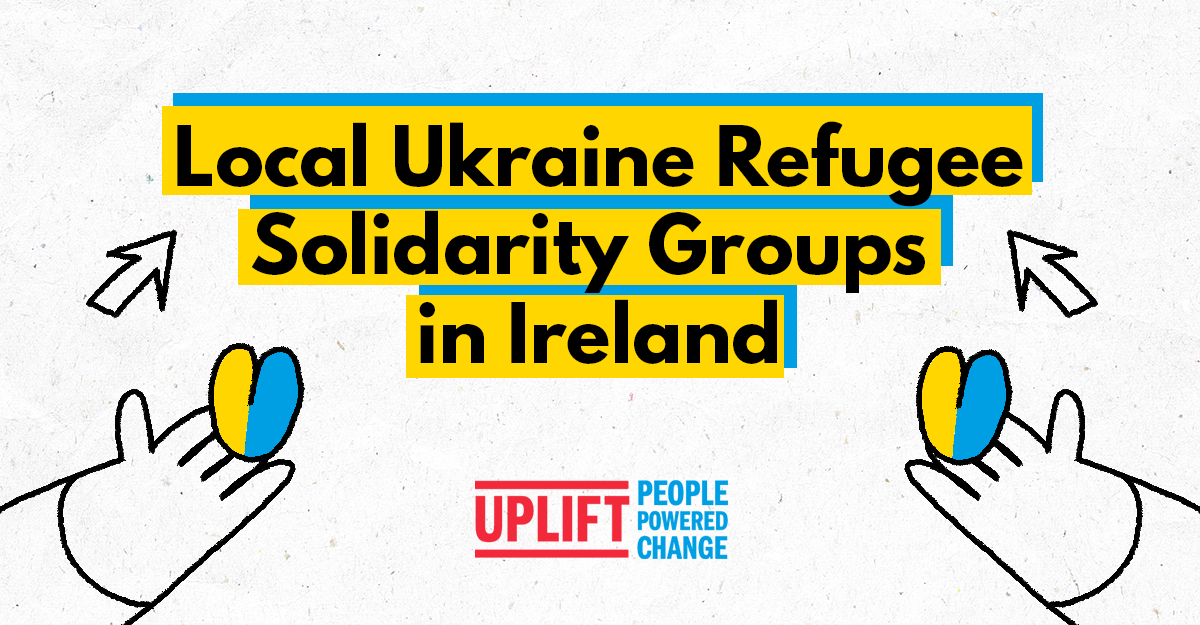 Are you looking to join or set up a local group organising support for Ukrainian refugees arriving in Ireland?
Find your local Ukraine Refugee Solidarity Group
Start a group for your area if there isn't one already
Most of us believe that in hard times, we should show up for each other. Terrified mothers, children, grandparents fleeing the brutal war in Ukraine have sought refuge in communities all across Ireland.
Our instinct in times like this is to do something practical – collecting clothes, organising transport, help with school books. We want to show up with kindness and solidarity – while working hard not to feel overwhelmed by the horror of what's happening.
Local communities are already coming together to welcome and support Ukrainian refugees in Ireland who have had to flee their homes because of war. People across Ireland have a range of valuable skills and time to offer to support the people arriving in their communities.
To help local communities organise in the best way possible, we've built a tool called the Ukraine Local Solidarity Platform. It's a hub that connects local groups, helps them get organised – and lets people easily join in. Having an online space to organise together will be key to making sure Ukrainian people arriving here are getting the support they need.
People across the country have been joining or starting local Ukraine refugee solidarity groups using the platform. Watch back the recording of the first online gathering of people organising support through the groups here.
These groups are online spaces to help you keep track, communicate and manage support and activities in your local community. If a group is already active in your area, can you please pass it on to them?
Some handy features of the groups include the ability to:
Send emails to group members if you're the organiser
Have multiple different chats with other members in the discussion section
Set up events within the group
Start a petition
Add resources like useful links and documents
Share the link to the group/events/petitions on social media
* Note that you don't need to be signed up to any social media platform to set up or join a group.
Follow the buttons below to reach the portal where you can either join or set up your own local group:
Find your local Ukraine Refugee Solidarity Group
Start a group for your area if there isn't one already
No matter who we are or where we come from, we all deserve to feel safe, to be able to put our children to bed, knowing that they will wake up safely.
That's why we support and welcome all displaced people. But right now it's hard to get a clear picture of what's happening across Ireland. There's lots of confusion as services scramble to respond and it's difficult to know what information to trust.
P.S. Looking for other ways to support the people of Ukraine from Ireland? Read this blog for a list of things you can do, from taking online actions to supporting on-the-ground relief or even pledging a bed if you can.