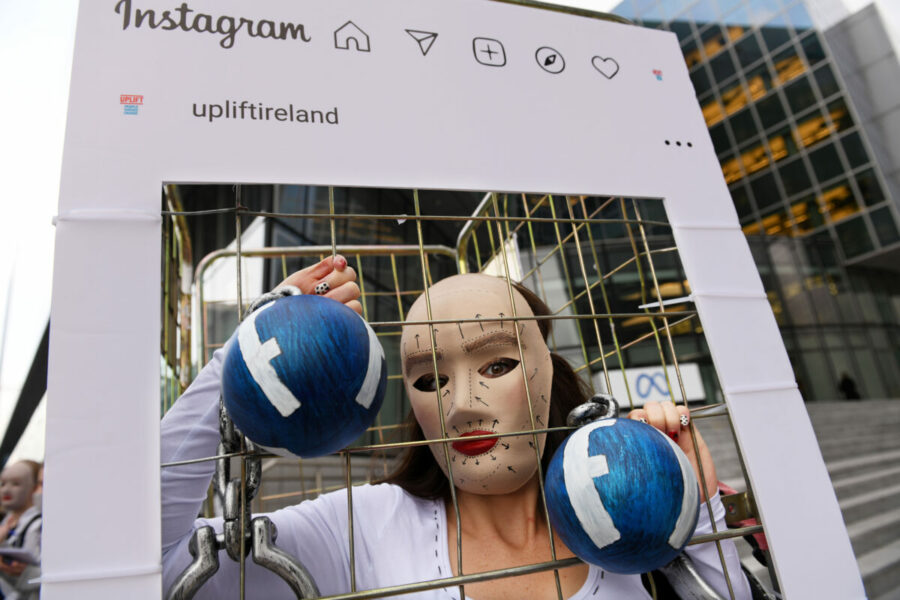 This week, the European Parliament officially voted on new sweeping rules for online safety, signalling a new era of accountability for Big Tech. This means massive social media and technology corporations that dominate our lives will have to follow rules putting people first, and not their profits. 
In one of the first sets of systemic changes in regulating Big Tech across the globe, people and communities across Europe have told those who represent us that they need to stand up to Big Tech. 
This is a huge people-powered win, for our communities, and something campaigners like us have fought long and hard for. 
Big Tech companies like Facebook who have allowed racism and all kinds of hate to mushroom on their platform; children to be targeted with ads for weight loss on Instagram; facilitated lies about vaccines online resulting even more deaths from COVID-19; and enabled hate and violence targeted against the Rohingya community leading to their murder in Myanmar have been allowed to correct their own homework for decades. 
Being truthful, European legislation can be extremely complicated to follow. But, together, and with other people-powered communities and digital rights experts across Europe we pushed for better rules to keep us all safe online.[1] 
First, we pushed to make sure there are no loopholes in the laws causing disinformation and hate speech to go unchecked. 
Second, we secured big wins on strengthening rules around invasive advertising that track and target us based on really personal and sensitive information. Public opinion polling paid for by Uplift members shows that a majority of people were supportive of banning big tech companies from targeting us based on who we love or how we express ourselves. 
Third, Big Tech platforms with more than 45 million users have extra checks and balances they need to fulfil when it comes to assessing the risks their platforms pose to the people and communities who use them. This is important for ensuring we're all safe from hate speech online, and have access to quality information. 

Fourth, we pushed to give people like you and me more choice over the information they're exposed to on platforms. This will be helped by the researchers who will have access to the back-end of platforms to scrutinise what is really going on in the black box, and how it might impact on our communities. 
Although we secured these huge wins, Big Tech corporations have spent millions of euros on convincing MEPs and European officials to vote for lax rules that let them off the hook. This coupled with the last phase of negotiations for the DSA happening almost completely behind closed doors meant they had some successes. [1] 
For the last 4 years, Big Tech lobbyists have swarmed Brussels, pumping nearly a combined 97 million euro to water down the rules [2]. Including letting some ads go under the radar of the restrictions on surveillance ads and continuing to allow users to be deceived with certain design practices. 
Being frank, even if we wanted to, Uplift as a community has nowhere near that sort of money to spend. But what we do have is the power of community and when we take action together, we can win.  
Together, we made them listen to us instead.  
Uplift members like you have been ahead of the curve holding politicians' feet to the fire when it comes to pushing for tougher rules on big tech. Some of our youngest Uplift members made world headlines when they protested at Facebook HQ and the Dáil Eireann last year. 
Not only did we make sure the Digital Services Act text was adopted, but we also made it stronger by getting a bunch of last-minute changes that struck right to the core of the toxic business model of the likes of Facebook. This is a moment to feel proud of ourselves. 
This is what Uplift is all about, people power in action – taking on some of the most powerful corporations, speaking truth to that power and holding it to account. 
Our community joined a wider collective, challenging the power of big-tech and making social media a safer place for us. Together, we were a huge part of the People vs. Big Tech coalition – representing 71 million people across Europe. [4] 
Together we've:
Signed the People vs Big Tech Declaration along with over 100 organisations 

Supported our younger Uplift members to make headlines outside Facebook HQ in Dublin

Met with the Minister for Digital Regulation in Dublin

Stormed the Twitter timelines of politicians in Europe 

Emailed our MEPs ahead of the crucial vote 
This is a massive victory – but we're only halfway there. The proof will be in the pudding in how the European Commission enforces these rules. Irish MEPs in Brussels knew that Ireland is in a powerful position to rein in big tech corporations like Facebook. But we missed an opportunity to really stand up to big tech with our enforcement regime. [5] 
This victory belongs to us. Because of our collective work, we will be able to hold culprits like Facebook and Google accountable. For too long, they have enabled racial and gendered hate against our communities, Covid-19 disinformation and invasive advertising to flourish across their platforms – but no more.
NOTES 
[1] https://edri.org/our-work/the-dsa-should-pave-the-way-to-systemic-change/ & https://www.amnesty.org/en/documents/pol30/5830/2022/en/ & 
https://www.globalwitness.org/en/blog/brussels-takes-big-tech-good-bad-and-ugly 
[2]  https://euobserver.com/opinion/155404 
[3] https://corporateeurope.org/en/2021/08/lobby-network-big-techs-web-influence-eu