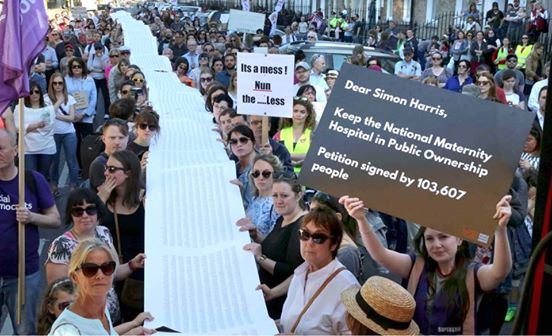 This day four years ago, we voted to change Ireland forever.  
We repealed the eighth amendment by a landslide – breaking through the dam of misogyny and lighting the way for a new, more equal Ireland. 
But win, there's still so much left for us to do to make sure that safe, secular and public reproductive healthcare is available for everyone in Ireland – no matter who we are. 
That's why we campaigned together for a publicly-owned National Maternity Hospital. 
We've stood strong together, dug deep as a community for what we believe in; we've weathered the storm through all the twists and turns, keeping our foot in the door for public and secular reproductive healthcare – and we're so proud of all that we've achieved. 
Just one week ago  this government made a deal to hand over our National Maternity Hospital to a private company approved by the Religious Sisters of Charity. [1] We're still reeling from the news., but we acknowledge all of what we've achieved together over the last four years. 
I'm fiercely proud of all that we have fought for as a community, and especially the last four weeks, so we can have safe reproductive healthcare that we can all stand proudly behind.
Our Uplift community has been fighting for a National Maternity Hospital free from religious influence for years – and we've made major waves.
Together we've rang, emailed, met with TDs in serious numbers. 
Cabinet will be meeting in less than 30 mins.

Call a Cabinet minister and let them know you won't stand for this dodgy deal on the #NationalMaternityHospital.

The stakes are too high for them to get this wrong. #MakeNMHours, public and secular. https://t.co/BeEowy0BXu

— Uplift (@UpliftIRL) May 17, 2022
Heartening thought: when I actually got through to several Ministers' offices, they are being inundated with calls from the public against the deal for the NMH! #MakeNMHOurs !

— Sharon MacMenamin (@SharonMcMenamin) May 16, 2022
We've signed and delivered petitions: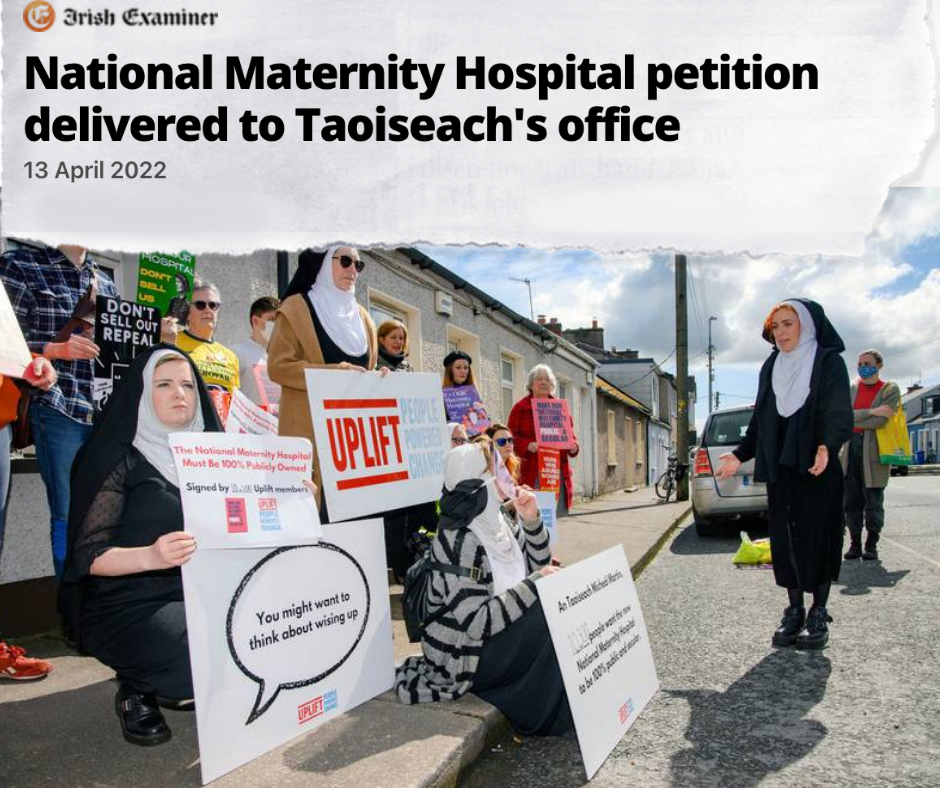 Marched across cities: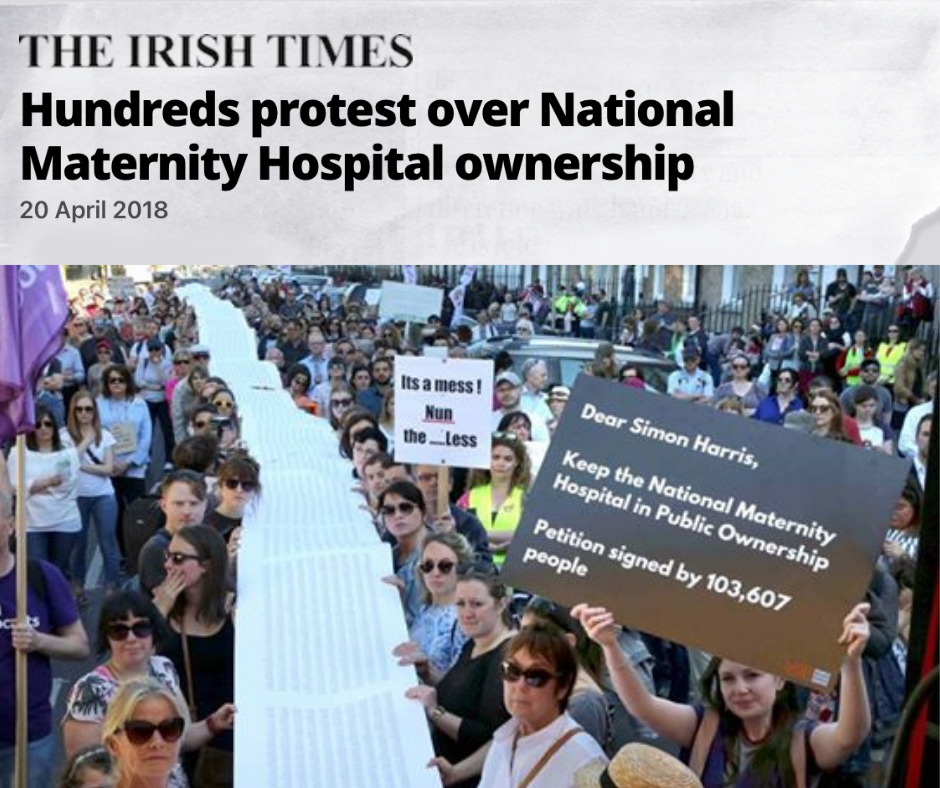 We booked a full-page ad in Minister for Health, Stephen Donnelly's local paper – telling him to not to do a deal with the Sisters of Charity that deserts our chances of a publicly-owned maternity hospital.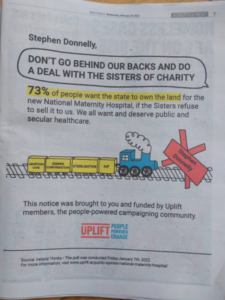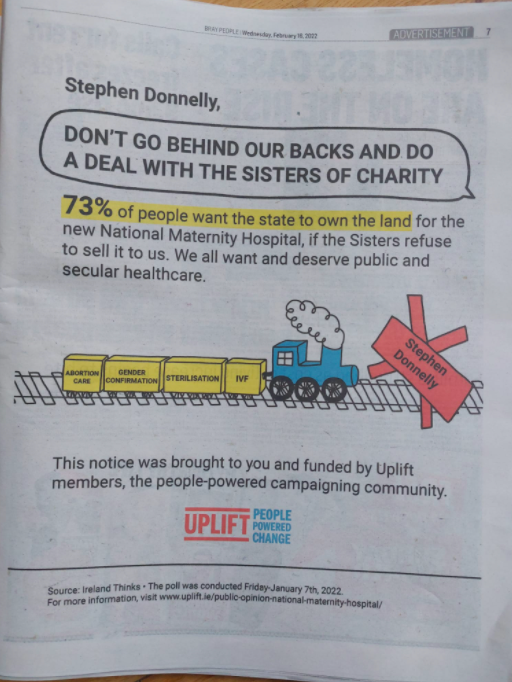 We paid for for game-changing legal research.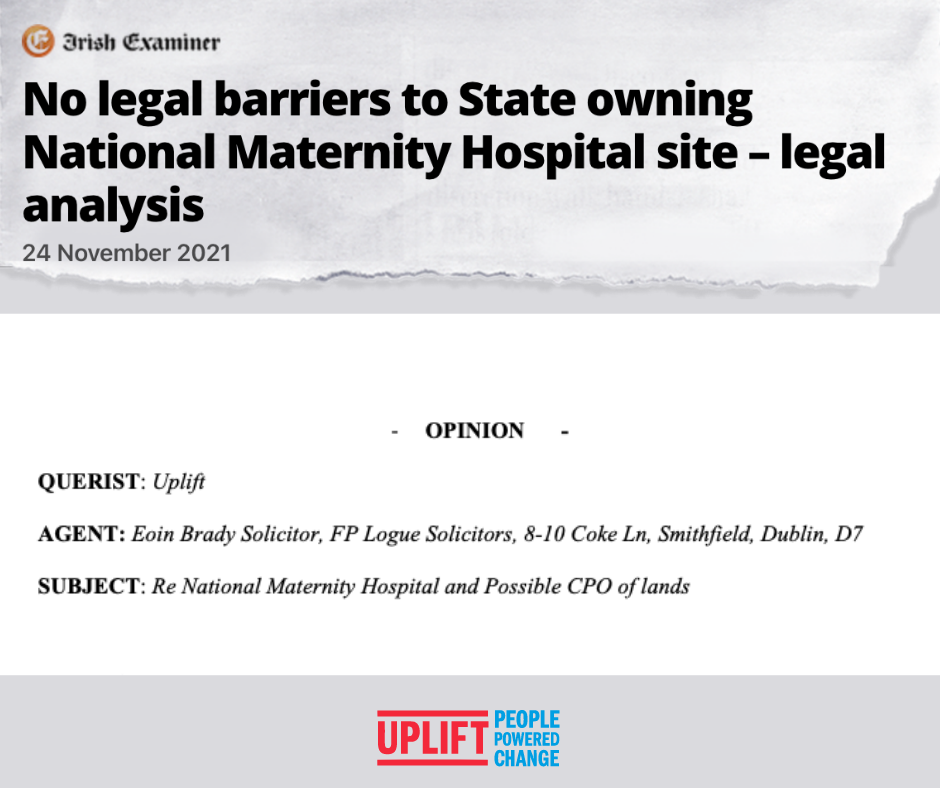 …..right in the nick of time.
🚨 Fresh legal analysis raises new questions over ownership and governance of the new National Maternity Hospital.

Stephen Dodd S.C. noted very significant concerns having read the #NMH legal documents.

Read it here 👉 https://t.co/6wfyueUv94

— Uplift (@UpliftIRL) May 10, 2022
And we got opposition TDs to unite in signing a pledge for public and secular state ownership of the NMH.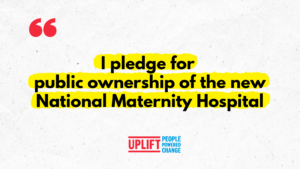 But Stephen Donnelly and this government were so hellbent in getting this deal over the line to save political face, not realising they have set fire to democracy. 
In a last-ditch attempt, opposition TDs forced a vote on state ownership of the land, which nearly every Government TD cowardly abstained from – with the exception of two Green Party TDs, Neasa Hourigan and Patrick Costello.
In that same moment that politics failed us – was also the moment where the incredible potential of people-power, community and democracy was at its strongest. We have forced the politicians to listen to us.  
They want us to believe that it's all over, the Minister for Health even tried to discredit us throughout the campaign.[ 5] 
But I'm confident that we'll continue to fight for the safe reproductive healthcare that we can be proud of. This is not the end. That's why we need to be ready to fight fire with fire. There's no going back to the Ireland that inflicted such harm on women and people that need reproductive healthcare.
Right now, we're all devastated – the world feels really scary as access to safe reproductive healthcare is being rolled back in so many places. [3] But even with this set back, the arch of history is bending towards an Ireland where everyone has the care they need.  
Now is a time for us to take stock, to recharge and prepare to fight  again. Because there are two things we can be certain of – that there will be more fights, and that this amazing people-powered community is going absolutely nowhere. 
I feel safe in the knowledge that I'm part of this community, and that together we'll continue to fight ferociously for things that matter to us so deeply.