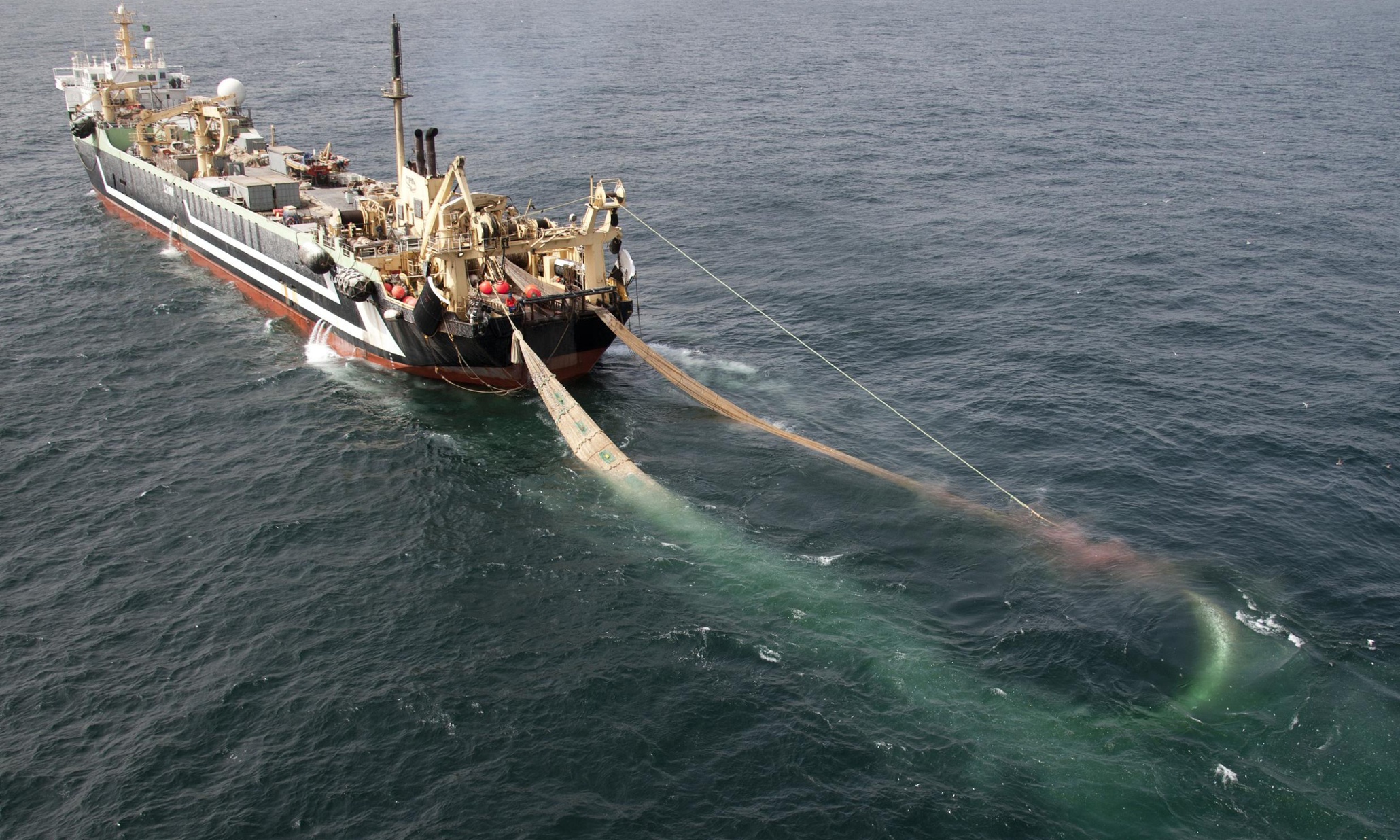 Super trawlers, with nets larger than huge sports stadiums, are hoovering up fish stocks and killing dolphins and whales off the west coast of Ireland. 
Some of them can process over 250 tonnes of fish a day and if stood on their end, would be almost twice the height of Ireland's tallest building. 
Since 2015 Uplift members have been campaigning to end the destruction supertrawlers are causing to coastal communities, fish stocks, dolphins and whales.
Nearly 50,000 people have signed a petition calling for them to be stopped.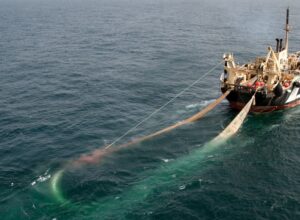 Of the 1.2 million tonnes of fish caught annually in Irish waters 80% is allocated to other countries. 
Meanwhile, small fishing communities are not able to survive, the number of dolphins washed up dead on our shores continue to rise and fish stocks are dwindling fast.
Agriculture and Fisheries Minister, Michael Creed has ignored the demands to stop supertrawlers – so much so that we have gone to his office to see if we can find him and get him to answer the massive outrage at the havoc they are causing
He and other government ministers have continuously told Uplift members that they have no powers to stop supertrawlers as they are fishing under EU fishing rules. 
But Uplift members don't take no for an answer! Have a look at us on Michael Creeds doorstep trying to find answers to unanswered questions. 
When Minister Creed continued to ignore us – in June 2018 hundreds of members chipped in for a full-page ad in a national paper.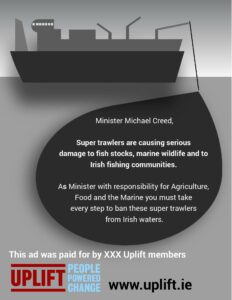 Super trawlers usually have permission to collect a certain type of fish ie horse mackerel but in reality, catch every type of fish and marine animal in their nets and then throw away what they don't want. This is called 'discarding' and is not allowed under EU rules.
But there's no real way to catch them breaking the rules. There are no permanent observers onboard and the Sea Inspection Service have declared they unable are to respond to the scale of the challenge of policing super trawlers – so they get away with breaking the rules and theirs no evidence to prosecute them.  A powerful documentary called 'The Atlantic' exposed just how much damage they cause and how they get away with it.
Then we found out that the EU Fisheries Control rules were being overhauled and turned our attention to influencing the rules that could stop supertrawlers in their tracks. Uplift members made hundreds of submissions – we've heard that the largest response to the public consultation survey was from Ireland. 
Our community pushed for CCTV cameras onboard so that they could be permanently monitored – and found out for breaking the bycatch and discard rules. This would have the effect of destroying their way of fishing and make it impossible for supertrawlers to operate without being caught. 
The great news is that the European Commission listened to us and the fishing rights groups and have proposed that CCTV be put on large fishing vessels fishing in European waters. 
Then we got a top-notch legal firm to analyse the new proposals and we've teamed up with other people-powered campaigners working to save fish stocks and the environment. 
Together we've emailed MEP's voting on the new rules and we've spread the word on social media.
But the fight is getting tougher as the powerful fishing industry lobbyists push hard to scrap the plans for CCTV – they know if it goes ahead their profit margins will be hurt. 
Now, it looks like Michael Creed doesn't want to limit the damage supertrawlers are doing. So Uplift members are stepping up the fight. 
It's too easy for politicians to blame the European Union when they want to avoid making tough decisions and going against the lobbyists who are constantly in their ear. 
That's why people power is so important – together we can be louder and more visible than big business. We can be on their doorstep and reminding them that they represent local communities. This is what our community was built for so let's make an even bigger splash to save coastal communities, fish and dolphins.
If you are not already involved in the campaign to stop supertrawlers sign the petition today – and you'll hear when we're ready to make our next move.