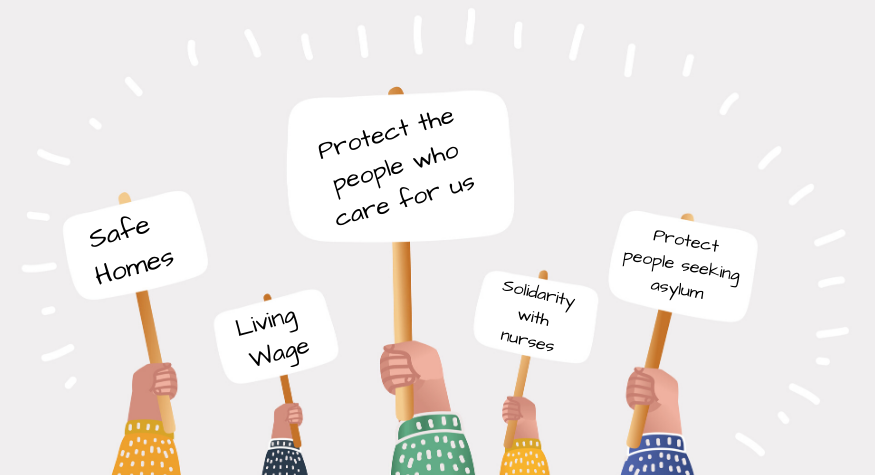 We've achieved a lot together over the past two months – thank you for all your hard work. Here's a round up of some highlights, so you don't miss anything!
Evictions are back on the table.  But we didn't go down without a fight. Housing Minister Darragh O'Brien's phone rang off the hook on the day of the vote. With nearly 100 calls from members, and over 1,700 emails to Green Party TDs –  people power put on real pressure. Neasa Hourigan and Joe O'Brien voted against the government on the anti-eviction bill, showing our impact. [1] Now, we're fighting to ban Gardaí facilitating evictions and to get the ban reinstated.
Who better than an online campaigning community to fight for our online safety? More than 750 Uplift members came together to contribute to a powerful government submission on online regulation. We discussed our experiences online and what new rules and regulations need to do to protect us. Read the details at this link.
Anti-racism leaders across the island joined members for a powerful discussion on anti-racism and allyship, including Senator Eileen Flynn, Dr Ebun Joseph and others. If you missed it, don't worry – you can watch the recording here.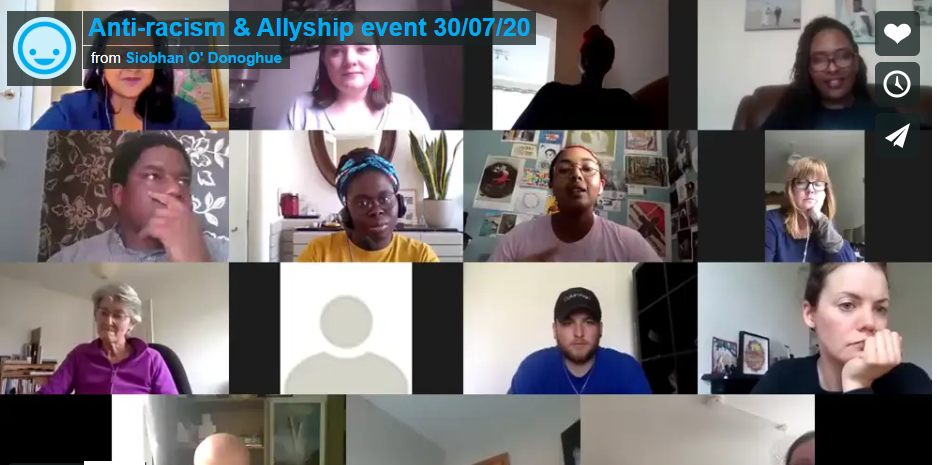 Uplift members got behind the demands of the Movement of Asylum Seekers in Ireland (MASI) who are leading the call to end Direct Provision. Together we sent over 20,000 emails to Justice Minister Charlie Flanagan and TDs, piling on the pressure to end a cruel and unfair system. [2]
We joined 143,000 people across 19 countries to make a powerful statement of global solidarity with Black Lives Matter in the New York Times newspaper. Our crowdfunded half-page ad ran on Juneteenth – a sacred day for Black Americans commemorating the end of enslavement – and was seen by millions of NYT readers in the US.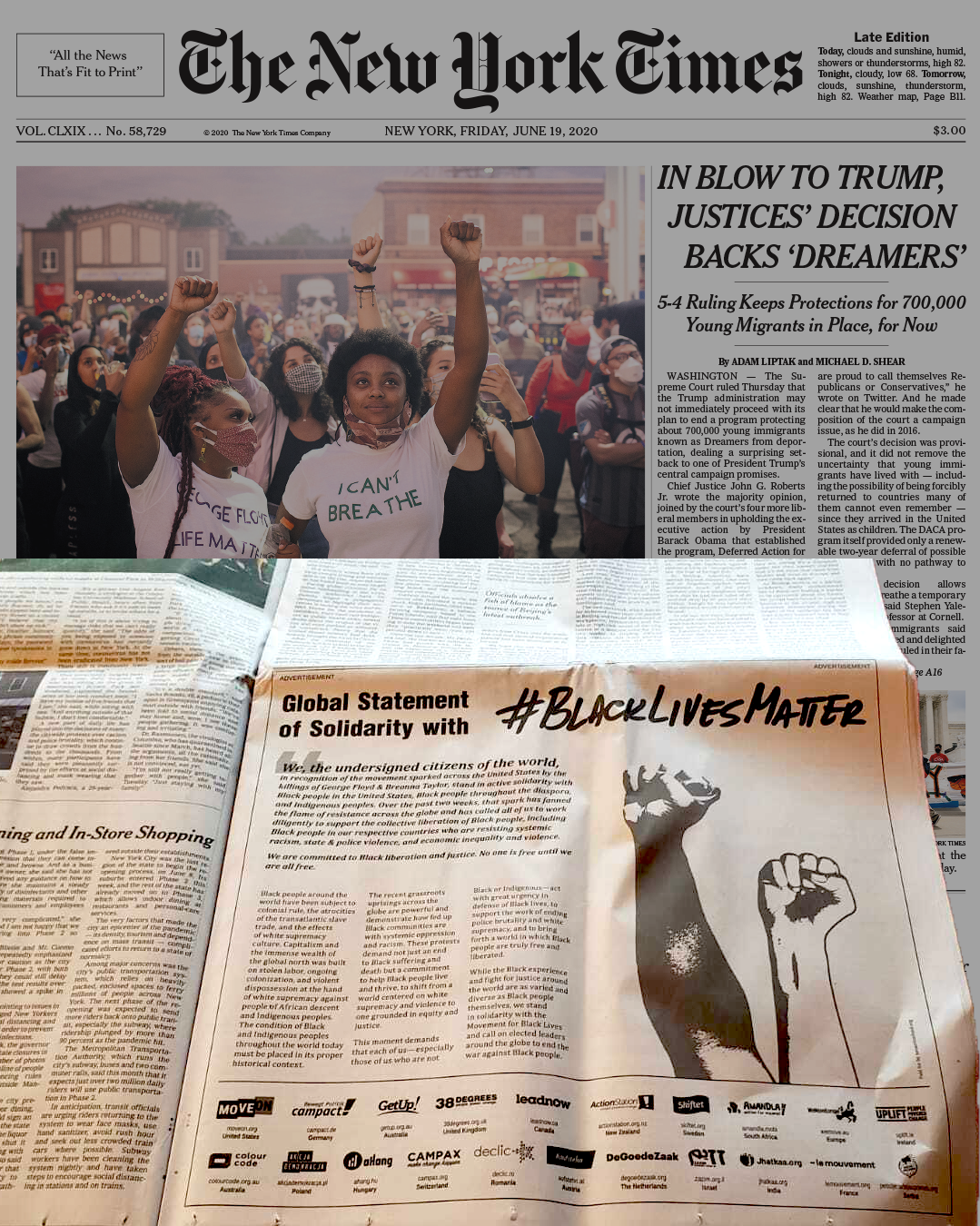 The EU Mercosur trade deal is rife with problems – farmers' livelihoods threatened, poorer quality food standards, devastation for indigenous communities and damage to the already threatened Amazon rainforest. Uplift members chipped in to commission research into the impact this toxic deal will have on the environment, human health, workers rights and human rights. Click here to check out the report and launch event.
Corporations and big businesses are avoiding scrutiny by hiding information about their toxic CO2 emissions. We've helped fund a Noteworthy journalistic investigation to uncover the truth about companies responsible for the worst pollution – so we can hold them to account. Read more.
Our community is funding in-depth research into decriminalising cannabis. We want to uncover the costs and benefits to Ireland's society, environment and economy. We've got great researchers on board and we've raised half the funds we need – you can chip in here so we can finish the report.
We've sent wildflower seeds to thousands of members across the country to plant in their gardens and communities. This simple action is a powerful way to help threatened bees stay alive. Look at the beautiful bee-friendly flowers that Uplift member Lily planted in her garden.
Over 100 petitions were started on MyUplift in June and July – and we achieved great things together. We stopped Done Deal from selling dogs online that could be stolen or bred on illegal puppy farms. [3]
Members across the country have won campaigns to build new cycle paths across the country, and for barge mooring permits. We helped keep the Waterford Municipal Golf Club in public ownership. And we took the final steps to give same-sex parents equal rights. [4]
Over 25,000 of us got behind a group of new mums asking for a three-month extension of maternity leave due to the Covid-19 pandemic. The petition was handed to politicians outside the Dail, including TD Brid Smith, Senator Marie Sherlock and Sinn Féin party leader Mary Lou McDonald. A three week extension was granted. [5]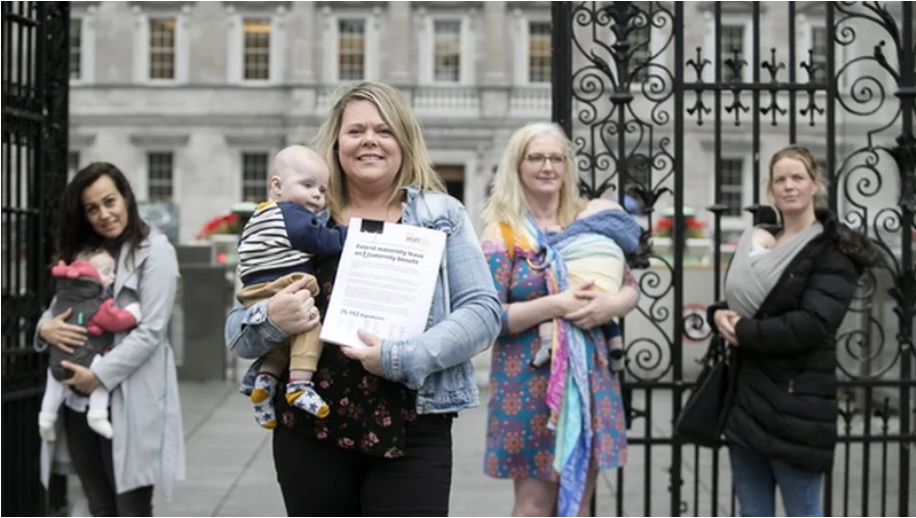 June was a record-breaking month for our community – 111,000 of us took action on different issues. There are now over 270,000 of us taking action together every day to fight for a more equal and just Ireland. That makes us the biggest people-powered community in all of Ireland – bigger than all the political parties combined.
But there are huge challenges in front of us – we're responding constantly to threats to our democracy, health, homes, climate and environment. We've got a big job to do.
Uplift's power comes from our community, and all of us taking action together makes all the difference. Thank you again for everything you do.
---
NOTES
[1] 
The Independent – Green TD Neasa Houirgan Quits as Party Whip and Votes Against Government
 & 
Breakingnews.ie – Ban of Evictions Lifted and Rent Increases Approved
[2] 
MASI
 & 
Irish Times – Direct Provision to be ended within lifetime of government
[3] 
Longford Leader – DoneDeal to Stop Sale of Stolen Dogs
[4] 
RTE – Houseboats
 & 
The Independent – Ailbhe Finns Parent Every Except Legally
[5] 
The Journal – Maternity Leave Extension
 & 
RTE – Varadkar will consider extension to maternity-leave
 & 
Irish Post – Pandemic parents granted 3 more weeks paid leave