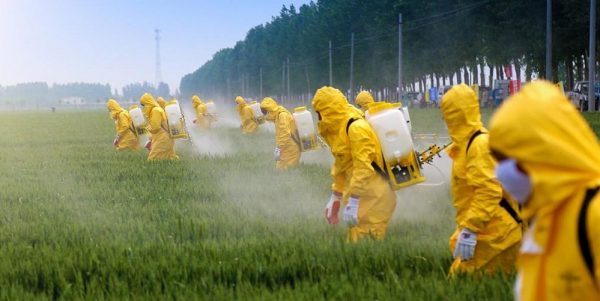 On March 19th Uplift will release the results of our glyphosate testing experiment and Darina Allen has agreed to speak at a press conference.
Confirmed: Glyphosate is in our bodies. We've tested politicians, breastfeeding mothers, a doctor and top chef Darina Allen. And everyone has tested positive for cancer-linked glyphosate in their bodies – the main ingredient used in weed killer Roundup. [1]
Thanks to Uplift members paying for the tests – we're now armed with information that much of the food and drink we consume every day is sprayed with dangerous glyphosate, right before it's harvested for us to eat.
We've booked a press conference, and now Darina Allen, Ireland's favourite chef, has agreed to speak publicly – a golden opportunity to get the media's attention. [2]
Research has shown over-exposure to glyphosate poses a very significant health risk to humans. [3]
And the presence of glyphosate in our water systems is damaging our fragile biodiversity – everything from bees to butterflies are under threat. [4]
This community has been working tirelessly to end food crops being sprayed with glyphosate right before they are harvested. Together we've paid for ads in a national paper, a billboard outside the Agriculture Minister's office in North Cork. [5] And we've uncovered the news that Ireland has the second highest level of glyphosate in surface water in all of Europe. [6]
Will you chip in to help cover the costs of the press conference – room hire, video/photographer and travel costs for speakers? https://action.uplift.ie/campaigns/Glyphosate-Press-conference
---
NOTES:
1  https://www.theguardian.com/business/2019/feb/14/weed-killing-products-increase-cancer-risk-of-cancer
2  http://www.cookingisfun.ie/ballymaloe-cookery-school/lecturers/darina-allen
3  https://www.theguardian.com/environment/2015/mar/21/roundup-cancer-who-glyphosate-
4  https://www.sierraclub.org/sierra/new-study-shows-roundup-kills-bees
5  https://www.southernstar.ie/news/billboard-in-macroom-puts-minister-creed-on-the-spot-4177832
6 http://onlinelibrary.wiley.com/doi/10.2903/j.efsa.2015.4302/epdf