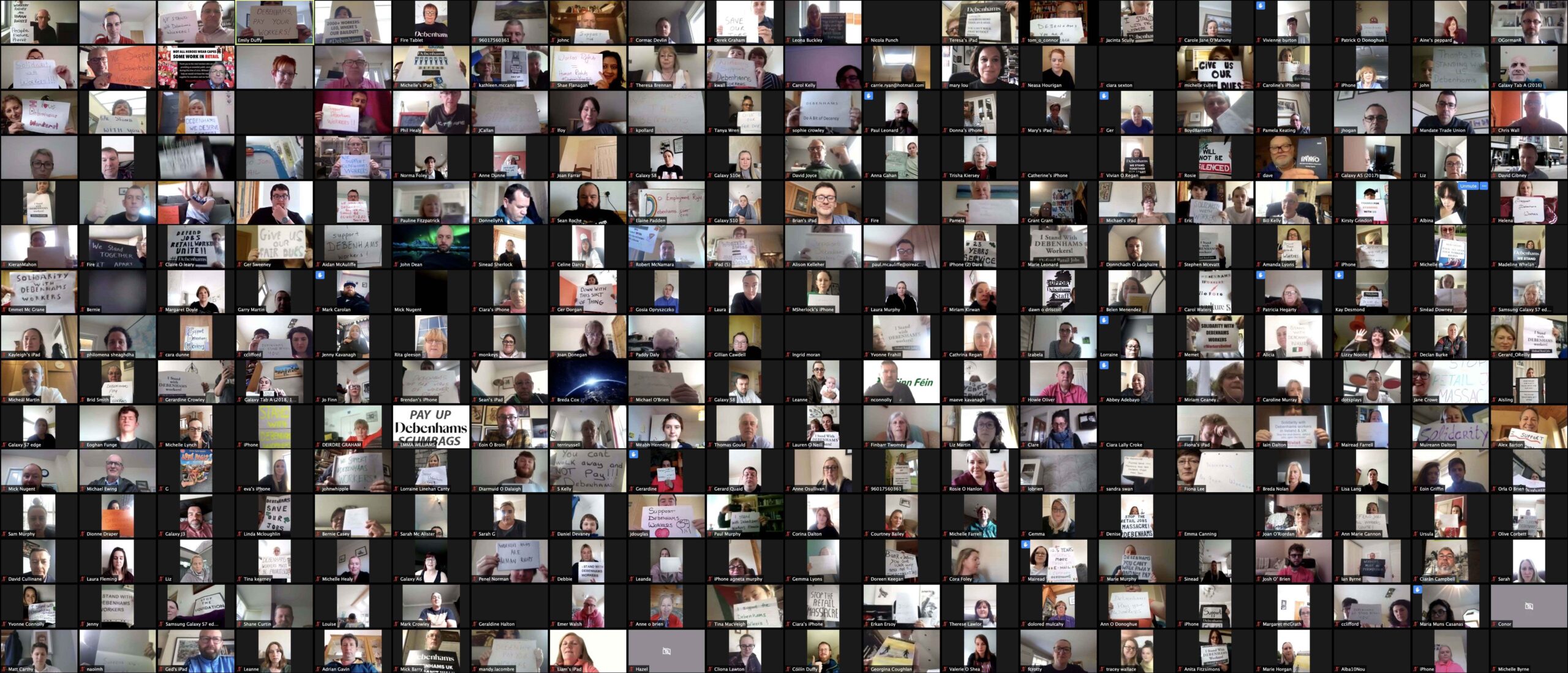 April has been huge for our community. We've achieved a lot together in tough times – so here's a round up of some highlights, so you don't miss anything. 
Thousands of us contributed to creating the People's Programme for Government – our community's priorities for the next government. To make sure politicians were listening, we organised Ireland's first-ever online hustings to present our ideas and get them to answer our questions. Click here to watch. To really drive home our communities top priority of more public homes – over one  hundred members made phone calls to their Fianna Fail TDs [1]
To support members running local businesses and who have lost their jobs we launched the 'Buy It Forward' website – where people can buy vouchers and rally together to support our local communities.  Buy a voucher and support businesses in your area! 
An amazing 500 of us took part in  Ireland's first-ever online rally to support workers from Debenhams, who are fighting for fair redundancy payments. It was incredibly powerful to hear from people who've worked there for years. Political leaders like Michael Martin and Mary Lou McDonald joined too and hundreds of us cheered on the workers with signs and messages of support. [2]
During times like these, having a place to connect with like-minded others is so important. Songs of Struggle and Action has been a lovely way for our community to gather every Friday night, for live music, poetry and people powered action. Watch a replay of the last one here.
We're not letting springtime pass us by in lockdown – thats why we're sending wildflower seeds to members to plant in their gardens and communities. This simple action is a powerful way to help threatened bees stay alive. Chip in for seeds for yourself and others.
Over the past few months Uplift has been helping to kickstart a new people-powered community in Northern Ireland called Act Now. During April we had our first victory when the  push for telemedicine for abortion care and the campaign to get private company Randox to release Covid-19 tests to the NHS was successful. [3]
Campaigns we all rowed in to successfully push for a waiver for renters; helped get emergency protections for women experiencing violence on the map and worked with students losing out on accommodation costs. [4]
Uplift members have been standing with essential workers – in all kinds of ways. One powerful action we took was to put Ads in newspapers showing our support and give thanks to our frontline workers: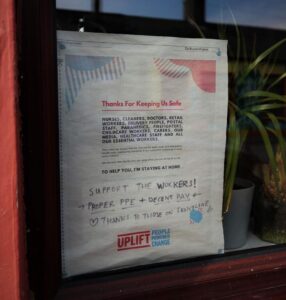 Uplift is built to respond to challenging times like this; we adapt and move quickly, we've got digital tools, top-class campaign and tech know-how.
It's been fantastic to support countless community groups to adapt to remote working and train hundreds of people to stay connected during this time. 
Finally, I have really exciting news to share with you. Our community now has over 250,000 members of us taking action together to fight for a fair and just Ireland. That makes us the biggest people-powered community in all of Ireland – bigger than all the political parties combined.
NOTES
[1] https://www.irishmirror.ie/news/irish-news/tds-debate-zoom-video-uplift-21835668
[2] https://www.irishtimes.com/news/health/hundreds-take-to-a-zoom-rally-in-support-of-debenhams-workers-1.4241175
[3] https://my.uplift.ie/partnerships/act-now
[4] https://my.uplift.ie/petitions/when-home-is-the-most-dangerous-place & https://action.uplift.ie/campaigns/student-accommodation-covid