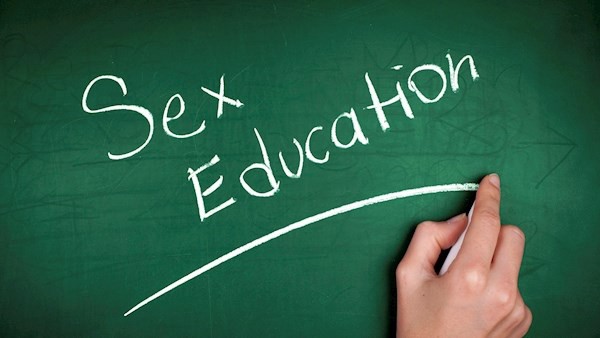 The last changes made to the current sex and relationship curriculum in Ireland took place in 1999. Since this time, the population has increased by over 1 million people, four Taoiseachs have been in power, social media was invented and the school population has increased to its highest numbers since the late 80's baby boom.
Fundamentally, Ireland is a very different country to what it was 20 years ago. We've had two referendums that have clearly shown that people in Ireland support positive progressive change — yet the curriculum around sex and relationships has stayed in the 20th century.
That's why, in April 2018 the former Minister for Education, Richard Bruton, called for a full review of sex and relationship education in schools. In response, both the Joint Oireachtas Committee for Skills and Education and the National Council for Curriculum and Assessment (or the NCCA) undertook major reviews of the way relationship and sex education is taught in both primary and post-primary schools.
In June, the NCCA opened up the second phase of consultation to the public. In response, Uplift members contributed our stories, experiences and real-life impacts of sex education in Ireland over a period of six weeks. We turned the findings into a huge 880 person strong, people-powered submission sent to the NCCA on the 24th of October, 2019.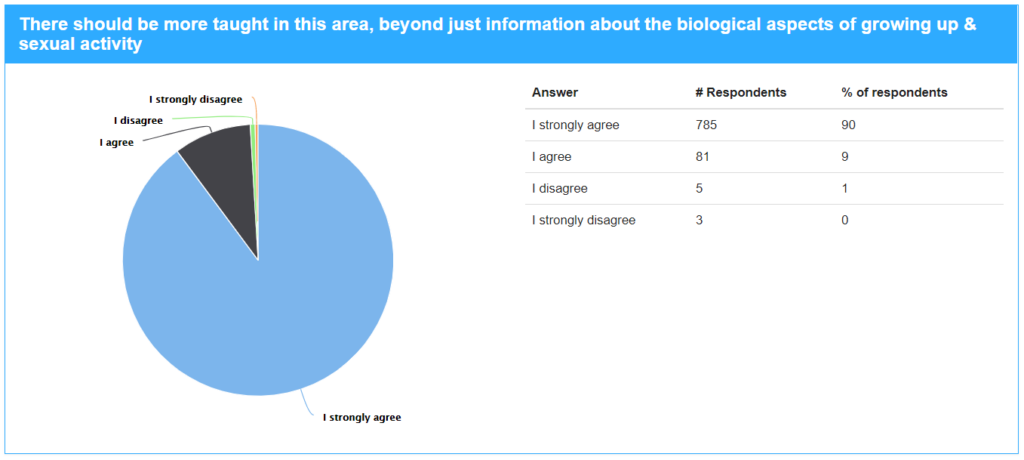 Our submission was massively in favour of a revised curriculum, with 90% of people who participated in this submission process strongly agreeing there should be more taught in this area, beyond just information about biological aspects of growing up and sexual activity. Further, virtually every person who participated in this submission process agreed that teachers need in-depth training and ongoing support and that learning and teaching resources need to be made available to them.
"My son is a gay 17 year old boy and gets no form of LGBTQ+ sex ed/relationship talks/advice in schools. It makes him feel like an outsider in his classroom. He is never going to use sex to reproduce but for love and pleasure and why should he be ashamed of that!"
While members felt strongly about this issue, public opinion was divided, with ideas of what would be taught to young people quickly becoming an issue that far-right organisers and conservatives tried to use as a wedge issue. But when we bring it down to a more human level, it's clear that the majority of people in Ireland would like the next generation to grow up in a safer, more inclusive, more honest and warmer classrooms than we did.
The lack of factual and objective sex education in schools has far-reaching implications beyond the biology of our human bodies. Sex education is the basis of an equal society, where differences such as sexual orientation or family structures are not only accepted but, respected and understood. Where the concept of consent is respected and understood, as opposed to questioned. Where gender is explored beyond the binary, and where teen relationships are healthy and nourishing, instead of traumatic and difficult. This has to start with education, but it's also developed through healthy and informed conversations at home and becomes a societal norm when we don't shove our heads in the sand, but instead engage in dialogue around the most basic, natural human functions.
"My children are in Educate Together and I feel that parent participation is paramount. The school and parents should have the same values, therefore eliminating confused perspectives for the children."
It's time people in Ireland stopped being the victims of poor sex education. Like the taxes, most of us are all intrinsically linked to sex and relationships, whatever our opinions may be. Sex Education is the only subject in school which unites us all after the Leaving Cert. As a society we all benefit from comprehensive sex education.
Together, the Uplift community throughout this campaign, have shared our stories, stood up and have come together to mobilise in a very effective way. From signing petitions to filling in surveys, to chipping in for fighting funds for similar campaigns, this campaign is won on informed opinion, and a public desire for safer, more inclusive, respectful and flourishing future for everyone.
Thank you to all the Uplift members to contributed to this submission and campaign.
You can see the full submission sent to the NCCA here.