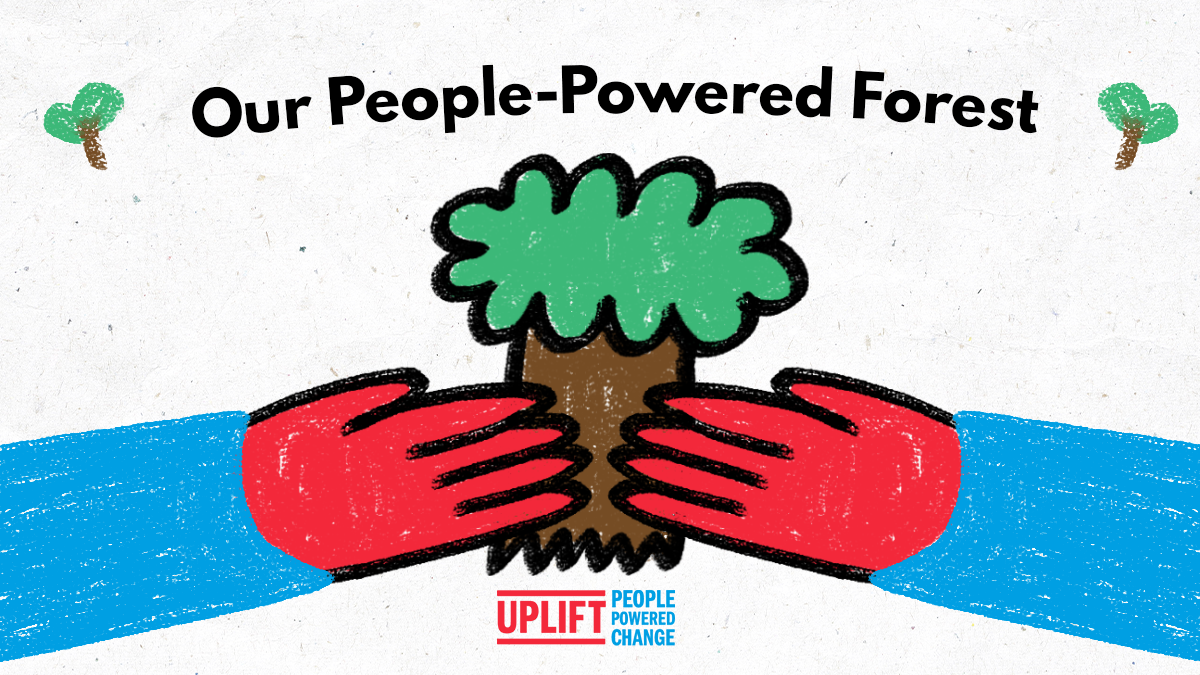 Welcome to Uplift's People-Powered Forest News Update Blog
March 2023:
We are very excited to share the good news that our second people-powered forest has been planted. With spring here and the temperatures warming up, last weekend Uplift members were busy putting all our trees in the ground.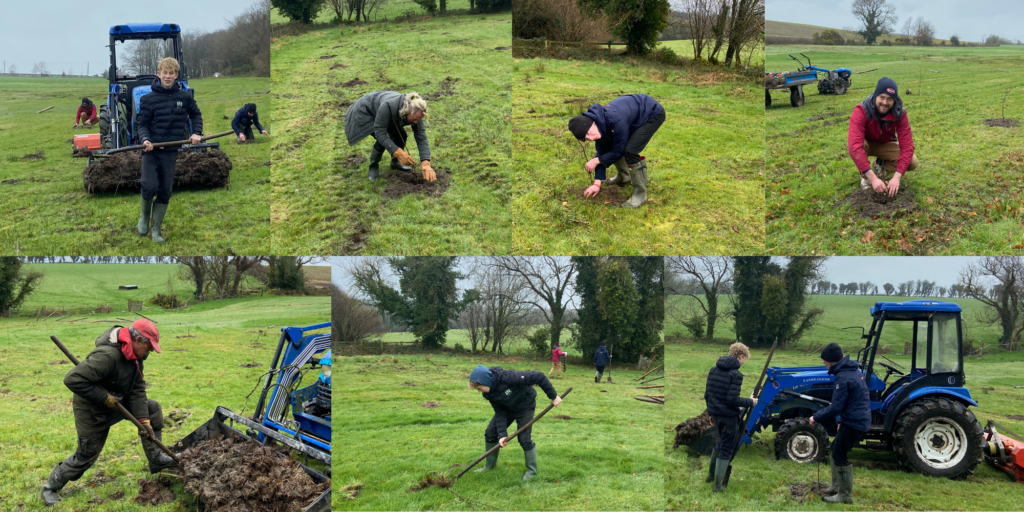 Thanks to hundreds of Uplift members all across Ireland who sponsored trees; our friends a Future Forests [1] in Cork, who donated us a mix of native species of trees; and the folks at Ballin Temple who provided land in their Nature Sanctuary where our trees could be planted, our people-powered forest is now growing. [2] This is in addition to our first forest which was planted in County Cork a year ago, and it's thriving.
Trees are amazing. Not only do they clean the air and soak up toxic carbon dioxide – they also protect animals, insects, plants, soil and give us shelter. [3] But more are being cut down than being planted, and Ireland is already the least wooded country in Europe, which is why our community knows how important it is for us to plant more trees. [4]
Uplift members have a long track record in campaigning to conserve nature. Together we're helping bees, protecting Ireland's oldest oak trees, limiting the spraying of poisonous chemicals, having our say on the future of Ireland's forests and campaigning to stop our forests from being sold off. [5]
[2] Ballin Temple Nature Sanctuary, Carlow
[3] https://www.irishexaminer.com/lifestyle/people/arid-40757088.html
[4] https://crann.ie/trees/why-important-plant-trees-hedgerows/
[5] Our people-powered plan for trees and forests & Uplift people-powered forest & Say No to the Mow: Local Groups & MyUplift Petition: Save Ballybrack Woods & Stop the sell-off of forests & Uplift's submission on the future of trees & forests in Ireland
November 2022:
Our community is really committed to nature and protecting our environment, so now we want to plant more trees and grow our people-powered forest.
Our friends at Future Forests Garden Centre will supply us with hundreds more native Irish trees – but first, we have to find sponsors for the trees so that we can transport, prepare the land and plant the trees – to ensure our next forest has the best chance of getting off the ground.
If enough trees are sponsored, in the New Year, we will plant beautiful oaks, beech, alder, and rowanberry trees on land donated for our people-powered forest.
As a tree sponsor, you know you're helping to keep our air clean and our biodiversity alive – you'll be sent a lovely certificate via email – that you can also give to someone you want to sponsor the tree for – and be kept informed throughout the year of your trees progress with photos, blogs and a newsletter.
You can sponsor your tree now:
September 2022:
The people-powered forest has benefitted from the warm weather and is getting taller and healthier. Already the saplings are big enough to start being homes to small creatures, insects and butterflies – fair play to all of us who sponsored a tree. When we see the results of our contribution and hard work, it's satisfying to know that the trees are already doing their important work of cleaning the air and helping increase the biodiversity of one small corner of our island. Just imagine what hundreds of similar forests could do all over Ireland.
March 2022:
Good news – our community's people-powered forest is being planted! We've been working hard during the good weather, getting the land ready – and planting beautiful native Irish trees. Helped by Bella the dog!

December 2021:
Uplift members love trees – that's why we've launched our very own people-powered forest. Here's how it works.
We've teamed up with the renowned garden centre Future Forests. They've given us 600 native Irish saplings – lovely oaks, rowanberries, alder, beech, hawthorn. The folk at Future Forest want to support our community's work to help make the planet a liveable thriving place for nature and people.
The first set of trees is being planted on land donated for our people-powered forest in Schull, Co. Cork – before the growing season for bare root trees ends this spring. When the season starts again later in the year, we'll expand the forest to other parts of Ireland. Already, Uplift members have offered land in Galway, Clare and Wicklow – and we're only getting started.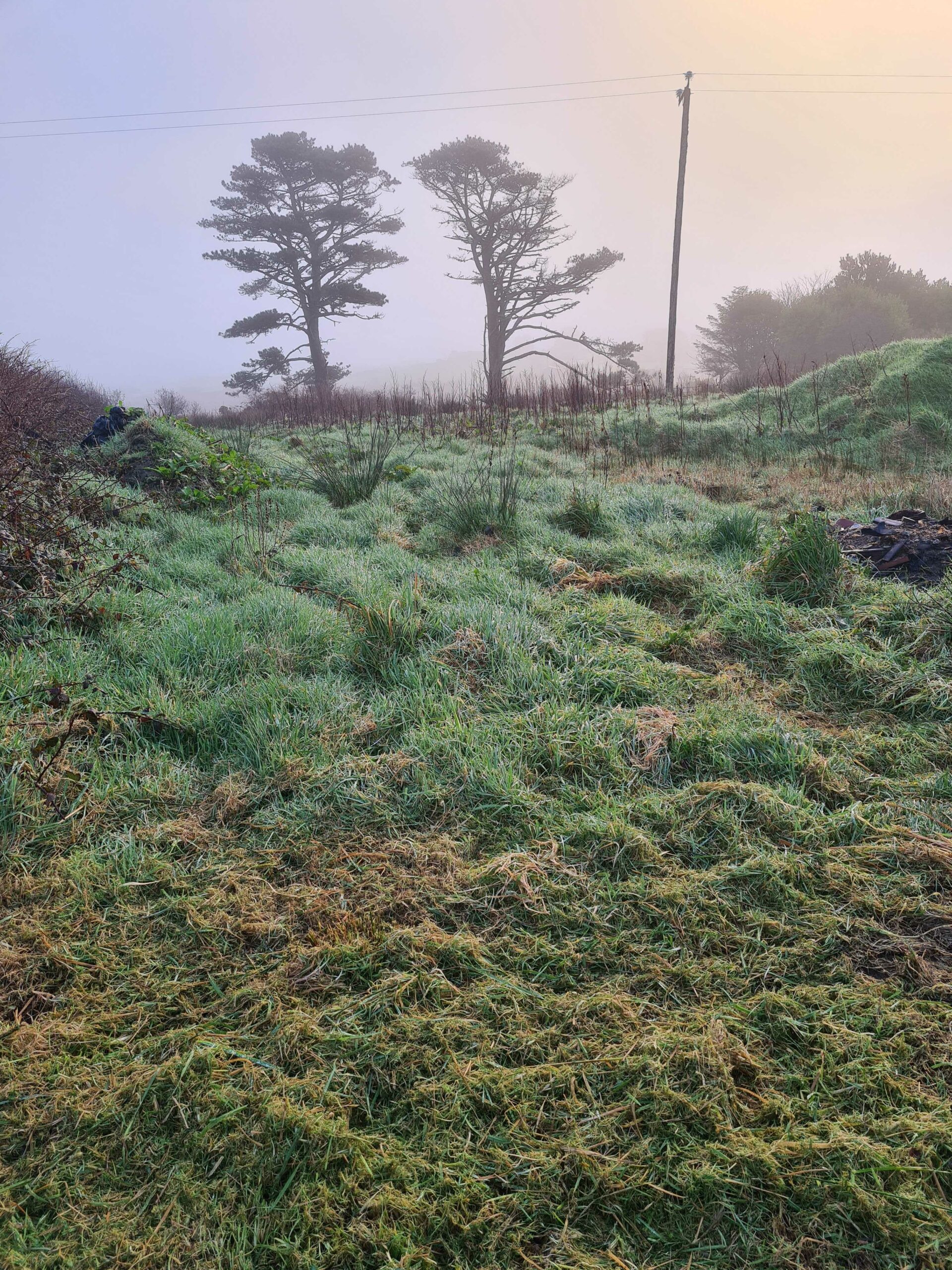 Donated land in Schull for the first people-powered forest
Over 500 of us have sponsored a tree so far, but we're still not over the line. There are 85 more trees left to sponsor. You can sponsor a tree here, if you haven't already, or chip in for planting costs.
Growing trees needs careful planning and management. That's why we've started on land designated for the trees in Schull, West Cork – where the owners Siobhán and Stephen can guarantee that the forest will be protected and not disturbed.
Keep an eye on this page for more updates and photos of our first people-powered forest's progress.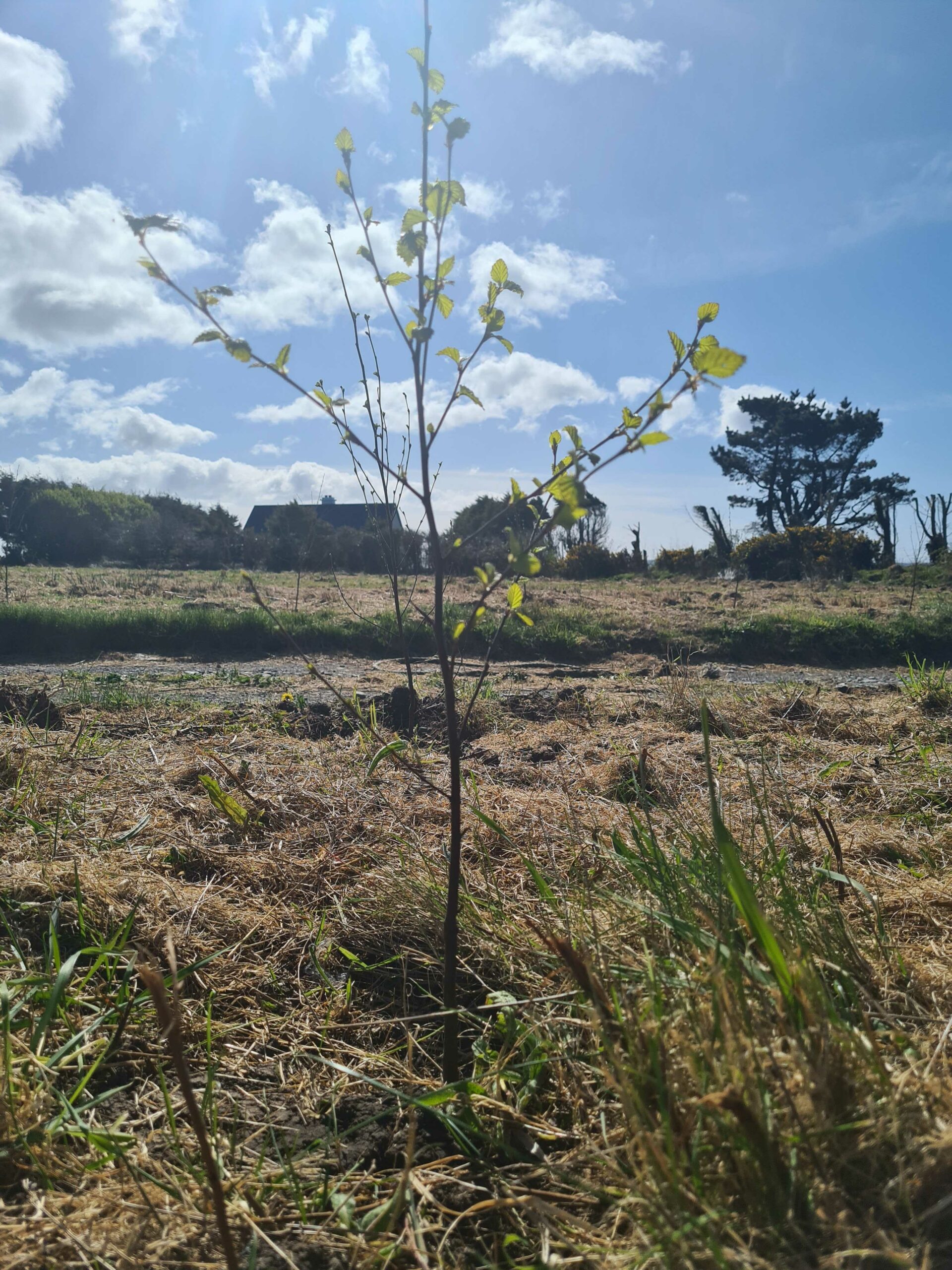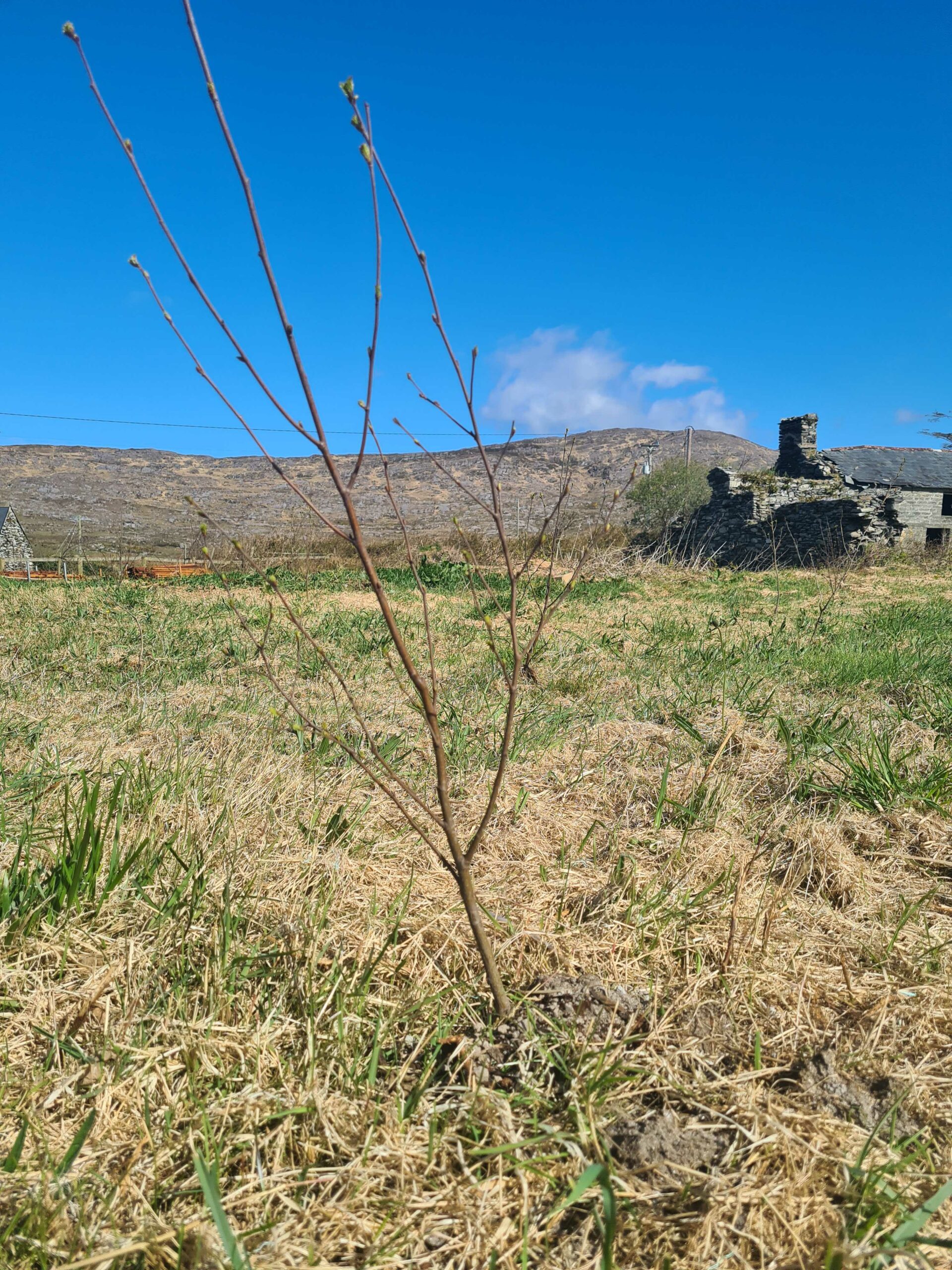 Photos of the first saplings of our people-powered forest at Schull, West Cork.
The thing is, when you sponsor a tree, you are actually sponsoring a forest!
Trees grow as part of an ecosystem – the balance of plants, animals, microbes and other organisms that work together to create the best environment possible. That's why it's important that the trees Uplift members are sponsoring are not being planted individually – but as part of a managed ecosystem i.e. our people-powered forest.
When you sponsor a tree, you will be sent a certificate. Members are sharing stories about how they sponsored trees as a present for a loved one, using the certificate to let them know what they did. All you need to do is print it off or add an electronic signature when you get the certificate in the thank you email.