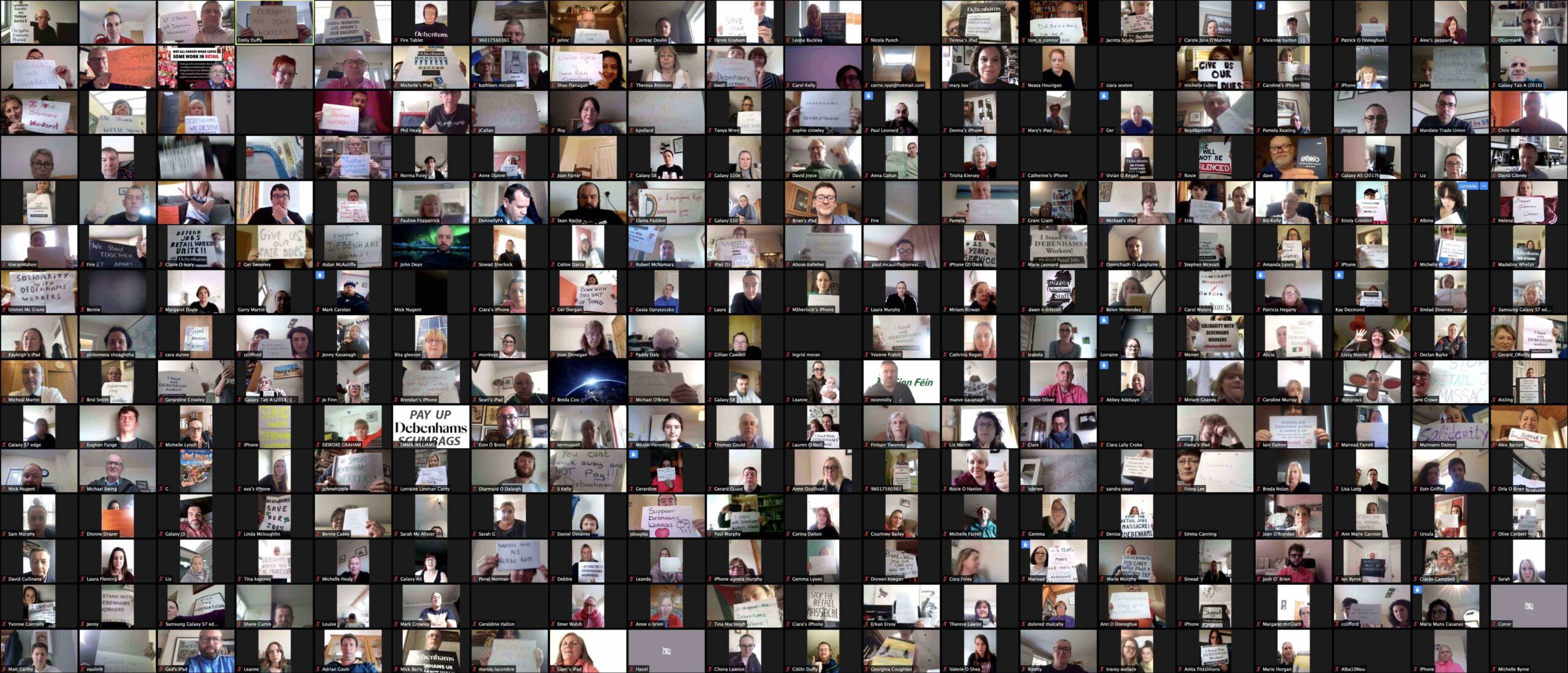 It's so hard to make sense of COVID-19. When we sat down at the start of 2020 to plan what we thought our big priorities would be this year – defending ourselves and our communities against a pandemic certainly wasn't at the top of anyone's list. 
That's why in the very early days of the virus spreading in Ireland, we came together as a community to decide what we wanted to fight for as the disease took hold, and we entered into lockdown. We were all scared and uncertain, but we drew strength from each other and plotted a strong path forward. 
Hundreds of us decided that coming together as a community was the most important thing that we could do at that moment. In fact, the number one concern Uplift members had was knowing how to be of service in our local areas. So, we launched our weekly Songs of Struggle and Action meet-ups and helped connect members with local groups and businesses who were struggling because of lockdown. 
We also campaigned hard for the things we needed to keep safe. We fought to bring in the eviction ban; a mortgage moratorium, better PPE for people working on the frontline, moving people out of Direct Provision and Emergency Accommodation, better protections for the Traveller Community and people in Nursing homes. 
At the very start of this story, it was clear what we needed to work towards together. But, as we emerged into the middle chapters –  post lockdown – we felt uncertainty growing and turned to our community again to plot a path forward. 
At the end of July, over 2,500 Uplift members fed into a massive survey on what our priorities should be right now. 
Here are our results. 
Uplift members' mental health has been the most negatively affected by the pandemic.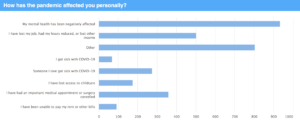 Many members also lost income and work; had important healthcare appointments canceled, lost access to childcare, couldn't pay their rent or bills, and either had a family member get sick with COVID-19 or got sick themselves. 
Here's some of what members said: 
"My father's Alzheimer services were restricted which created anxiety in him that is difficult to relieve. It also impacted me as we had less social interactions which are crucially important to keeping him in society, and me as his chief carer connected with others. Isolation is devastating for carers' emotional wellbeing."
"My children have suffered emotionally and socially as a result of having no return to school since March 12th. My eldest has missed primary school graduation, gaeltacht trips, and now introduction camps for secondary school have been cancelled. Lots of disappointment all round."
"I am a Lactation Consultant who works with mother and baby dyads, and they have been severely affected during this crisis, I have been unable to visit, both because of government restrictions on being able to do home visits as this very crucial time, but also because I have a partner who is in the at risk group."
Overall, members felt that the Government's response to the crisis could have been better.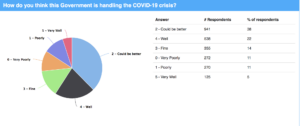 More specifically, members felt that politicians had to take stronger action on a range of issues.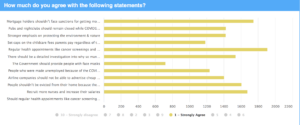 Here were some priorities members identified: 
Regular health appointments

like cancer screenings and mental health diagnoses should start as soon as possible. 

Mortgage holders

shouldn't face sanctions for getting mortgage breaks during COVID-19.

Recruit

more nurses and increase their salaries.
People shouldn't be evicted

from their homes because they can't pay rent.

There should be a detailed

investigation

into why so many people died of

COVID-19 in nursing homes.
Pubs and nightclubs should remain closed

while COVID19 cases are on the rise.

Stronger emphasis on

protecting the environment and nature.

Airline companies should

not be able to advertise cheap holidays.

People who were made unemployed because of the COVID-19 pandemic should

keep getting the full COVID-19 payment.
Set caps on the childcare fees

parents pay regardless of their income.

The Government should

provide people with face masks.
So, what's the plan? 
We're a campaigning community of over 278,000 people who take action. That's why we're already fighting for these key changes in this phase of Ireland's response to COVID-19. 
But, as always, there's so much more to do. That's why each and every one of us every Uplift member should feel empowered to start a campaign on something we a burning issue they care about. It's easy. Any member can start a campaign on my.uplift.ie to make their voices heard, and we'll be with you every step of the way.