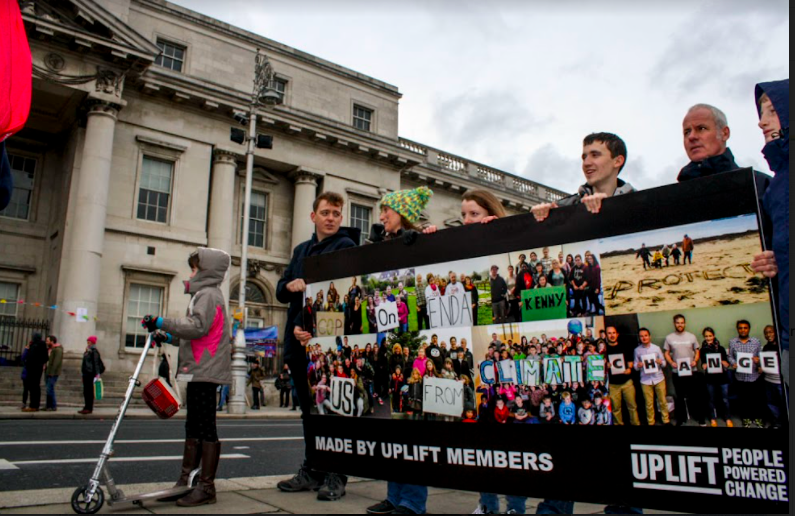 Uplift is nothing without its members!
Today we launch our annual end-of-year fundraising drive. And we want to tell you a bit about how and why.
Here's something that makes our members special: by being part of Uplift, you're one of the people who do things a bit differently. There's no money from big corporations, political parties or government – our community is powered by individual donations from thousands of people all across the island of Ireland and, indeed, further afield.
This means we can stand up to powerful decision-makers – without having to worry about falling in line. It also means that sometimes we have to rattle the can and ask each other to chip in every so often to be able to keep going.
Uplift members need to raise €48,000 to make sure that together we can run and win the campaigns that matter next year. It seems like a lot – but not if you think about it spread across 350,000 members – it's less than 15 cents each!
If you can help keep Uplift going, will you click here to start a secure direct debit or chip in once-off https://action.uplift.ie/campaigns/end-of-year-fundraising-one-off
Costs are kept as low as possible – but to pay for our small team, cutting edge technology, out-of-the-box tactics and everything else it takes to keep the lights on – our community simply has to raise enough fivers and tenners to make it all happen.
This is why it's so important that Uplift members regularly chip in the cost of a few coffees every week to keep the community afloat – or if that's not possible, a one-off donation can make all the difference to what we can achieve next year.
What have we achieved this year?
Uplift is a hive of activity every day of the year. There's the small staff team – supporting members to take action together on the issues we all care about and building this powerful movement.
But at the heart of it all are hundreds of thousands of Uplift members. In the past year alone we've achieved so much together, we:
Pressed Barry's Tea to stop putting plastic in their teabags and won:
Thousands of us signed a petition and chipped in for a counter to keep track of the number of Barry's tea bags with plastic being used. We all chipped in to get a giant red Barry's tea mug full of plastic delivered to Barry's headquarters in Cork with our huge petition.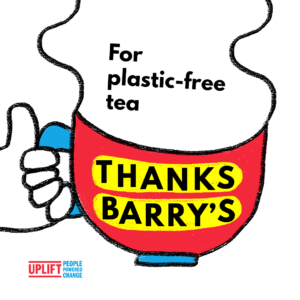 Fought for public homes at Oscar Traynor Road in Dublin – and now we have to fight all over again because council bosses are trying to derail the plan:
Uplift members not only from Dublin, but all over Ireland, who believe that public housing should be built on public land got behind the campaign to demand that public housing be built on the Oscar Traynor Road site. Members have called councillors, sent hundreds of emails and tweets, using Uplift's tech, to put the on pressure when it was time for the council to vote.

Launched groundbreaking research into vaccine hesitancy and how to have persuasive conversations with our loved ones:
Uplift members attended webinars on vaccine messaging and how to talk to people closest to them about vaccine hesitancy.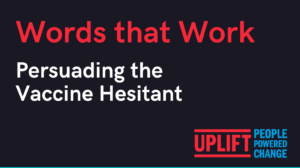 Successfully campaigned to end partner restrictions in maternity care:
Pregnant people and parents that have had babies during Covid campaigned tirelessly to remove the cruel partner restrictions at Maternity Hospitals. The campaign culminated in a huge protest full of emotion outside Leinster House where a scroll of hundreds of personal stories from those who were affected by the restrictions was handed over.
Paid for new research on the benefits of cannabis to the local economy:
Uplift members chipped in to have a comprehensive report produced on the ways that local communities could benefit from the production of cannabis.

Supported young people to pile on the pressure on social media giants 
Uplift members marched from Facebook HQ in Dublin to Dáil Eireann to call on our politicians to hold Facebook accountable for consistently prioritising profits over the safety of their users.

Went straight to the (data) centre of the greenwashing problem:
Uplift members went undercover at the Data Centre Ireland conference in November. They cut through the greenwashing by big business captains of industry by asking speakers hard questions and distributing leaflets showing the threat that data centres pose to our power supply & climate safety.

Campaigned on the need to end period poverty:
Everyone should have the right to manage their periods with dignity and good hygiene, but women and people with periods are still waiting for this government to act, and now corporations like Lidl are outstripping the people who are meant to represent us. Uplift members have been piling on the pressure for this Government to stop dragging their heels on period poverty.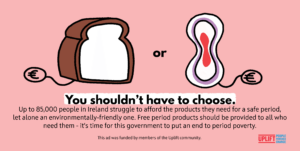 Finally got agreement to put CCTV onboard supertrawlers to monitor them:
Following years of campaigning by Uplift members, a huge petition and emails to TDs and MEP, there has been an agreement to place CCTV on these huge ships to make sure they are only catching what they are supposed to be catching.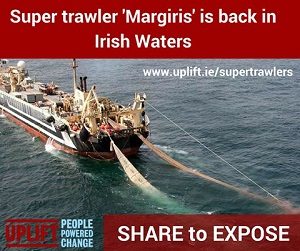 Fought hard to stop toxic trade deals CETA and EU Mercosur getting through under the radar: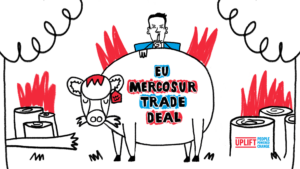 That's not all:
Uplift members also continued to take on the far-right by setting up and supporting the Far-Right Observatory and by empowering communities whom they target.
Trained dozens of members in misinformation and disinformation – as well as organised leadership and skills training for members experiencing hate and injustice.
Successfully campaigned to get local councils to allow the public to watch their meetings online
Fundraised for a legal opinion on how the State can own the new National Maternity Hospital site.
These campaigns are only possible because of how closely we guard our independence. And it needs more of us to chip in now to guarantee it stays that way.
There are thousands of members like you who aren't the type to sit back and let things happen without them. This is why each of us needs to chip in a little, to make sure that we'll be able to plan great campaigns for 2022.
Uplift members don't wait for things to change. We make it happen. Every day thousands of us are taking powerful actions – signing petitions, donating a few euro, emailing or calling our TDs. And when our actions add up, they make us a relentless, unstoppable force in Ireland.
Thank you for being part of it,
Siobhán, Julie, Frances, Alex, Nicola, Michelle, Layla, Niamh – the Uplift team.
P.S. Here's a quick breakdown of some of the things that keep Uplift going. They're not easy to fundraise for, but without them, Uplift wouldn't exist:
We deliberately make it easy for people to take action – from members being able to set up their own petitions, sending emails or submissions, sharing on social media, calling decision-makers, texting their friends. But behind the scenes, there's a lot of work going on to make it work efficiently – and all these tools don't come free. For example, MyUplift costs €1,000 a month. To get an email out the door to members it takes approx 4 hours of staff time.
To make sure our hard work as a community gets the airtime it deserves, we pay €3,000 a year to send press releases and keep on top of media updates.
Campaigning is the heart of Uplift – tactics and actions from newspaper ads, to research briefings, to organising for people to hit the street year have cost €70,000.
The tech budget for 2022 will be €50,000 – to keep it running smoothly, make sure it's secure and to overhaul some of the tools we use.
Our team is deeply committed to this community. Most people are paid an average salary of €37,000.
Paying for insurance, auditor, postage and all the other admin stuff required to keep Uplift up and running.
If you can help keep Uplift going, will you click here to start a secure direct debit or chip in once-off https://action.uplift.ie/campaigns/end-of-year-fundraising-one-off