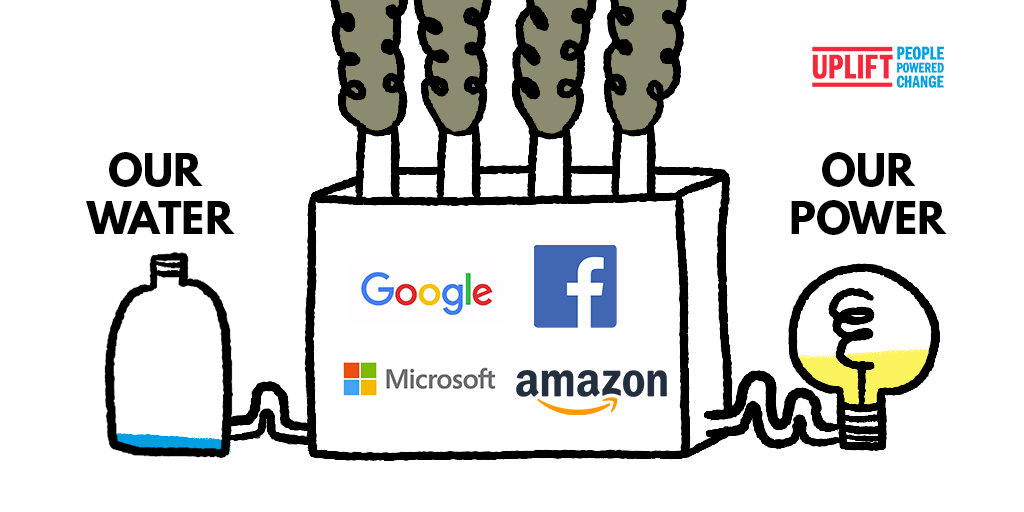 Data centres are putting so much pressure on our electricity supply that we're facing rolling power cuts this winter – cutting off light and heat and putting local businesses at risk. [1]
When we surf the web or stream a video, we often don't think that 'the cloud' takes up physical space on this planet. But it does. Data centres are where the digital aspect of our world is stored – and Ireland has become a favourite destination for big tech companies for their huge data farms. [2]
'Code red' for humanity
There are already 70 operational data centres in Ireland and many more in the planning pipeline. [3] Data centres require colossal amounts of energy and water. If all the applications for data centres are approved, they will account for 70% of electricity demand by 2030 – completely overwhelming our national grid and complicating even further our ambitious renewables targets.[4]
Big Tech's data centre dumping ground 
Big tech corporations like Facebook, Google, Microsoft, Amazon are behind the huge drive for more data centres and are pressuring the government to pave the way for them to be built. [5] As Dr Patrick Bresnihan of Maynooth University told a Dáil committee, "the need for data centres is driven by a business model which is about driving more data consumption".
They claim that data centres claim they will use "clean, green electricity" – Amazon has pledged to be 100% renewable by 2025. Not only is this wildly unrealistic, these empty promises are nothing more than  'greenwashing'. If this government allows more data centres to be built, Ireland will fall way short of achieving our climate targets, which require us to consume less energy. Building new data centres hurtle us in the opposite direction – and will leave all of us to pay the costs, this winter and in the future. [6]
It's time to lift the smoke screen on how data centres are making the climate crisis so much worse – aided by this government's nod and wink approach to big techs desire to make huge profits, at any cost. They even got Micheál Martin referring to data centres as 'eco-structures'. [7]
We don't have any time to lose – together we have to make sure government and planning decision-makers don't let Ireland – or anywhere else – become a dumping ground for Big Tech's data.
Sign the petition to stop data centres
We deserve to have the resources we need to live a decent life and to protect our children's futures. Allowing data centres to take our energy and water is a political choice.
Fired up with Fossil Fuels
Lots of the plans for data centres that are in the pipeline, plans, including the proposed centre at Ennis, involve either the data centre building its own large-scale gas-burning plant to power it, or using energy from the national grid whenever it wants it. As it stands, there are no requirements for data centres to add renewable energy into the mix. [8]
Power-hungry 
Data centres consume a huge amount of energy. The rapid expansion over the last number of years has put enormous strain on an already overwhelmed electricity grid. This summer, the Energy Regulator warned that restrictions on new data centres were needed and the risk of rolling electricity blackouts due to the significant energy consumption of data centres.[9] 
"Security of supply is increasingly at risk, in significant part due to the considerable increase in data centre demand." Commission for Regulation of Utilities (CRU)
The power requirement of an average single data centre is extraordinary, at 50-60 megawatts, matching for example the energy consumption of a small city such as Kilkenny. [10] Even the proposed data centre in Ennis would use the equivalent power used by all the homes in Clare, Limerick and Kerry combined – approximately 210,000 homes.[11]
What can we do about it?
The government is trying to shift our attention away from data centres causing excessive pressure on the electricity grid. If we can keep a massive spotlight on data centres as one of the biggest threats to people's ability to have light and heat this winter – then we can push harder for politicians from government parties to force a moratorium on any new data centres, because they will be fearful of a backlash from voters and businesses in their constituencies. 
Join the call here to stop power-hungry data centres
---
What we want the Government to do.
Place a moratorium on any new data centres until a national consultation on data centre policy is carried out. 
No new data centres should be built unless they:
Shift from burning fossil fuels to power the data centre, either on or off-site;

Invest in renewable energy generation;

Alter the timing of their energy use so that it supports a decarbonised grid and doesn't force the grid to invest in fossil energy;

Invest in their own storage capacity to draw down electricity when there is enough wind or other renewable energy on the grid relative to demand;

Avoid "mining" of bitcoin or other cryptocurrencies because of the huge energy resources required.
NOTES
[1] ​​https://www.independent.ie/irish-news/regulator-proposes-data-centrecurb-after-new-power-supply-riskwarning-40517887.html
[2] https://www.computerweekly.com/feature/Dublin-in-distress-Power-supply-issues-threaten-growth-of-Europes-second-biggest-datacentre-hub
[3]  https://news.un.org/en/story/2021/08/1097362 & https://www.thephoenix.ie/article/green-light-for-enniss-code-red-data-centre/
[4] https://notherenotanywhere.com/campaigns/data-centres/
[5] https://www.businesspost.ie/energy/government-to-revise-policy-on-data-centres-after-push-from-tech-giants-d566f4dd  &  https://www.thephoenix.ie/article/mccarthys-cloudy-thinking/ & https://www.irishtimes.com/news/ireland/irish-news/big-tech-lobbying-coalition-against-curbing-data-centres-1.4617306 
[6] https://www.thejournal.ie/readme/climate-change-and-data-centres-5392847-Mar2021/
[7] https://twitter.com/christinafinn8/status/1440418305194352646?s=20 
[8] https://projectallende.org/data-centres-big-data-irelands-energy-crisis & 
[9] https://www.independent.ie/irish-news/regulator-proposes-data-centrecurb-after-new-power-supply-riskwarning-40517887.html & https://www.cru.ie/wp-content/uploads/2021/06/CRU21060-CRU-consultation-on-Data-Centre-measures.pdf 
[10] https://www.irishtimes.com/business/innovation/keeping-the-lights-on-as-the-grid-stutters-will-become-an-all-consuming-challenge-1.4680697
[11] https://www.irishtimes.com/business/energy-and-resources/esb-to-close-two-peat-powered-generating-stations-1.4076614