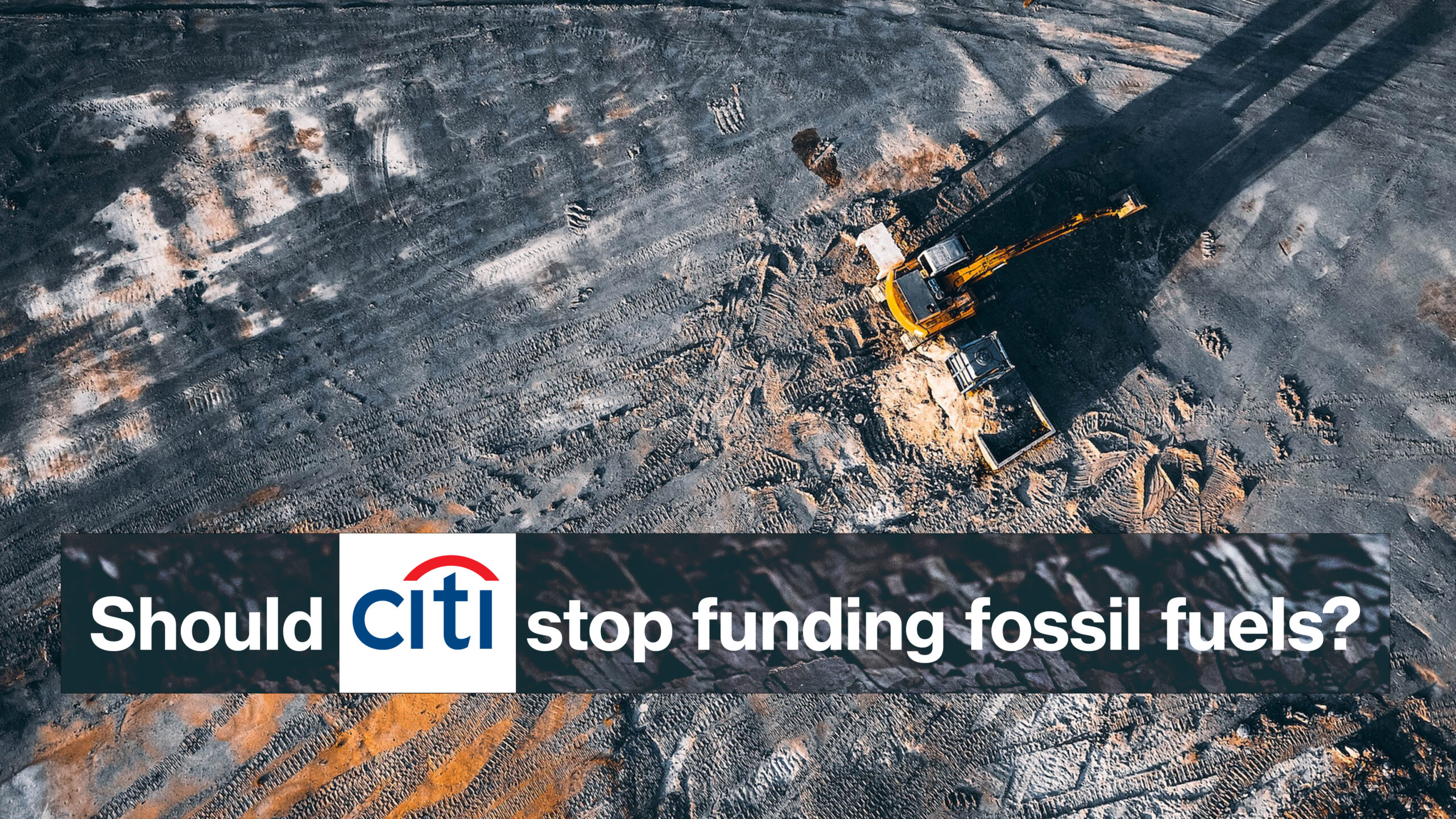 Welcome to our Citibank campaign blog page. 
A safe and healthy environment is something our Uplift community cares deeply about. Uplift members have campaigned and won on many environmental issues such as recycling, holding our government to their word and protecting water from privatisation.[1] Thats why its such a slap in the face that Citibank, whose EU HQ is in Dublin, continues to pour hundreds of billions of Euro in dirty coal, oil, and gas projects. [2] Citibank is the second largest funder of fossil fuel expansion in the world, the fourth largest funder of companies drilling in and polluting the Arctic, and the third biggest funder for fracking companies. Not to mention the billions of Euros they put into coal mining, offshore drilling and drilling in the Amazon rainforest every year. [3] 
But they're not going to get away with it for much longer. Our community, along with concerned Act Now members in the North are standing up and fighting back against large corporations like Citibank who have been getting away with funding climate chaos for far too long.
Add your voice to the hundreds of Uplift members who have already called for Citibank to stop funding fossil fuel polluters here: 
I'll add my name
The IPCC has said that we cannot afford to burn all the fossil fuels that we have access to if we are to stay below a global warming of 1.5C. And we definitely can't afford to expand existing projects or open up new ones. [4]
We need steep and rapid reductions in fossil fuel emissions
and that won't happen while corporations like Citibank are funding these projects to the tune of billions of Euros.
In response to Citbank pouring billions of Euros into climate chaos, Uplift members will be hitting them with a range of exciting and inventive tactics over the next few months. These tactics will include online actions, bringing a media spotlight onto Citibank through direct action, and putting pressure on politicians to take action. 
We are going to make sure that they can no longer fly under the radar when it comes to fuelling the climate crisis. If you or anybody you know works for Citibank please fill in and share our anonymous staff survey. 
I'll fill in the anonymous survey
We want to give Citibank staff the opportunity to share their thoughts and feelings on Citibank's role in funding climate breakdown.
Without the funding fossil fuel companies get from banks like Citibank, they would not be able to continue expanding oil, gas, and coal projects. If we can stop the money flowing, we can stop the fossil fuels flowing.
26-05-23
Over the last few months the spotlight has been really turned onto Citibank; podcasters and journalists have begun to ask the difficult questions. [5]
Colleagues in Act Now have penned an open letter to the W5 chairperson asking her to Citibank's sponsorship of their 'In Our Nature' exhibition. Will you add your name to the open letter?
I'll add my name to the letter
[1] REVERSE VENDING IN LIMERICK | Uplift & Don't break Ireland's promises on climate change | Uplift & Support a referendum to stop water privatisation | Uplift 
[2] Citi's Climate Score – Bank.Green
[3] FOSSIL FUEL FINANCE REPORT 2022 
[4] AR6 Synthesis Report: Climate Change 2023 — IPCC
[5]
Bank with huge investments in fossil fuels got Irish taxpayer support of €10m | Independent
&
Citibank is second largest financier of fossil fuel industry | Business Post
&
1024. Burning the Amazon With Irish Taxpayers Money | Tortoise Shack