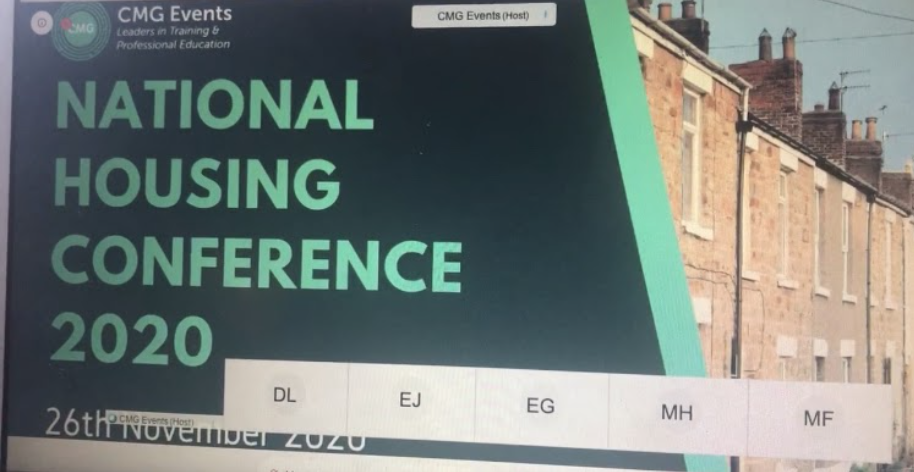 Greedy property developers have been dealt two big blows at the end of 2020 thanks to thousands of us taking co-ordinated action together. Glenveigh Homes didn't get their hands on our precious public land at Oscar Traynor Road and Minister for Housing Darragh O'Brien listened to us and banned cramped co-living developments outright. [1]
Developers are now on the backfoot. These powerful people are not used to losing and we got a chance to get ahead of them – to see what they were planning next. 
At the end of 2020  big property developers and reps from local authorities and government departments attended 'The National Housing Conference.' [2] The ridiculous price tag of €500 per ticket was no match for people-power: 109 of us chipped in to send Uplift campaigner Michelle to get the inside scoop.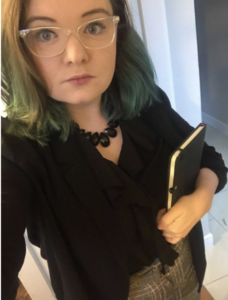 Here are some of the insights we got to share with you. Planners, real estaters, money lenders for developers and more spoke openly about co-living, deals with developers and vulture funds and raising their profit margins.  
Here are all of the notes and slides from the speakers for you to have a look at yourself.  Equipped with this information we have the info we need to fight better for Ireland to be an affordable, secure and safe place to find a home.
The videos are not shareable to the public (we wonder why!), but where some of the most alarming takeaways from the day came were from the presenters in the live Q&As with attendees after each presentation. 
---
Session
:
"Rebuilding Ireland Plan – What impact will manpower costs have on Housing delivery and pricing – Building Height and Increased Density"
Speaker
:
Rachel Kenny, Director of Planning at An Bord Pleanála
Rachel Kenny said we need to 'redress the usual housing and changing types of housing'. Speaking about how local communities were 'resisting' new developments, she said that there is a 'culture of opposing large developments' and how we had to compromise. She spoke about what we would consider valid community concerns but still said "We need to convince the community that SHDs [Strategic Housing Developments] are the the right thing and bring them on board"
We certainly hoped that she wasn't referring to encouraging more co-living types of housing or not listening to communities' valid concerns…
A Planning Consultants firm wanted to know how to minimise Judicial Review challenges to SHD decisions – trying to skirt around the processes that are in place to protect our homes and housing. 
During the Q&A we asked if the Minister for Housing's recent 'ban'  on Co-Living changes future delivery and planning considerations of Co-Living?
She responded that the Minister's comments were not clear and would have to wait for more information.
However, she said they will still be processing current co-living applications on the old policy – since the announcement she said that a co-living development has been granted permission and many more that have had planning approved but have not begun building are still allowed to go ahead under the ban.
---
Session
:
"Market Update – Economic, Residential & Private Rental Sector"
Speaker:
Marian Finnegan, Managing Director – Residential & Advisory, Sherry FitzGerald
Marian Finnegan, the Managing Director of an estate agent, opened her presentation enthusing about how housing prices have remained high despite Brexit and being in the depths of crises. The 'strength of demand' – i.e. people who are desperate for a home – have positively impacted the market. 
She sees continuation of the help to buy scheme as positive for 'the market'. 
"Prices have been improving [increasing] – which is great" 
Is this great for so many of us who are locked out of housing because we can't afford it already?
Further reductions in stock are damaging according to the estate agents. "We need more measures – coming along soon like the Shared Equity Scheme."
Having profiteers back a scheme is usually bad news for everyone else. Just days ago, news broke that the government knew that the shared equity "affordable" home plan would increase house prices. [3]
Showing graphs about property value (you can see the presentation slides linked above), we were told that those who can afford to own the most expensive of houses were less negatively impacted as the housing crisis deepens. 
"Upper end [properties] market contracted last year (2019) but more moderate contraction in upper end this year (2020)".
"12% of properties are bought for investment." They say this is modest. Seems like a pretty high number as it is for people buying properties just to make money off them rather than allow them to become a safe, secure home for someone.
Repeatedly we were told 'the market' is great, prices remain high.
"Really successful outcome for the housing market – it has maintained prices"
Blood pressure significantly raised, having had to listen to that analysis, she then went on further to analyze the rental market.
We were straight back in talking about all of the investors in the rental market. Lots of investors are selling properties because they cannot profit enough off being landlords anymore due to Covid restrictions.But don't worry, "Once travel opens up again, the problem will be solved" assures the estate agents.
But yet we were told that even when Covid hit the uplift in availability [from 1600 units to 3000 housing units] – "it was still less than Celtic Tiger"
Some other key points from the presentation 
'The market' has become more professionalised [ie. more big landlords]

Construction and investment activity is important to stabilise the market 
Now you can see why certain interest groups wanted to make sure the construction industry opened as much as they possibly could when it was unsafe to do so in the pandemic…
Revenue has shown that 40% of first time buyers who use the 'Help to Buy Scheme' already had the deposit – so Help to Buy doesn't help with supply or affordability. 
Another attendee commented on how there was no mention of social housing and how there is not enough of it – much of recent supply has been done by acquiring rather than building. They said it should not be competing with stock on the ground.
Questions posed to the presenter – "Will we see a fall in rents & house prices?"
She responded that although there is a lot of fear in values of housing – the market is resilient. She says it's thanks to the intervention of central banks for it all being stable and resilient.
We were told the rental market is becoming unaffordable. There are high rents everywhere – when everywhere is high, it will only come down for less quality soon. She says this is not just pandemic related – it's about supply coming on. But that supply hasn't come on in real terms, and not to be led by a current short term blip in this trend (airBnB).
---
Session:
The Irish housing market: Regional developments and labour challenges in meeting demand.
Speaker:
Dr. Kieran McQuinn, Research Professor and Head Economic Analysis Division, ESRI (Economic and Social Research Institute)
This session covered new regional housing data, new estimates of regional sustainability and current estimates of labour supply.
Speaking about the labour market, he recognised that those working in accommodation and food were mostly on the Wage Subsidy Scheme (WSS) or Pandemic Unemployment Payment (PUP) now and for those working in Construction early on went on PUP and wage subsidy but June and July declined off this as construction picked up. Those working in ICT were unaffected by job losses in the same way.
The speaker was concerned about the housing market – demand will be affected in the short run. "But the economy will pick up when a vaccine is in place, the economy will recover."
An observation was made by an attendee that the market does not seem to be overheating but yet we still have high rates of unaffordable rents compared to household income.
The presenter stresses that there are structural issues of unaffordability in the housing market. 
Especially for those who are just over thresholds for support payments and those who spend a very large income on their rent – we are experiencing profound affordability issues in the market.
---
Session:
Making our towns and cities more affordable and sustainable places to live
Speaker:
John O'Connor, Chief Executive, Housing Agency
Speaking about making towns affordable, the Housing Agency outlined ways to 
build sustainable and creative communities and then move towards affordability. He spoke about Integrating communities and Social equity – how we're supporting each other.
Referencing that 70% of households are 3 people or less, this leads to a dilemma for planning authorities – medium density in our towns and cities to provide affordability and sustainability.
The presenter asks and answers how to address housing needs through climate change, and emphasises the importance of connections – the ability to be able to walk and cycle and integrate in our areas of living. It was great to hear the discussions of planning, climate action and transport intersecting when talking about building sustainable communities. 
Giving an overview of how the Budget 2021 & Program for Government (PfG) affects the Department's work, he says that in the Program for Government we see "housing for all. Supporting everyone in society. Supply, sustainability and viability focuses. Focus into future."
Also in his reading of the Program for Government, he says it puts "Town centres first. Local authority focus. But issues need to be addressed by the government including state aid and putting in a system to support local authority to do this."
He also mentions how he thinks the shared equity scheme [mentioned by previous presenters] will help first time buyers. 
Cost rental was cited for its affordability – "entry level rent should be not more than 30%-35% of income but long term this should decrease as it's sustainable – down to 10%"
Quoting the Geneva UN Charter on sustainable housing in 2015 that Ireland is signed up to – which calls for decent, adequate, affordable, healthy, housing for all. He outlines the other elements of the charter including;
Environmental protection – biodiversity, climate change

Economic effective – affordable and works in our economy

Social inclusion & participation – get everyone involved and inclusion

Cultural adequacy – consistent with country, heritage and culture. 
We asked if Ireland was in breach of this charter under the cultural adequacy pillar in relation to the lack of provision of Traveller suitable accommodation across many Local Authorities (LA).
The speaker "couldn't comment on whether it was in breach or not". He says "there has been huge work on delivering homes but reports have been saying funding not spent". He said he was "not familiar with Traveller accommodation policy – it is not his area. But the Housing Agency has been working with Local Authorities. If it stops being delivered it takes time to get back, Traveller accommodation was undelivered for years".
When an attendee asked about the impacts of Covid, "in terms of focus on social distancing, reluctance to use public transport and increased working from, would it have lasting effects in terms of people's resistance to 'Compact Growth' and high density living and what can housing policy do to address that?"
The representative from the Housing Department said that "Covid is a temporary imposition in our lives – led to a shift in working patterns on housing. Apartment minimum sizes and policy should reflect that". He thinks they should "contain remote working spaces, hot desking facilities. Open spaces in urban areas." Unfortunately, he also thinks we should be "Taxing remote workers on the basis they're not contributing to economic activity."
In response to another question about local authorities building, the representative from the Housing Department made the following comment as part of a wider response – "The Land Development Agency (LDA) was developed to use state lands to interact with the market."
---
Session:
Case Study – Co-Living – What is Shared Living? Why does Shared Living have a role? Shared Living in a pandemic
Speaker:
Hazel Jones, Bartra Capital Property
This is what we came to the event to hear about. The industry has conveniently moved away from the term 'co-living' to 'shared living' to confuse people and distance themselves from a word that now seems so negative. In the outline of this session, Bartra say they will cover why they think many people sharing living spaces in co-living is a good idea in a pandemic. Note that this session was recorded before the announcement of the ban on co-living from Housing Minister Darragh O'Brien.
The presenter starts off reflecting how co-living has got "bad press". 
We get a background into how the person in charge, Richard Barrett, has interests in "infrastructure deficits". She comments that the "Best one you know is O'Devaney gardens with the council".
Uplift members fought hard to push back against this development – and we're glad we gave them the 'bad press'.
The presenter also references that they are moving into "investments in Renewable energy" and "Bartra Healthcare – working with HSE and HIQWA". A potentially worrying move – profiteers have shown us before that they do not have the environment's best interest at heart. And we are in the midst of watching how privatised healthcare providers profit off the back of a global health crisis.
'Niche living' is Bartra's brand of share living – aka, co-living by another name. The presenter says that people calling them "Dickensian tenements is unfair". She is looking forward to 12 months from now when their Dún Laoghaire co-living development will open where they "will invite the naysayers."
She then goes on to mention the term "Communal living", while commenting on the high prices (despite them having lesser build requirements and smaller room requirements), the speaker assures us "a lot has been developed to make sure its safe in pandemic" – but they're light on the details
Bartra reckons these "Micro apartments" are suitable for "student or short term contracts, front line workers, junior doctors, people coming into Ireland who do not have statutory papers, those who do not have landlord references moving out of home" and that it would also suit the "changes in lifestyle" we're seeing of "less mothers and marriages"
Attendees heard how "Every square metre has a function". That seems great! My couch can be my bed, but that's ok because it's a double bed!  
After we opened up the session to live questions, the first thing everyone wanted to hear about was the ban on co-living that was announced. Barta said they already have planning permission – and 2 more in the pipeline – and those developments won't be affected as they got all of their planning applications in before the ban. She also assures attendees that the "Private sector is flexible and we will do something else." 
We wonder if that's going to be another rebrand of what co-living is – gentrified tenements.
A Councillor that was present asks if "any research has been conducted into the high costs of rents and the shortage of affordable housing has led to a delay in families being started? They comment that many people cannot afford to start families or live in family homes. Also, if the purpose of nice co-living is for short-term workers/students, should the cost not be much lower than 1300 p/m – the price is out of reach for anyone who needs social housing support too."
The response from the Bartra rep was abrupt – "They would have been developed to meet market needs. If you're a homeless person would you be better in co-living until you get social as an alternative?"
Our Uplift campaigner asked the following question, 
"You mentioned co-living was not designed with a pandemic in mind, ventilation etc – do you find the reduced requirement for regulations in co-living types of builds put you on the backfoot in being able to cater for people's health at this time and the future?"
It was one of the only questions that went unanswered.
We also asked if they "considered the mental health effects of constant supervision in co-living developments?"
Getting irate the response we got was "People choose to want to live that lifestyle, no one is forced. What about the Mental Health effects of the homeless? This is establishing a community. Younger people are open to. If you don't want a sociable living there are other options." 
As a sociable young person, Michelle, our Uplift campaigner wants the reader to know that they would not be open to this, nor would they pay that much for the 'luxury'.
---
Session:
Developing the new form of public housing for all – challenges and opportunities 
Speaker:
Dr Rory Hearne, Assistant Professor in Social Policy, Department of Applied Social Studies, Maynooth University & Author of Housing Shock
In a much needed change of track, Dr. Rory Hearne says his session will discuss the following;
Defining a new vision and form of public housing

Who should public housing be for – the Vienna Model?

Lifetime affordable rental homes for all incomes

How and who should provide new public housing

Meeting Climate Change targets through new public housing
Commenting on the challenges we face in what we think is possible and what we think should be done.
He highlights the issues faced by 'Generation rent' – and how high rents are "forcing people into deprivation". They "can't afford heating, clothes and affects the more vulnerable harder".
He doesn't see this issue as temporary. One third of those who are 40 are renting and as a result they will find it harder to own their own home. We hear how they are a generation living at home for much longer and well into adult years. They are putting off having children, and it has impacts on their mental health and self esteem. 
With "80% of our 16-29 living with parents and Finland/Denmark down at 50%.", the presenter calls it "Generation Stuck At Home".
Speaking about the crisis of homelessness, we're told that it is an "Adverse childhood experience – and will have a major impact for their lifetime that will require support. Many will experience trauma from homelessness". And that this requires major immediate policy intervention.
The researcher also tells us that official statistics underestimate the housing need.
Social housing numbers don't include Housing Assistance Payment (HAP) recipients as they "have been reclassified as no longer having a housing need". We hear that HAP recipients "Don't have security of tenure and it is not sustainable. We are just allowing landlords to accumulate wealth."
"170,000 people in housing need is a more accurate number. This drives how we provide housing. 260,000 who are in housing need state support – that's 1 in 6 households in Ireland. 4 times the current number of social housing needs."
We also hear about structural problems, affordability and deficit in supply. But in direct contrast to previous speakers, he says
"Not all supply is good – much is investor build-to-rent. This is not good supply, not affordable, not of a standard for families to live in or be a long term option. Co-living and Purpose Built Student Accommodation (PBSA) is too small to be a family home, pandemic and the future."
"Large investors push up land prices, crowds out housing associations, local authorities for land."
We hear of the money making approaches that disregarded the opportunity for people to have a home. "Vacancies and landholding – are long term strategies for what is the sitting value of the asset rather than income generation. If housing and land is increasing in value – no pressure to build or rent it out. There is a financialisation of housing because of this."
"Ten fold increase by non-household buyers – investors. They bought 95% of available apartments last year."
The presenter also comments that "Acquisition is worsening the supply. Barely any social housing was actually built in 2020."
But here are solutions. "Need to build 20,000 public housing a year. Make them green, affordable and sustainable. Reduce costs, create generational equality and a guarantee for the construction industry. It needs to be Local authorities lead with housing associations and co-op housing supporting."
"We need to move away from commodification. Do we shift to a human requirement, a right, a public good? If so, the state needs to step up. State needs to support Local Authorities to lead out."
---
Session:
Collaboration between rental investors and developers?
Speaker: Michael McElligott, Tetrarch Capital
The outline for this speaker's session seemed to be a pitch for developers.
Attractions of social and affordable rental as an investment / asset class

Types of investors seeking exposure in social and affordable rental

Key positives for developers of social and affordable housing for rent

Environmental and social goals, impact investing considerations

Developers transitioning to investors / asset managers to become a trend
"One of the most active developers" – they sell to Dublin City Council and Cluid for social housing. 
They comment on how "Most of the market is in the social and affordable sectors"
He says this approach "offers investors stable long term income from the state."
An attendee comments that Strategic Housing Developments (SHDs) do not seem to be working – they are badly planned developments that are being shoved in and deservedly failing at An Bord Pleanála.
The response: He challenges anyone here to deliver what they are. They build infrastructure outside the buildings such as libraries, parks etc – costly for them but are leading to better schemes. Says planning is good but the issue of delivery is different – could be not in right place – not near Luas or some are building the wrong thing in the wrong place.
---
Session:
The Role of Home Building Finance Ireland in helping to increase the supply of new homes
Speaker: Michael Broderick, Chief Commercial Officer, Home Building Finance Ireland
The residential funding market in Ireland

Challenges in securing funding for residential development

HBFI's Product Offering
These guys fund the developers and are based in offices beside the central bank. We hear they are not part of NAMA but worked with them previously.
They fund those who have difficulties get funding from traditional places – a lot outside of Dublin.
Comments are made about the viability of projects – they look at cashflow and if there is "sufficient profit in there to make it viable".
The service fees they charge are at market level. He refers to these loans as products repeatedly, making it quite obvious that this is a sales pitch to the people in the room.
Our Uplift campaigner asks Michael Broderick – what is considered a viable profit? 
They recommend as a percentage, that "it would be ideally early teens".
"They advise developers to add more contingency if they think it is low."
They encourage developers to drive up profit margins.
---
It's people-power from ordinary people that pushed back against the plans to sell off our public land at Oscar Traynor, got those plans scrapped and forced Minister for Housing Darragh O'Brien to ban co-living. We have shown that when we come together, we can take on the big developers – and win. This information will make our campaigning stronger for more wins in 2021.
NOTES: 
[1]  Decision on vacant Dublin site sends strong message about housing policy &
Journal.ie: Housing Minister issues de-facto ban on new co-living developments
[2] National Housing Conference event
[3] Officials warned Government its 'affordable' home plan would drive up prices