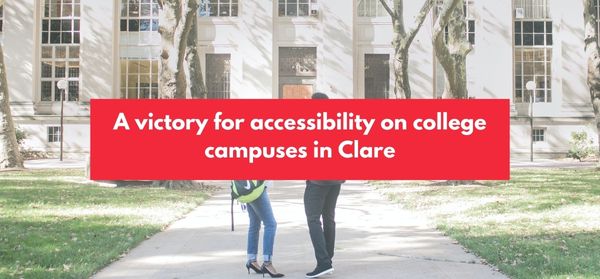 We know that when enough of us come together in our local communities we can make change happen, local movements is what keep us going. Like recently, when 950 of us got behind Uplift member Ciara's petition, "Make Clonroad Campus Accessible to All!". With support from her colleagues and her local community, Ciara's campaign has won important changes for inclusivity and safety on college grounds.
Ciara set up her campaign when she saw the pressing need for accessibility on Clonroad Campus for everyone, especially the challenges faced by students and staff with disabilities. The movement sought to mobilise local communities, garner support and bring about positive change by demanding practical solutions from Clare County Council to ensure that everyone could navigate college facilities without stress or compromise to their safety.
Ciara's campaign united people from different communities who all faced the same challenges: getting around college easily and safely. Together with students, staff and other visitors to the college, we emphasised our shared values of inclusivity and social justice. We created a powerful network of advocates who were dedicated to affecting change where it mattered.
The impact of the local movement was excellent. Through consistent advocacy, pressure and collaboration, the campaign successfully convinced the decision-makers to improve accessibility on the college campus.
This people-powered win to "Make Clonroad Campus Accessible to All!" campaign is a testament to the power of local movements. By embracing the values of inclusivity, justice, empowerment and communities, we were able to make a positive change that will benefit everyone who uses the college. The victory not only made Clonroad Campus more accessible for all individuals but also set a precedent for other institutions to prioritise inclusivity and safety in their policies and practices.
Ciara and her colleagues started a petition on MyUplift. If you have an issue you would like to advocate for, why not start your own petition today?
There are so many important issues out there that we as a community could campaign on. The team is really small and can only work on a small number of these issues at any one time. Luckily, however, Uplift has a website called MyUplift.
MyUplift is a totally free platform which will allow anyone to launch a campaign on an issue that they feel passionate about. MyUplift is truly people-power in action and means the power for change is placed directly in people's hands, and that they can mobilise others to take action.
It's totally free but also really easy to use. It just takes a few mins to start your account and then you can get started on your issue. In no time at all you'll be running your own Uplift-style campaign on important issues and easily share the campaign on Twitter, Facebook, etc.
If you have a look at the campaigns that are already there, you'll see some great examples, including localised ones such as Ciara's issue was.
If you have questions on MyUplift or would like to discuss starting your own campaign to change something in your community for the better, message Jacob our Junior Campaigner at [email protected]