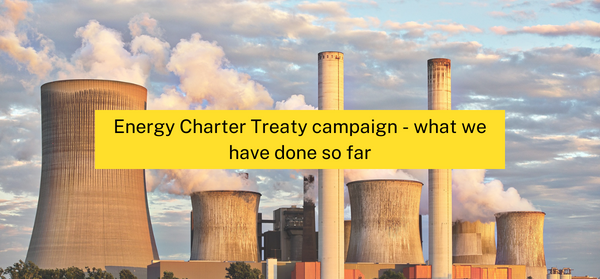 The Energy Charter Treaty (ECT) is an international agreement which protects the interests of powerful energy corporations across Europe. Ireland is a signatory to the ECT, but the power the treaty gives to energy companies who are partly to blame for the climate crisis, means that people have realised that the ECT is not serving us, the energy users or the planet, and is disincentivising countries to transition to green energy.
To pressure the Irish government to withdraw from the ECT, a groundbreaking report funded by Uplift members has been sent Eamon Ryan, Minister of the Environment.
Our new research is the first of its kind done in Ireland. It shows beyond doubt how leaving the ECT will save Ireland billions of euros and help us move to cleaner and cheaper energy more quickly.
Our people-powered report exposed how fossil fuel corporations can sue Ireland for actions that impact their profits, such as reducing energy bills. With the deadline to leave the ECT fast approaching, Irish leaders Eamon Ryan, Simon Coveney, and Leo Varadkar have refrained from providing a clear position, even as numerous EU countries are departing and despite evidence that we'd be better off out of the ECT.
In a push for change, dozens of Uplift members took action by emailing Minister Eamon Ryan, urging him to withdraw Ireland from the harmful Energy Charter Treaty (ECT). The pressure worked! Eamon Ryan eventually confirmed that Ireland will be pulling out of this dangerous trade deal.
However, since the minister's promise, he has yet to provide a clear timeline for Ireland's withdrawal form the treaty. We can't sit and wait for him, though, as there's a limited window for Ireland to exit the ECT, and the process can be time-consuming. To ensure that this is not just another empty promise, we need to hold Minister Ryan to his work and to demand specifics on when Ireland will officially leave the ECT and what steps are being put in place.
As well as calling and emailing our TDs and government ministers in our hundreds, chipping in to pay to expose how toxic this dangerous treaty is, put thousands of signatures to a huge petition and made sure journalists couldn't ignore it. Now we have to keep the pressure on to guarantee that Eamon Ryan follows through on his promise.
We know that together, we can do great things. If you haven't already added your name to the petition to get Ireland out of the ECT you can here:
Further reading resources on the ECT can be found below: