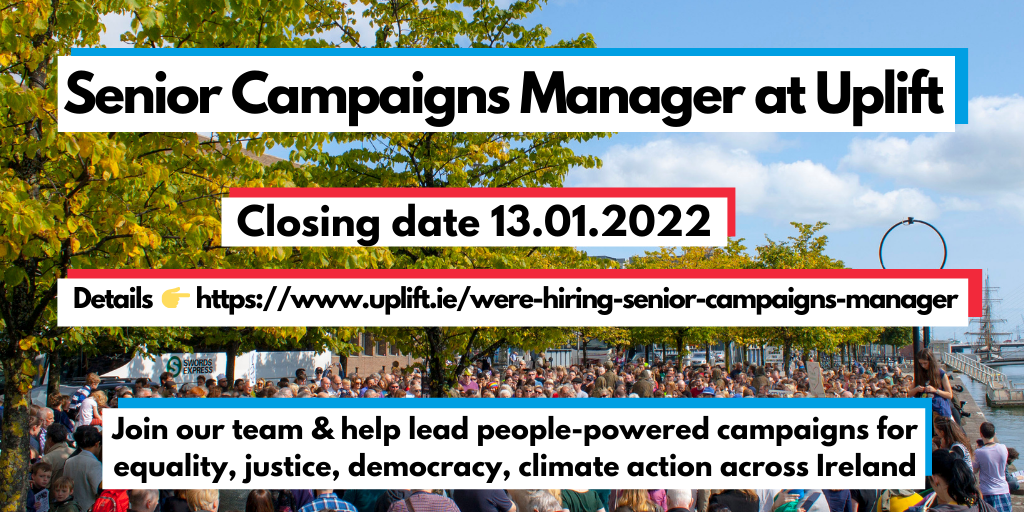 Senior Campaigns Manager at Uplift
Uplift is recruiting a Senior Campaigns Manager to coordinate Uplift campaigns and lead the Campaigns team to achieve their goals and maximise member power.
Closing date is 13th January 2022 5pm
Working closely with the Executive Director the specific duties you will be responsible for include
Overall responsibilities:
Design and coordinate innovative campaign strategies that enable members to feel powerful, visible and connected.

Review campaign performance based on key metrics and impact goals.

Ensure fundraising goals are met for campaigns and support overall Uplift sustainability.

Lead on how digital tools and innovations can support people powered. campaigning including how Uplifts digital tools can be enhanced and adapted.

Coordinate strategies that ensure Uplift campaigns are maximising media and engagement.

Identify rapid response campaign moments and strategic opportunities to advance our communities goals and priorities.
The Campaigning team:
Line manage, coordinate and lead the campaigns team (currently 3 people).

Oversee campaign planning, improving our decision making and review processes.  

Build the capacity of the team through training and upskilling. 

Create opportunities for the team to engage with campaign strategy, content drafting, member engagement, digital innovation and project management.

Take responsibility for quality standards of all campaign content produced by the campaigns team i

Foster a culture of creativity, innovation, strategic experimentation. 
Content & Communication: 
Coordinate the flow of communications with Uplift members using analytics, segmentation and multi channel communications.

Draft high quality campaign content for email and multi channel communication and action.

Keep up to date with current affairs and developments that impact on our communities goals and priorities.
To be considered for this role you need to be someone who 
Has held a leadership role in an organisation involved in campaigning or working for social change;

Has experience managing people and supporting teams to achieve goals; 

Has designed and led impactful campaign strategies;

Has excellent data management and analytics skills; 

Is deeply committed to and passionate about climate action, equality and social justice;

Has strong digital skills and a willingness to learn new technologies;

Has excellent writing and verbal communication skills;

Can demonstrate excellent project management skills; 

Thrives in a fast-paced environment;

Can demonstrate excellent judgment and capacity to make difficult decisions under pressure;

Is a creative thinker who is constantly innovating to achieve impact;

Is a team player always endeavoring to be a positive force within an inclusive workplace environment;
Uplift is committed to providing a healthy and collaborative work environment, and great opportunities for learning and growth. Women and nonbinary people, people from a minority background, people with disabilities, LGBTIQ+ people, and others from traditionally marginalised backgrounds are strongly encouraged to apply. We commit to providing the resources needed to remove barriers to taking up this role. 
This is a permanent, full time role (funding dependent). Options for less than full time are a possibility.
Uplift is a remote working team and anyone living on the island of Ireland is welcome to apply. The starting salary is €42,000 FTE.
Apply before Jan 13th 5pm by completing this  Application Form