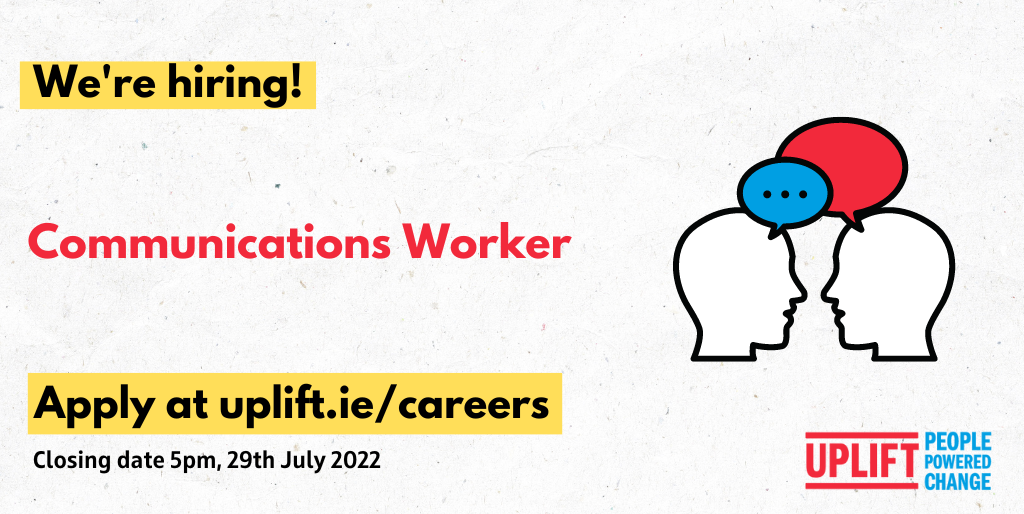 If you love creating digital content that tells stories with impact and you're ready to pitch in on breaking campaign moments, write persuasive media releases, think on your feet, then you could be the perfect fit for our team. Uplift, Ireland's largest people-powered campaigning organisation, is recruiting a Communications Worker to join our small team – helping to steer Ireland's largest people-powered campaigning community.
Job Description
As a member of our team you will;
Promote and communicate Uplift's campaigns to media outlets i.e. write press releases, pitch campaigns and organise media events.

Design and implement Uplift's communications including social media strategy and achieve our goals and targets.

Analyse trends and metrics and generate reports that track and provide valuable insights that guide decision making.

Test and innovate new approaches to using social media as a people powered organising and broadcast platform.

Produce, edit and manage the creation for social media content in line with Uplift's brand i.e. graphics and video.

Constantly stay focused on persuasive and engaging narrative and messaging.

Have responsibility for Uplift's visual and branding guidelines

Work with Uplift members and team to create powerful stories and content i.e. blogs for our website

Ensure our

website

is engaging, relevant and up to date.

Set up campaign action pages and member emails.

Contribute to campaign planning and strategy.

Help organise and amplify member events and actions
Essential
An excellent communicator who thrives in a fast paced environment.

Understanding of narrative and messaging concepts and theory.

Experience creating and editing graphic images, audio and video.

Experience managing digital tools including websites.

A problem solver, you take initiative to identify problems and fix them.

Is committed to social justice, equality, sustainability and deepening democracy.
Desirable
Experience in design

Experience in media relations or journalism

Experience managing social media platforms

Experience with social justice campaigning

Project management experience
The role is a full time position with a three year contract. Uplift is a remote working team and applications are invited from anywhere on the island of Ireland, provided you have a good internet connection. Starting salary is €37,000.
We are committed to providing a healthy and collaborative work environment, opportunities for international travel, and great opportunities for learning and growth.
Uplift is an equal opportunities employer. Women and nonbinary people, people from a minority background, people with disabilities, members of the LGBTIQ+ community, and others from traditionally marginalised backgrounds are strongly encouraged to apply.
---
Apply before 5pm 29th July. If you want to apply for this role please submit your application through the form below. Please note that only applications submitted through the application form can be considered. Shortlisting for interviews will occur based on candidates matching the essential criteria listed above. Interviews will likely take place the week commencing 15th August.